Tim Cook appears on BBC's 'The Big Night In' to support coronavirus relief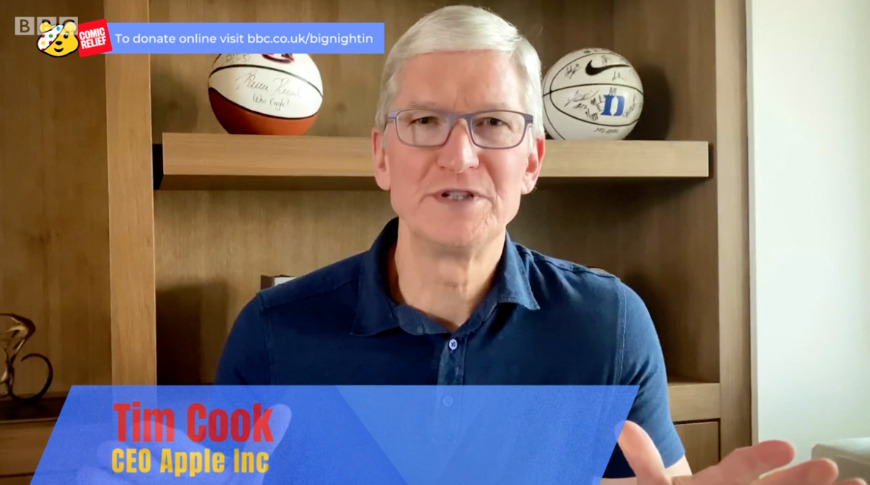 AppleInsider is supported by its audience and may earn commission as an Amazon Associate and affiliate partner on qualifying purchases. These affiliate partnerships do not influence our editorial content.
Tim Cook has appeared on British television's BBC1 in aid of COVID-19 relief efforts, and announced that Apple will waive iTunes store fees on a charity single while praising the "strength and good humor" of Britons.
Apple CEO Tim Cook has appeared on BBC1 television in the UK, during a charity telethon which is raising money to help with people struggling under the impact of the coronavirus. "The Big Night In" is a three-hour broadcast featuring British actors, comedians, and musicians, and included a special group performance of a charity single.
The Foo Fighters' "Times Like These" was covered by almost 30 artists, ranging from Paloma Faith and Rita Ora, to Ellie Goulding and Chris Martin, all recorded in their homes. Immediately following the song, Tim Cook appeared on screen from Cupertino to address the audience.
"Tonight I'm proud to announce that Apple will be waiving all royalties on the amazing single you just heard," he said. "We're also making a significant donation of our own to The Big Night In and helping our customers across the UK join in by contributing from their devices."
"We're deeply inspired not only by the strength and good humor of the British people," he continued, "but also your empathy for one another and the neighbors beyond your shores. From our Apple family to yours, thank you for your generosity and your courage. Stay safe and stay well."
BBC1's "The Big Night In" is the channel's first-ever joint charity telethon, bringing together the UK's regular "Comic Relief" and "Children in Need" fundraising appeals.
As well as contributions from performers and news reports about charity efforts, the show also reunited popular UK casts including ten Doctors from "Doctor Who." Selected excerpts from the show are currently being added to the BBC's YouTube channel.