Apple-sponsored 1979 Porsche 935 race car replica on sale for $499,000 [u]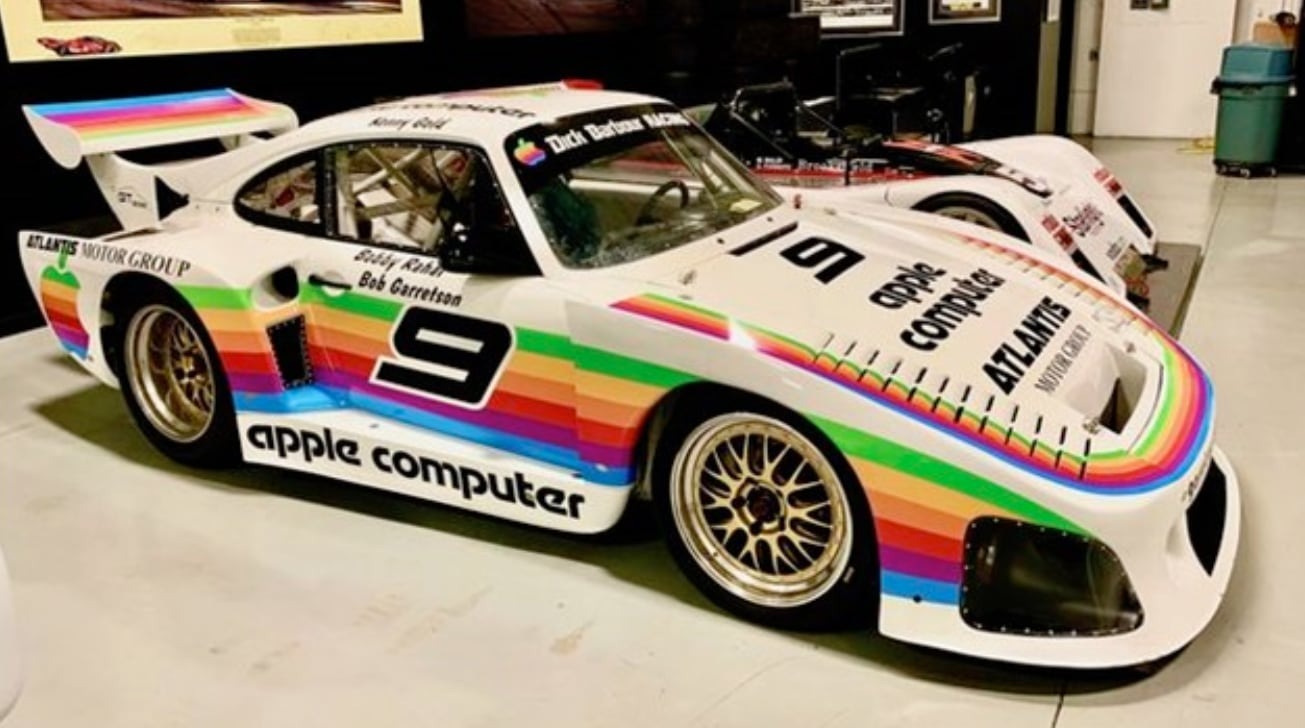 While not the long-rumored Apple Car, an Apple-branded vehicle has gone on sale, with a replica of the extremely rare 1979 Porsche 935 K3 race car that once raced at Le Mans now available to purchase for $499,000.
Listed for sale on the DuPont Registry, the 1979 Porsche 935 is being sold by the Atlantis Motor Group. Priced at $499,000, or at a more reasonable $4,415 per month, the vehicle is a replica of a piece of Apple's history: a race car the company once sponsored.
The original was operated by Dick Barbour Racing, a team that had Apple as its main sponsor for its 1980 season, due to an interest by Jobs and Wozniak in the team, according to a profile of the vehicle by The Drive. The roster included Bob Garretson, Bobby Rahal, and Allan Moffat on the team, with the car itself bearing not only the Apple Computer name, but also its rainbow colors.
The genuine car had a short track career, finishing second at Riverside and Sears point amid lower-placed finishes and failures to cross the finish line. The car also notably attempted to compete at Le Mans, but retired 13 hours into the 24-hour race.
The sponsorship was a shrewd move, as in December that year the company went public and became the most profitable IPO in the United States.
The car in the DuPont Registry is not the original vehicle, however. The original is part of celebrity Adam Carolla's car collection, bought several years ago for $4.84 million, and is currently estimated to be valued at between $8 million and $10 million.
According to the product listing for the replica, the Porsche 935 K3 being sold actually contains a number of GT2 components, including a 3.8 TT build by Bob Holcomb, a GT2 6-speed transmission, and a double wish-bone 993 rear suspension module. Able to put out more than 700 horsepower, the top speed is estimated at over 200 miles per hour, and is claimed to be still capable of being competitive at the Daytona Classic 24 with the right team.
If rumors are to be believed, this is not the last time Apple will dabble in the automotive world. It is believed a commercial Apple car is in development, one that may have a vast number of features that differ from traditional car designs.
Update: Matt D'Andria, a co-host of the CarCast podcast with Adam Carolla and the manager of his car collection, contacted AppleInsider about the real car, which is currently part of Carolla's collection of 12 racing cars driven by Paul Neuman. AppleInsider has updated the story to reflect this, and to clarify that the car advertised in the listing is a replica.