DJI launches Mavic Air 2 drone with improved camera, longer flight time, more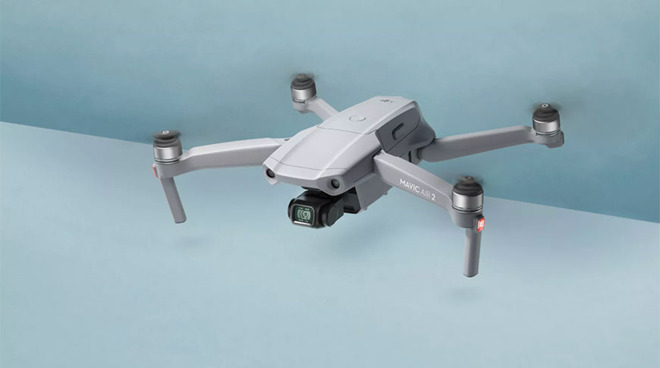 AppleInsider may earn an affiliate commission on purchases made through links on our site.
Industry-leading drone maker DJI on Monday unveiled Mavic Air 2, with the hotly-anticipated successor model featuring a larger, higher-resolution camera, three-axis gimbal, improved flight capabilities, redesigned controller and more.
Sporting a design in line with DJI's Mavic Pro series, the new Mavic Air 2 boasts four folding prop arms that contort inward into a single, highly portable package. The design was first introduced with Mavic Pro in 2016 and carried over to the original Mavic Air and subsequent Mavic Pro 2 quadcopters.
Encased in a slim, aerodynamic chassis are Mavic Air 2's guts, on top of which sits a large 5200mAh battery, up from 2970mAh cell that shipped with the original Air. Though it is slightly longer and heavier than its predecessor, Mavic Air 2 gets 34 minutes of flight time, besting even the Mavic Pro 2. New motors and electronic speed controllers achieve a max speed is consistent with the two-year-old model at 42.5 miles per hour in "S mode."
The star of the show is DJI's half-inch "Quad Bayer" CMOS camera sensor, good for up to 48-megapixel photo resolutions (default at 12MP) and 4K video at 60 frames per second.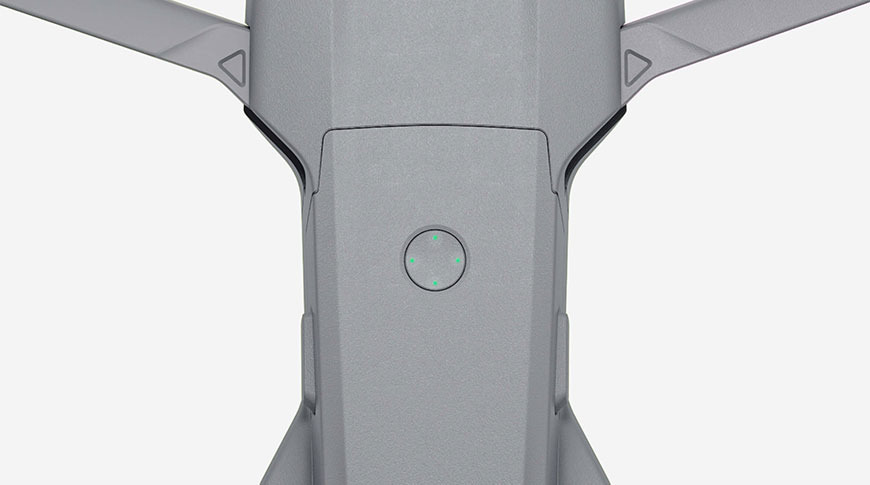 Intelligent software helps pilots capture images with ease. HDR and HDR panorama photos are supported, as is a SmartPhoto feature that uses deep learning and scene analysis to record 12-megapixel photos in one of three image capture options. Scene recognition optimizes settings for sunsets, blue skies, grass, snow, and trees, while Hyperlight takes multiple photos and merges them together to reduce noise in low-light situations.
HDR is also supported for video up to 4K at 30fps, as is 4X slow motion in 1080p at 120fps or 8X slow motion in 1080p at 240fps. Mavic Air 2 can capture and output 8K Hyperlapse time-lapse videos, though not all shooting modes are supported at launch. A three-axis gimbal keeps footage smooth in all but the harshest conditions.
Like other DJI models, Mavic Air 2 is bristling with sensors, including front- and rear-facing obstacle sensors, and downward-facing landing sensors. Auxiliary lights on the bottom of the drone assist with a number of flight functions like automated landing. GPS geofencing and AirSense technology, the latter of which uses ADS-B aviation tech to avoid nearby commercial aircraft, are also included.
DJI packed in the latest Advanced Pilot Assistance System (APAS) version 3.0 for autonomous flying, a feature that, when enabled, creates a new paths around, under or over obstacles. Support for 3D mapping allows for smooth transitions and fluid movements around subjects with little to no user input. FocusTrack provides advanced subject tracking, including Spotlight 2.0, which locks the camera on a subject while a user operates flight controls.
Mavic Air 2 relies on DJI's OcuSync 2.0 technology for flight controls and data transmission. The protocol has been upgraded to deliver stable HD video at a maximum distance of just over six miles and supports both 2.4GHz and 5.8GHz frequency bands with auto-switching.
Finally, a revamped remote controller is similar in style to hardware that comes with DJI's Phantom series, but ditches the protruding antennae for a smartphone clamp.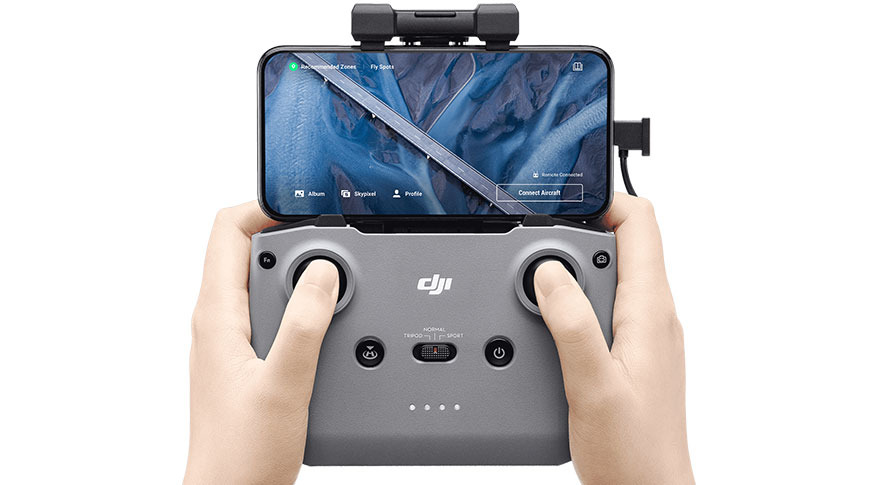 Due to the COVID-19 pandemic, Mavic Air 2 is immediately available in China and will ship out to customers in other destinations in mid-May.
The standard Mavic Air 2 package includes the drone, a battery, remote and cables for $799, while DJI's Fly More option adds a shoulder bag, ND filters, charging hub and two extra batteries for $988. Preorders are available now through B&H Photo and Adorama, as well as DJI's website. Further, B&H Photo is offering free shipping within the continental U.S. once the product is in stock.