Apple opposing US government intervention in lawsuit against Corellium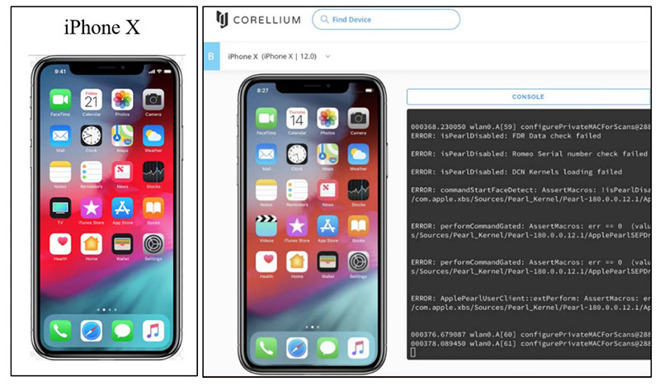 The U.S. Department of Justice is intervening in Apple's copyright lawsuit against cybersecurity company Correllium — a move that Apple's lawyers are already opposing in court.
Apple filed the lawsuit against Corellium in August 2019, alleging that the security firm's iOS virtualization software infringes on intellectual property. In February, Apple subpoenaed Santander Bank and defense contractor L3Harris Technologies to argue the case.
Now, it appears that the DOJ is asking that Apple's request to depose Corellium cofounder Chirs Wade be delayed. According to Forbes, the government hasn't specified a reason for the holdup, but stated that it wants to know what evidence Apple's lawyers will present before they question Wade.
In a filing Friday opposing the Justice Department motion, Apple's counsel wrote that the evidence included "photographs Apple obtained" that "reveal highly sensitive information about sources and methods related to Apple's internal investigation."
The Cupertino tech giant indicated that it would willingly hand over the evidence to authorities, but wanted assurances that the information would remain confidential. That's something the government hasn't provided yet.
"Apple and the court still do not know whether the government has an actual interest in this action. The government has provided no compelling reason, much less any evidence, to justify the unfair prejudice that would befall Apple as it prepares for dispositive motions and trial," Apple's lawyers wrote.
In Friday's filing, the lawyers published an exhibit showing emails between the DOJ and Apple, suggesting that the Justice Department wants to see Apple's exhibits so that they might "use them to help assess (their) interests in the litigation."
Previously, Corellium cited "national security concerns" with Apple's deposition, and a judge in the case had questioned why the government didn't appear to discuss them. Forbes indicated that the government's interest could be tied to a criminal investigation that isn't directly related to Apple or Corellium.
Back in December, Corellium wrote that it was "deeply disappointed by Apple's persistent demonization of jailbreaking," saying that security researchers rely on jailbreaking software to bolster the defenses of apps.