iPhone 11 selfie camera fails to crack DxOMark's top-ten list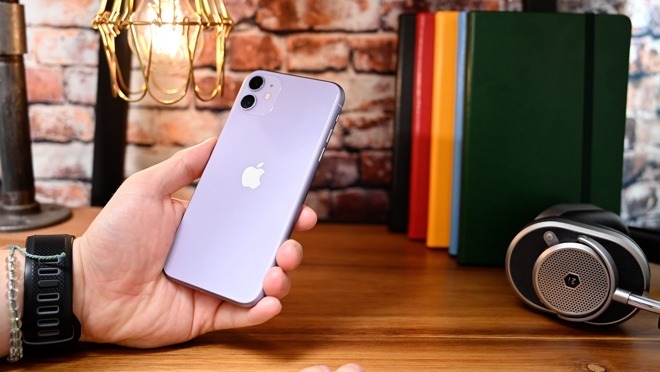 AppleInsider may earn an affiliate commission on purchases made through links on our site.
Digital camera specialist DxOMark on Thursday released a comprehensive review of the front-facing selfie camera on Apple's iPhone 11, finding the device to offer good, if not great, performance compared to competing smartphones.
Calling it the "junior partner" to iPhone 11 Pro and 11 Pro Max, DxOMark in its review notes iPhone 11 shares selfie camera specifications with its more expensive siblings. On paper, both iPhone lines should yield identical results, as both boast a 12 megapixel sensor, 23mm-equivalent focal length lens and support for advanced photo processing features like Portrait Mode and Smart HDR.
According to DxOMark, the iPhone 11's fixed-focus lens is its Achilles heel.
While exposure, white balance and color reproduction are generally good, save for expectedly mediocre performance in low-light situations, DxOMark found focus to be a consistently weak point for the handset. Interestingly, iPhone 11 was outperformed by iPhone 11 Pro Max in various focus tests, including still photography and video, with subjects becoming noticeably out of focus the farther they move away from the camera.
The group did not offer an explanation for the apparent disparity between iPhone 11 and 11 Pro Max, though it did note Samsung's Galaxy S10+ outperformed both iPhones thanks to an autofocus system. Samsung's model also trumped iPhone 11 in simulated bokeh shots, marketed by Apple as Portrait Mode photography.
DxOMark found iPhone 11 to deliver "nice" color, accurate exposure and high detail, especially when photographing brightly-lit outdoor scenes. The sensor was somewhat noisy in all conditions, however, and suffered loss of detail in certain situations.
Overall, iPhone 11's selfie camera achieved a score of 91 points, putting it in 13th place behind top-performer Huawei, a slew of Samsung smartphones, Asus' ZenFone 6, iPhone 11 Pro Max and Google Pixel 3 and Pixel 4.
DxOMark published an in-depth evaluation of iPhone 11's rear-facing cameras in January.