iPhone 11 cameras deemed 'very capable' in DxOMark testing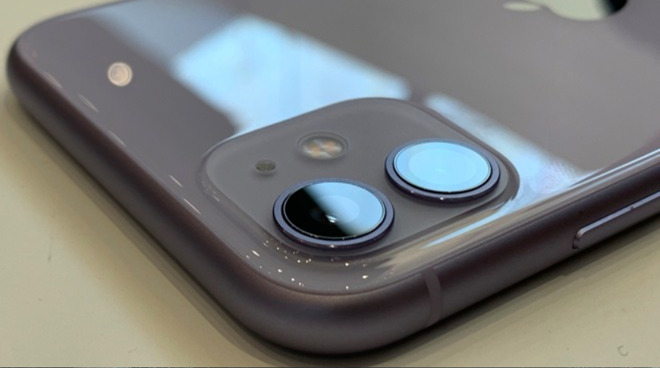 AppleInsider may earn an affiliate commission on purchases made through links on our site.
DxOMark testing has proven the iPhone 11 to be a very capable device that offers improvements over the iPhone XS Max's dual-camera setup, and with some elements comparable with the Pro models.
An independent benchmark that assesses the image quality of smartphones, lenses, and cameras, has finally released its review of the iPhone 11's rear camera setup, and it's generally good news for Apple. The review scored the iPhone 11 at 109 points, up from the 106 points scored by the iPhone XS Max which also uses a dual-camera system on the back of the device.
"The iPhone 11 is a very capable device for both stills and video," writes DxOMark, before pointing out the score of 109 puts it outside of the top ten list for cameras, at 17th place behind the Xiaomi Mi 9 and Huawei Mate 20 Pro. By contrast, the iPhone 11 Pro Max scored 117 points, which put it in joint fifth place with the Samsung Galaxy Note 10+.
The iPhone 11 scored highly for still images, where it picked up a total score for photographs of 112 points, but the 101-point mark for video brought the overall score down.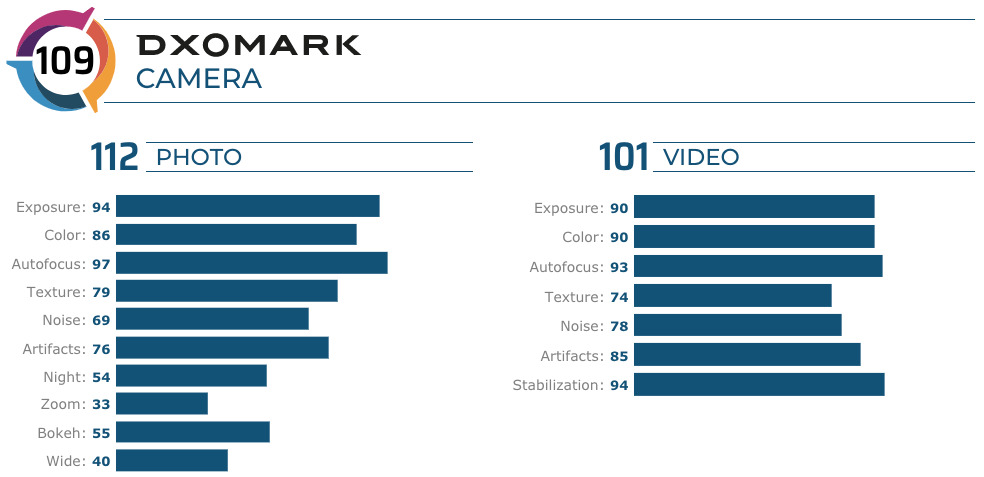 The video scores between the iPhone 11 and iPhone 11 Pro Max are "very comparable" in the review, with still photo performance making the difference between the two devices in terms of imaging capabilities. The use of two lenses instead of three on the iPhone 11 is a "significant factor" in it being lower than the Pro Max's 124 still images score, as the extra lens "provides better results for zoom and bokeh."
Even so, the iPhone 11's ultra-wide-angle camera "is as good as the more expensive Pro model's," with comparable performance in key categories including exposure, color, detail, and autofocus. Users can expect "accurate exposures with fairly wide dynamic range, pleasant color, and sharp shots with good levels of detail in most lighting conditions."
On the video side, a key strength of the iPhone 11 is its exposure, which is accurate in most of the conditions tested, while HDR video processing ensures "highlight and shadow details are reasonably well rendered in bright or high-contrast scenes." In strong bright-light conditions, it is also capable of delivering "exceptional texture preservation" of around 90% acutance between 300 and 1,000 lux, dropping to a "very respectable" 70% under 100 lux, considered to be indoor lighting conditions.
Video weaknesses including slight exposure and white balance instabilities are "not overly problematic," but more noticeable during transitions between different lighting environments. While stabilization is effective and corrects most unwanted motion in static shots, a jello effect artifact is present in motion like walking, but a strong judder effect is noted in videos captured in bright light.
"If photography is an important factor in that choice, the good news is that by and large the less-expensive device lives up to the excellent all-round image quality of the iPhone 11 Pro Max," the report concludes. The lack of a dedicated tele-lens camera for zoom is largely seen as the iPhone 11's main disadvantage over its premium stablemate.
DxO started to perform audio quality analysis on smartphones in October, with both the iPhone XS Max and iPhone 11 Pro Max scoring highly.