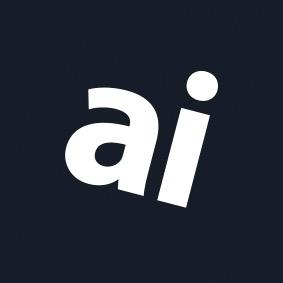 Why you can trust AppleInsider
Review: Plugable Thunderbolt 3 and USB-C Docking Station adds 10 additional ports to your MacBook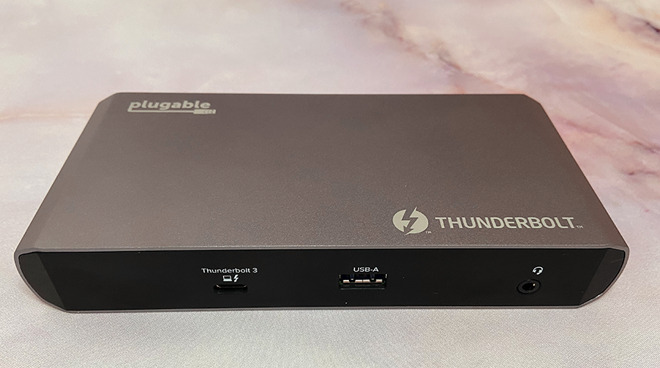 Plugable Thunderbolt 3 and USB-C Dual Display Docking Station
5.0 / 5
---
Plugable's new Thunderbolt 3 and USB-C docking station aims to keep your workspace tidy while helping you expand your monitor setup.
The dock also includes a wired gigabit Ethernet connection, which uses an integrated 1Gbps i210 Intel network adapter with 10Gbps peer-to-peer networking capabilities when directly connected to a second Thunderbolt 3-enabled host.
There are also five additional USB ports — one 10Gbps 3.2 Gen 2 USB-A around the front supporting BC 1.2 charging, two 10Gbps 3.2 Gen 2 USB-C ports, and two 5Gbps 3.0 USB-A ports in the back.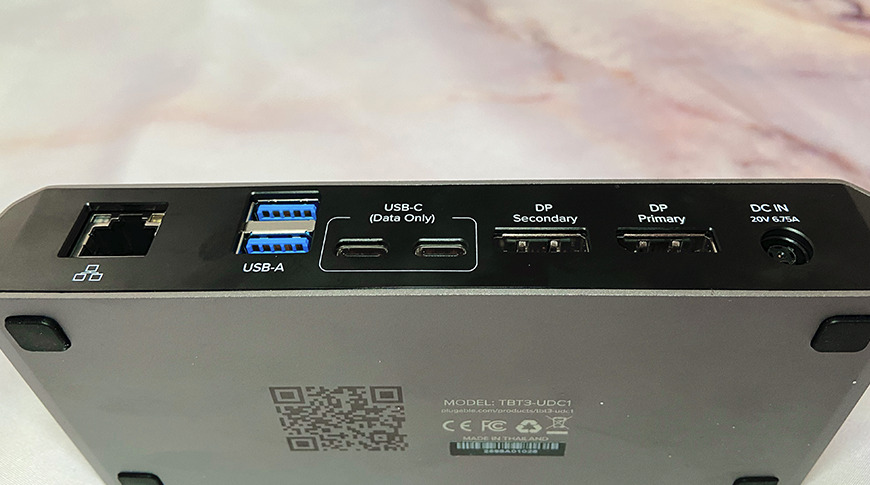 Lastly, there's a combined analog audio input/output jack for connecting headphones and microphones as well.
Compatibility
This dock features full Thunderbolt 3 compatibility with late 2016, Mid 2017, 2018, 2019 MacBook Pros, 2018 MacBook Air, 2018 Mac Mini, and Mid-2017, 2018, 2019 iMacs.
To use the dock, you'll need to be running macOS High Sierra 10.13 or later and have an available Thunderbolt 3 port. There is some limited support for Macs that run macOS Sierra 10.12 — specifically the 2015 12-inch MacBook — with a USB-C port, though.
When used with USB-C, you'll still be able to support two monitors, though at a reduced maximum resolution — 1080p at 60Hz.
If you're the type of person who doesn't own a Mac, that's okay, too. There are plenty of PCs that can also take advantage of this dock.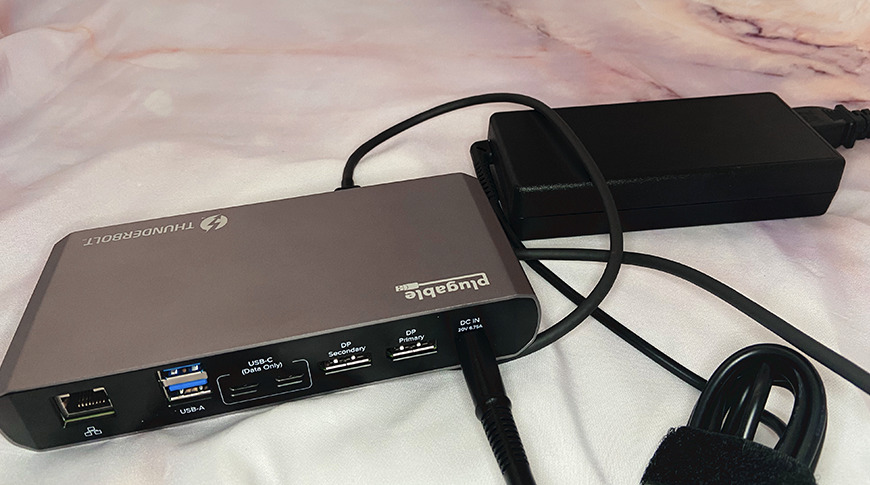 Much of Dell's XPS line is capable of supporting 4K 60Hz dual-display output with charging, as are the newer Lenovo Carbon and Yoga PCs. Some of the HP Spectre line can support 1080p 60Hz dual-monitor output (4K 60Hz single-monitor output) with charging as well.
We suggest checking out the manufacturer's website for a helpful compatibility chart in the event that you plan on using this dock for PC.
Performance
Unsurprisingly, the TB3 dock performed exceptionally well, which is something we've come to expect from Plugable products. While you can use it for supporting two monitors, it's also a perfectly serviceable dock that can expand the functionality of your MacBook Pro.
The addition of USB-A ports allows for the use of older peripherals that haven't migrated to USB-C or Thunderbolt yet, preventing you from dealing with separate adapters for each device.
The only downside is that when used with a MacBook that comes with an 87W charger — such as a late 2018 MacBook Pro — it will likely drain your battery under heavy CPU and GPU load. This is because the MacBook will supplement the 60W dock power supply with its own battery.
Once the GPU and CPU load decreases, the dock will be able to charge the MacBook again.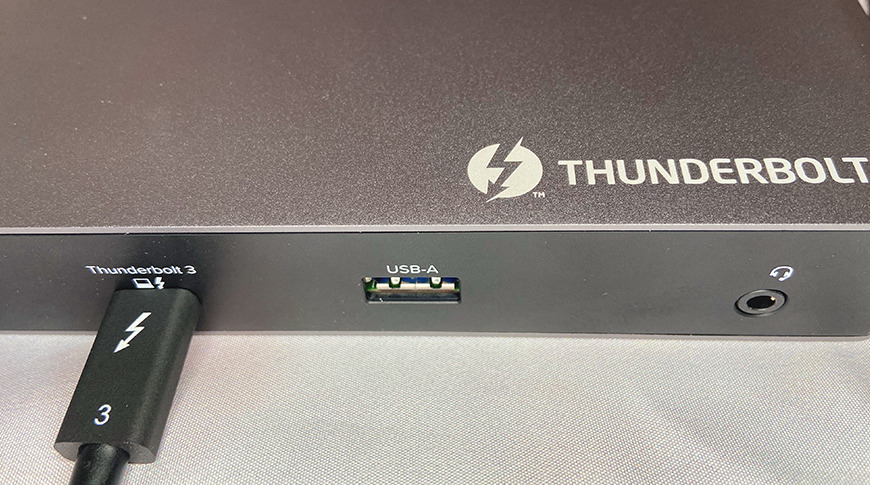 Furthermore, the manufacturer does not suggest that anyone who owns a Core i9 MacBook Pro use this — or any other — 60W dock.
We also found that using a DisplayPort 1.2 cable — especially shorter ones — produced the best results during our testing.
Overall
If you're in the market for a docking station to help expand the capabilities of something like a MacBook Pro, we can't recommend this dock enough. If you're going to use it with a Windows computer, we highly suggest that you check out the compatibility guide before buying, though.
Where to buy
You can purchase the Thunderbolt 3 and USB C Dock from Amazon for $179.00.
Rating: 5 out of 5
Pros
Features both USB-C and TB3 compatibility
Provides 60W power to MacBooks
Drives dual 60Hz displays for MacBook Pro and iMac setups
Limited compatibility with windows computers
Not compatible with the Core i9 MacBook Pro