AMD unveils 7nm Radeon Pro VII graphics card for workstations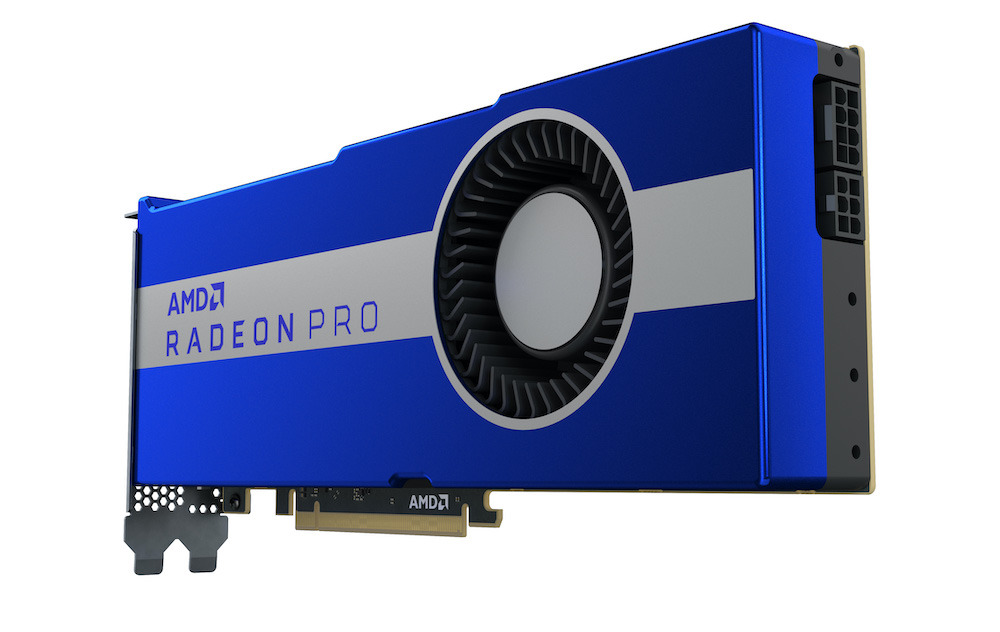 AMD on Wednesday unveiled the Radeon Pro VII, a high-end graphics card similar to past Mac Pro offerings but aimed at the broader professional workstation market.
The card is based on AMD's Vega 20 GPU, which was the company's first 7nm graphics processor when it launched in late 2018. It's also the company's first 7nm card in the Pro lineup besides the Pro Vega cards that have been kept exclusive to the Mac Pro thus far.
Designed for intensive media, broadcast, engineering or scientific workloads, the Radeon Pro VII brings AMD's 7nm Pro architecture to a broader market. The Radeon Pro VII offers up to 16GB of HBM2 memory with up to 1TB of memory bandwidth, up to 13.1 TFLOP of performance for single precision calculations, and support for high-bandwidth PCIe 4.0.
AMD says it'll power up to six synchronized 8K and full HDR displays, provide up to 26% better 8K image processing performance in DaVinci Resolve, and up to 5.6 times the performance-per-dollar versus the competition (per benchmarks in its internal testing).
The card also supports AMD's Infinity Fabric Link tech, which can speed up app data throughout with high-speed GPU-to-GPU communications, to the broader workstation market. Notably, that's something already supported by the Mac Pro-exclusive Pro Vega II GPUs.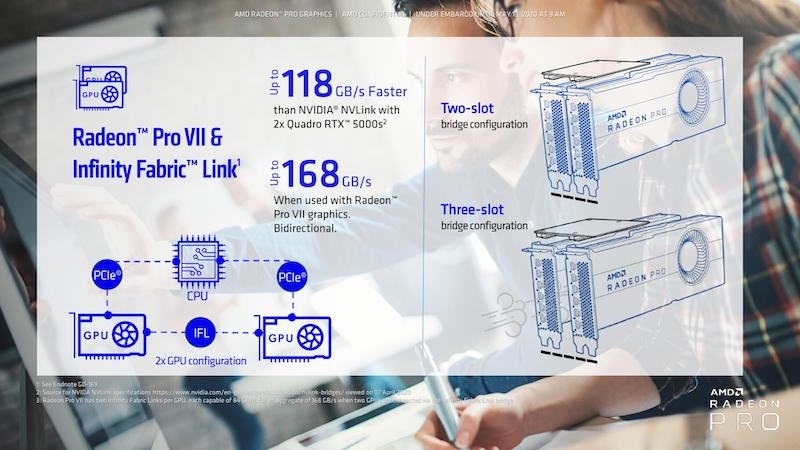 Other special features include AMD's remote working technology, which allows users to access their physical workstations from another location using a proprietary enterprise driver.
While not as powerful on paper as the Radeon Pro Vega II GPU, the Radeon Pro VII features a wider range of supported AMD technologies. It's also quite a bit cheaper compared to the Pro Vega II Mac Pro upgrade, and it doesn't require a buyer to purchase that machine to get their hands on it.
To put it another way, the Radeon Pro VII offers the full breadth of AMD's professional power and feature in a workstation-class card. Delivering 6.5 flop double precision calculations, AMD says that the card is up to two times as powerful as the consumer-aimed Radeon VII, which is also based on the Vega 20 architecture.
AMD says it expects the Radeon Pro VII to launch in mid-June with a retail price of $1,899. Workstations with the card baked-in will debut in the second half of 2020. It isn't yet clear if the card will work in the Mac Pro or eGPU setups at launch, but given history, support is likely.