S1: How Apple's custom iPad silicon powered a leap into wearables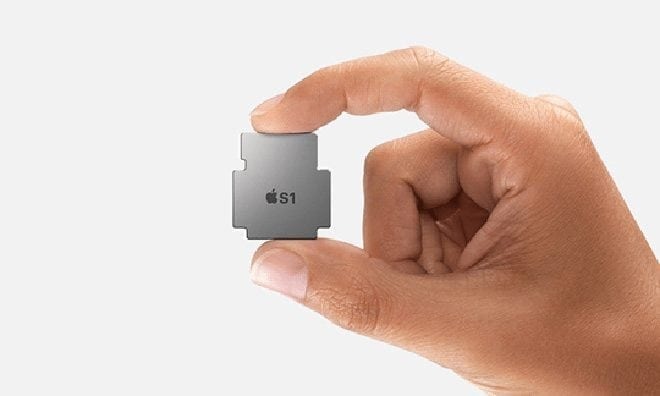 Apple's wearables business, anchored by Apple Watch and expanding with AirPods, is proving to be both strong and resilient even as rivals struggled to find a footing for their own ultra-mobile products. A key reason backing Apple's success in the segment is its custom silicon work that began a decade ago for the launch of iPad. Here's a look at why.
Despite early naysaying that incessantly claimed Apple Watch could never possibly "move the needle" for Apple in terms of meaningful revenues, the company's 'Wearables, Home and Accessories' segment contributed $10 billion over the last holiday quarter and subsequently established a new March quarter revenues record of more than $6 billion— even as the coronavirus pandemic was causing havoc and forcing Apple's retail stores to close.
Apple's results are not typical in the global market for wearables. The tech industry is only just beginning to fully appreciate Apple's vast technical lead in mobile silicon, developed over the last decade with its custom A-series chips powering iPhone and iPad. Yet five years ago, Apple was already in the position to leverage its silicon expertise to enter entirely new markets and crush the competition— despite arriving years late.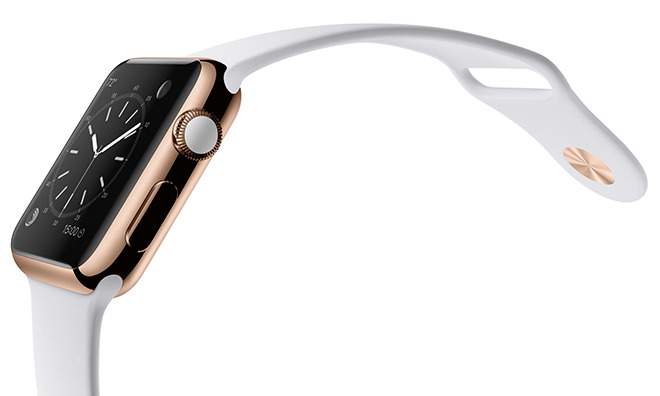 By 2015, Apple had demonstrated that developing its own A-series chips had enabled it to stay ahead in smartphones and outlive its rivals in tablets. This in-house silicon expertise would also enable it to rapidly enter new market categories and deliver products that would prove to be extremely difficult for less-integrated rivals to compete against, starting with wrist-worn wearables.
The mere idea of a new product from Apple triggered a variety of analysts to scribble up incredible forecasts that had little basis in reality, either as a narrative to pump the stock or simply a way to put their name in headlines. This also allowed clickbait writers to do the same from the other end, gravely warning that Apple Watch wasn't going to reach those made up forecasts and would, therefore, be a failure.
To most other observers at the time, the actual potential of the company's new Apple Watch was difficult to imagine because they had already convinced themselves that Apple was approaching failure with iPhone and iPad, using market share figures and unit sales estimates to back up a narrative that insisted that Apple's business would soon be trampled by cheap phones like the $350 Nexus 5 and $30 Walmart tablets.
A huge misunderstanding in tablets and silicon
The previous segment in this series looking at Apple's history of custom silicon, detailing the company's A8 and A8X, looked at how Apple moved its four-year-old A-series chips away from Samsung's chip fab in 2014, creating a new partnership with rival fab TSMC that continues to this day. By that point, Apple had reached its all-time peak in unit sales of iPad.
Yet while pundits distracted themselves with musings about how Apple had apparently failed with its "collapsing iPad" the reality was that Apple had shipped extraordinary numbers of profitable tablets that nobody else had managed to do. Those sales had financed the vastly expensive work of developing new generations of state-of-the-art mobile silicon.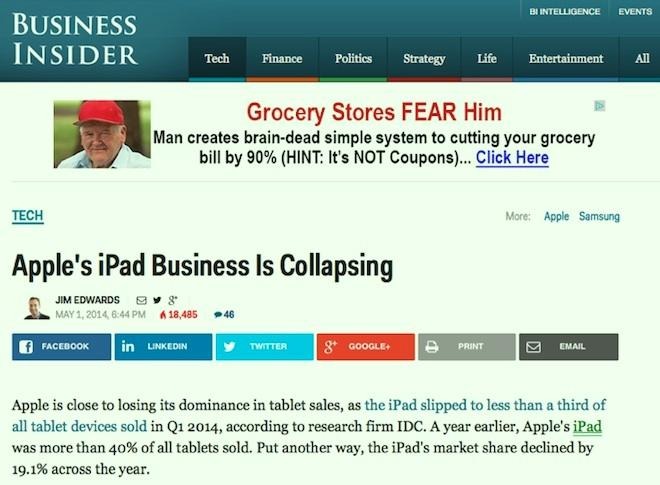 Apple's internal A-series chip development had already caught up with the world's leaders in mobile chip design— notably including Intel's Atom and Qualcomm's Snapdragon— both of which had launched a year or two ahead of Apple's original iPad powered by the then-new A4 in 2010.
Few seemed to grasp the full importance of this at the time. And many imagined that if Apple had banged out a custom chip architecture, surely anyone else could, too. It even appeared that Nvidia, Samsung, and a variety of other firms already were delivering new mobile silicon at least as well as Apple if not better and that perhaps even Google would soon ship its own custom Application Processors as well, potentially subsidizing the work of all of its various Android licensees.
The case of the missing critical mass
But now that tablet sales were no longer growing, there was no obvious way for another market participant to belatedly copy what Apple had accomplished with its iPad sales and fund their own massive in-house chip development project. At the same time, speculative chip designers that had targeted consumer mobile products, notably Nvidia's Tegra and Texas Instrument's OMAP, were abandoning that market segment as unsustainable because their chip clients were unable to find high volume, profitable sales of their own tablet devices.
Rumors that Microsoft or Google might deliver their own custom Application Processor chips— just as Apple had— never materialized. That's because neither company could rationalize such a massive investment at tremendous risk, largely because neither could manage to profitably sell commercially significant numbers of tablets on a scale comparable to Apple. Beyond tablets, Microsoft and Google were also failing to sell desktops, notebooks, netbooks, TV boxes, and various other hybrid devices or new categories, despite optimism for their Surface and Pixel brands.

It turned out that there were not infinite opportunities to earn massive revenues from computing products. Further, the window of opportunity for establishing a tablet business appeared to be rapidly closing before anyone apart from Apple could leverage that opportunity to build a silicon architecture.
Apple had earlier found itself in a similar predicament with the Macintosh, first when using Motorola 68k chips and then PowerPC chips, in an industry where massive economies of scale were favoring Intel x86 processors. Apple's only recourse was to eventually adopt x86 for its own Macs in 2006.
Yet not even ten years later, the companies that realized a bit too late that they'd similarly failed to take hold of their own silicon destiny in mobile devices didn't have the option to adopt Apple's chips, because its A-series chip development was proprietary and custom-designed for only one client: Apple itself.
Microsoft, Google, Samsung, and other Android tablet, netbook, and phone makers would have to settle for off the shelf ARM chips from vendors such as Nvidia and Qualcomm, even as Apple kept pushing its own A-series chips ahead in ways even Qualcomm couldn't, largely because Apple was effectively selling higher-end products driving the profits that could afford the constant investment in aggressive annual leaps in performance and battery efficiency.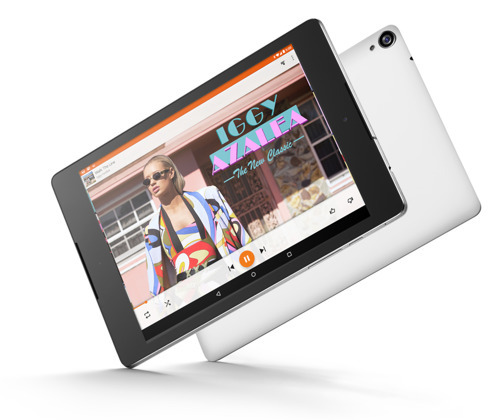 And while tablet unit sales suggested on the surface that Apple's success with iPad was running out of steam in 2015, the reality was that the company's investment in mobile devices with larger displays— along with the powerful CPUs and GPUs to power those larger screens— was enabling Apple to not only build ever faster iPads but also to begin selling larger, and more lucrative iPhones as well.
Apple's larger iPhone 6 and iPhone 6 Plus ended up inhaling most of the market for larger premium phones, a segment initially pioneered by Samsung and Motorola. Apple also raised the pricing of its larger, high-end iPhones, but rather than losing sales to cheaper competitors, its iPhone sales reached new peaks in both volumes sold and in average selling prices. Pundits enraptured with sub-$300 phones were wrong: the most valuable customers globally voted with their dollars to gain access to better, more advanced technology, rather than just cheaper phones.
Cheap Androids were growing in unit volumes but were not profitable enough to finance the bleeding-edge future of mobile technology. That applied not only to tablets, but also to another market segment that Samsung, Google, Motorola, and other Android licensees had attempted to wrangle years ahead of Apple: smartwatches.
Apple takes a SiP, leaves nothing behind
Alongside its launch of iPhone 6 the previous fall, Apple had also unveiled an initial preview of Apple Watch. A few months later, Apple Watch went on sale in the spring of 2015 and rapidly began devastating Samsung's flashy experiment with Galaxy Gear, the wearable product line it had been trying to sell over the past two years.
Apart from Samsung's phablets that iPhone 6 had trampled at launch, Galaxy Gear watches had been the only significant product category where Samsung appeared capable of leading, simply because Apple hadn't entered the space. Now that it had, Samsung's watches began to look as commercially fragile as its tablets, premium smartphones, phablets, and portable music players.
Pretty incredibly, Apple had developed its entirely new "System in Package" S1 as a wearable computer module capable of running a subset of iOS for Apple Watch, in parallel with its second-generation 64-bit A8 and while also moving the A8 to TSMC. And beyond just competing with Samsung's Tizen-based Galaxy Gear, Apple Watch also absolutely destroyed both Microsoft's simple Band and Google's elaborate Android Wear platform, as well as other existing wearable platforms including Pebble and Fitbit. Apple Watch then set out to inhale the revenues of the conventional luxury watch market.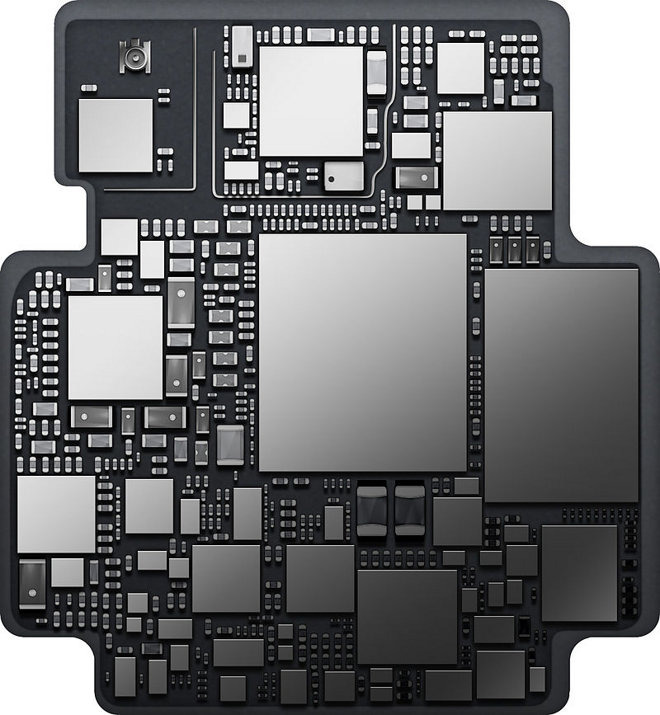 It appeared that the original Apple Watch S1 package was reusing some of the processor design work of Apple's 2011 A5 used in iPad 2 and iPhone 4s. The original 45nm A5 chip was later produced at a 32nm fab process for use in 2012's Apple TV. Three years later, that logic was further reduced to a 28nm process as part of the S1 SIP for Apple Watch.
The S1 also packed in a variety of other logic components from AMS, Broadcom, Dialog, IDT, STMicroelectronics, as well as Elpida DRAM and flash storage from SanDisk and Toshiba, along with Apple's new Taptic Engine for haptic feedback. These parts were all sealed in resin to create a durable, shock resistant, and for the first time liquid-resistant new Apple device. Apple Watch also delivered NFC to support Apple Pay, in tandem with the recently released iPhone 6.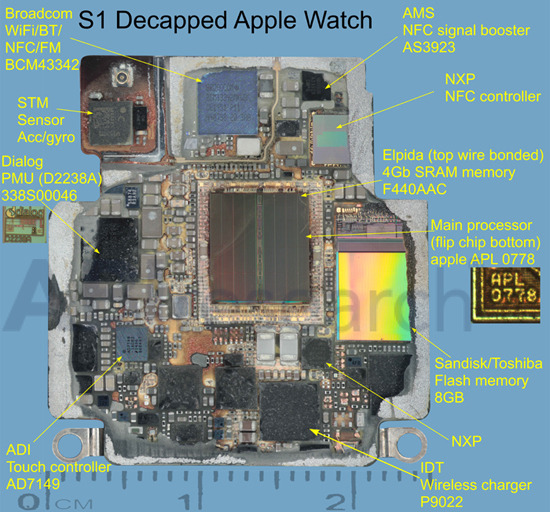 In the same way that the development of Apple's A4 to A8X had been co-financed by iPad sales, the development of Apple's new smaller and liquid-resistant wearables with haptic feedback, induction charging, NFC, and the SiP to power them was going to be financed by billions of dollars of Apple Watch sales.
Fooled again
Virtually every corner of the media, from platform enthusiast bloggers, to newspaper columnists, to market research groups such as IDC, to analytics firms like Slice worked to immediately depict Apple Watch sales as having "plunged" after first describing its sales as "tanking" immediately out of the gate, while also producing data that appeared to indicate exceptional growth in other wearables from Fitbit, Xiaomi, Garmin, Samsung, and others.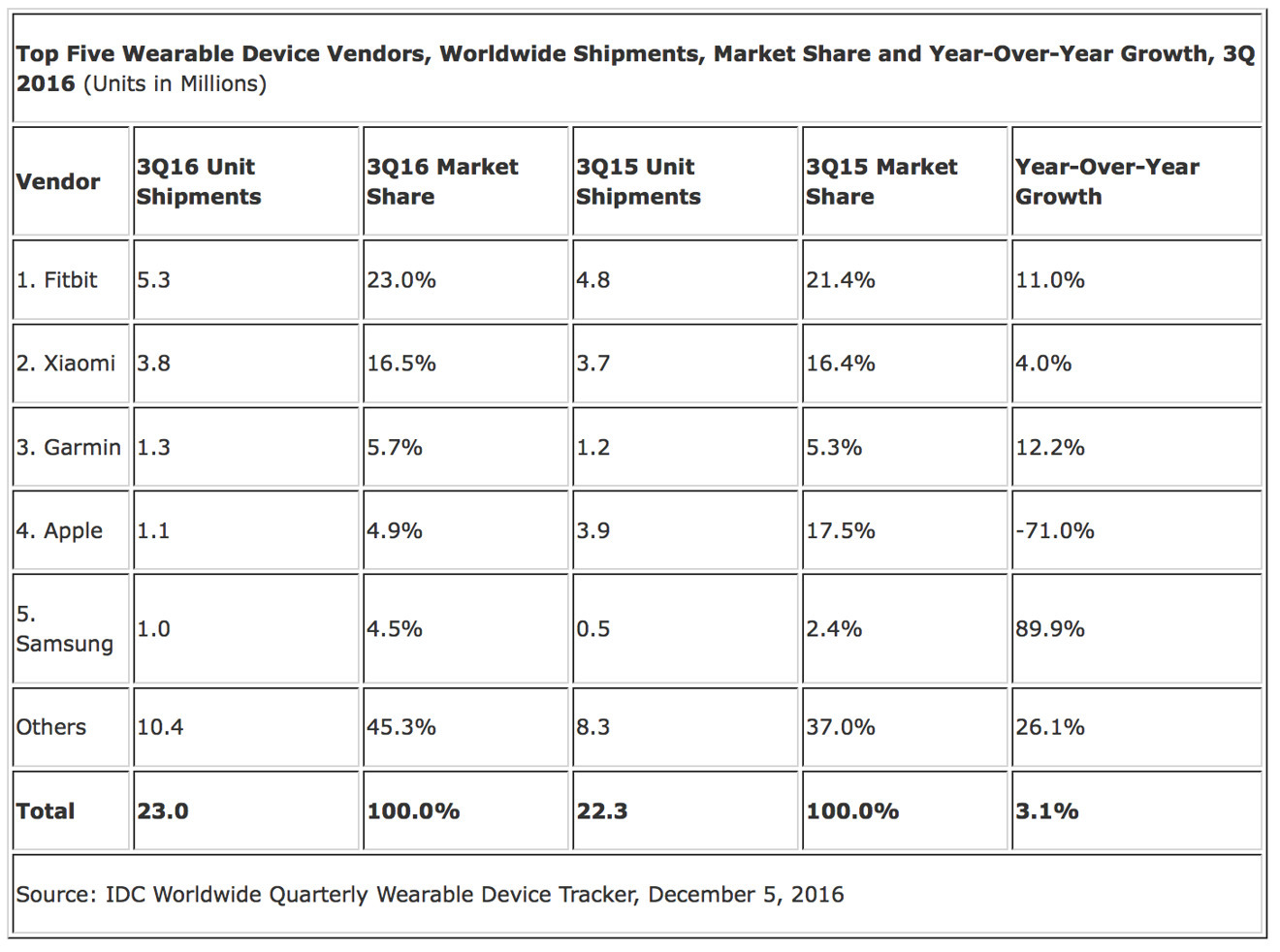 These narratives were remarkably similar to earlier reports that sought to portray iPad sales as troubled and tumbling in a market where Amazon, Google, Microsoft, Asus, and many other tablet makers were apparently doing well and achieving impressive market share.
Yet in both cases, Apple had two unique, complementary factors working in its long term favor: profits from large volumes of premium sales, and custom development invested in enabling proprietary technology, particularly in silicon.
Few of Apple's Watch competitors were deeply invested in their own custom wearable silicon. Most were using generic commodity application processors or simpler microcontrollers from Qualcomm, Toshiba and others. Samsung was perhaps closest to Apple with its own Exynos chip designs, but while Apple was exclusively using its own custom A-series chips, Samsung was both selling its Exynos chips to competitors and using third party silicon from Qualcomm and a variety of other vendors.
Exclusively building upon its own past success
Part of the reason why few Apple Watch competitors had their own advanced wearable-class silicon was that few also had earlier developed their own silicon for tablets and phones; Apple could leverage some of the work it had already done to effectively scale down its 2011 tablet chip for its 2015 watch. Samsung similarly used its 2011-era Exynos 4212 to power Galaxy Gear, but few other wearables makers were similarly positioned.
The fact that so few of Apple's wearable competitors had their own advanced custom silicon made it impossibly harder for them to build products that were differentiated and compelling. Even with four years of advanced silicon experience, Apple's original S1 was very much a "1.0" product that delivered the first "Series 0" Apple Watch with performance and battery life that begged for improvements. Yet with the confidence that it would be shipping millions of devices, it could rapidly iterate with an advanced S2 for the new Apple Watch Series 2 the next year, along with a S1P version of that technology to power a less expensive, refreshed Series 1 model.
As Apple pursued its familiar cycle of annual hardware upgrades with ever faster and more capable silicon, Samsung followed its own signature playbook in wearables, rapidly branching out in a busy cloud of offerings at different prices, running different operating systems, and powered by both its own Exynos chips and Qualcomm chips, as required to support mobile data features. This unsurprisingly splintered the available demand and resulted in the same low-profit, unsustainable market Samsung had created in tablets. It also did little to advance Samsung's own Exynos silicon.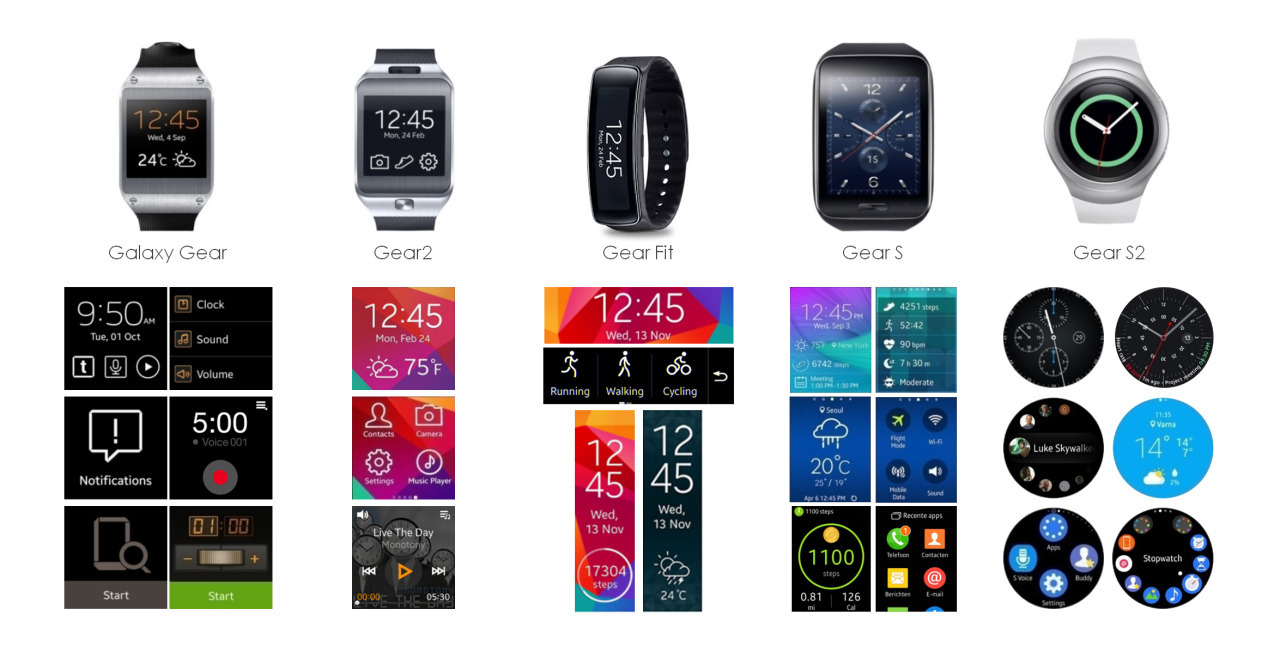 Apple's focus on the premium end of the wearable market, its conservative approach in releasing a limited number of Watch options, and its liberal investment in wearable technology— particularly in silicon but also in watchOS and useful apps— resulted in a successful and sustainably profitable Apple Watch business that not only supported itself but also strengthened the "sticky" iOS ecosystem with tight integration to iPhone, Siri support, and Continuity features.
The company's long term strategy with Apple Watch also set it up to continue its silicon lead in wearables with new products such as AirPods and pioneered a variety of technologies that would enhance the company's existing products. Full-screen swipe gestures, Force Touch, liquid resistance, induction charging, and OLED displays all played a part in Apple's radical rethinking of its phone with the release of iPhone X a few years later.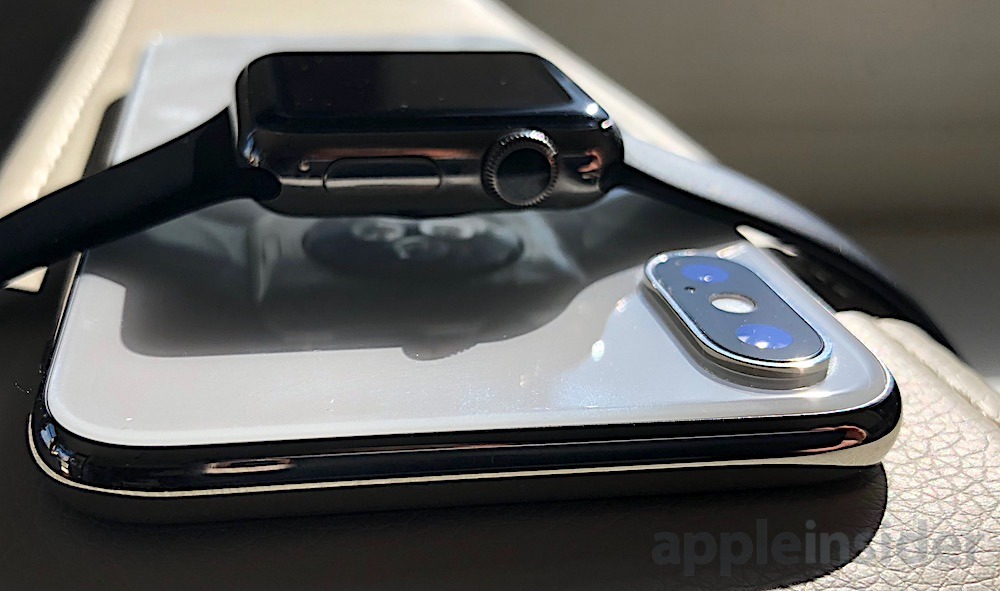 Tomorrow's hindsight will reveal today's secrets
While hindsight provides a variety of insights into how Apple's products— and key technology investments including custom silicon— have enhanced each other, it's also obvious that the company today is pursuing technologies with applications beyond what the company has already delivered. From Ultra-Wideband to Augmented Reality, many of the new technologies that Apple has recently introduced will be powering future products and initiatives that are not yet possible to deliver.
Apple's massive investments in custom silicon over the past decade have not only powered new generations of wearables, phones, and tablets, but also appear to be enabling Apple to finally deliver conventional notebooks and computers without x86 chips from Intel. We've already seen Apple introduce new Mac features driven by custom silicon in the form of the T2 chip that powers modern Mac security, encryption, media encoding, features including "Hey Siri" and Sidecar, and even new hardware features such as Touch ID and Touch Bar.
Even as Apple has made it look effortless to deliver new generations of its A-series application processors and S-series packages powering wearables, the reality is that this silicon work was difficult, expensive, and risky. It also demanded major integration work with everything else Apple was doing. And nothing makes this more clear than looking at how Apple's peers failed to copy what it was doing— as the next segment will detail.