Review: Logitech's Circle View is the HomeKit camera we needed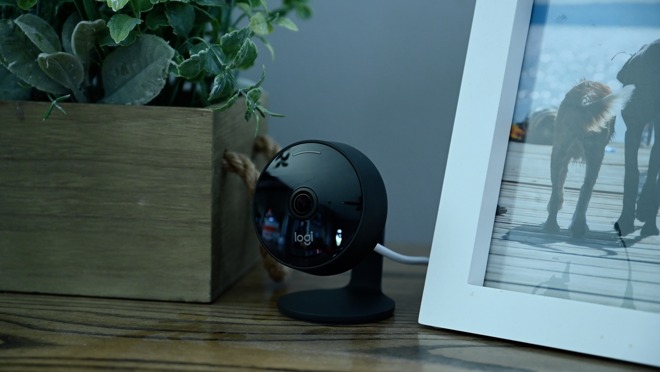 Logitech Circle View
5.0 / 5
---
AppleInsider may earn an affiliate commission on purchases made through links on our site.
Logitech's new Circle View smart home security camera is the successor to the popular Circle 2 camera and is exclusively a HomeKit Secure Video device with a refined look and simple setup.
With so many smart home cameras entering the market, it gets more difficult to pick a specific one out that meets your needs. Fortunately for those in Apple's ecosystem, the list of requirements can be quite short — HomeKit. That is what Logitech's new Circle View smart home security camera is all about — Apple's smart home platform.
It sheds any superfluous features to be a third-party option that works so tightly knit with your Apple products, it could have been launched by Apple itself.
Circle View hardware
Logitech's Circle View has a very subdued appearance, with an all-black exterior and overall small design. Most of the body is a hefty matte-finished metal while the lens housing is plastic. There is a hinge in the middle of the back that allows the camera to be tilted for the best angle.
Privacy is a huge deal within HomeKit, so it makes sense that Logitech also focused on it. There is a physical button on the rear of the camera that will switch the camera to "off" mode. You will receive an alert through the Home app (if you elect to) that lets you know the camera is off and the front-facing LED will extinguish.
But that isn't all, by articulating the back, not only can you adjust it for placement, but it also serves a privacy purpose. You can tilt the camera straight down and physically obfuscate the camera and prevent it from capturing any video, even if it was compromised. Being physically blocked should comfort even the most staunch of privacy advocates.
There is a status LED on the front, arced above the lens. This lets those in the room know if the camera is on, or whether it is in privacy mode.
One potential downside of the camera is the cord. The cable is permanently affixed and unable to be removed. Should something happen to the cable, you're out of luck. The cable likely is connected this way to maintain water resistance. Logitech says the camera is waterproof and can be mounted outside, but it comes with an asterisk.
Circle View's power adapter is indoor only. So even if you mount this outdoors, it needs to be plugged in indoors. You can route the cable as you see fit, but in our tests it seems the Logitech Circle View will also work with the exterior power cable offered for the Circle 2.
This is a small box and USB power adapter that are watertight, allowing for exterior use. We'd rather that this camera be USB-C than USB-A, but if it means we can use our existing exterior power adapter, we are ok with it.
The Circle 2 had a wide variety of other accessories including window mounts. Hopefully, Logitech adopts similar practices with the Circle View.
A HomeKit-only camera
As mentioned, this camera is designed to work only with HomeKit and HomeKit Secure Video. No Logitech Circle Safe subscription necessary or even any third-party app.
That makes setup a cinch. Plug the camera in, scan the code from the Home app, give the camera a name and location, and *boom*, the camera is ready to go. That's the beauty of HomeKit — regardless of the manufacturer, it is all set up using the same simple process.
Since there is no third-party app, everything for this camera is controlled via HomeKit and the Home app — for better or for worse.
The downside is that features that HomeKit doesn't support aren't available. When you have a camera that supports HomeKit but also its own app you get both worlds. You get features like package detection or motion zones.
While you do lose those features, you pick up much more. A HomeKit-only camera means there is no need for a third-party subscription to enable those other features. Those features typically rely on cloud servers to run and have a cost associated with them.
Because the Circle View solely works within the Home app, there is no way to manually perform firmware updates. Apple has no established way for accessories to perform updates. The way we see it now is that the Home app will alert you to a software update and direct you to the manufacturer's app to perform said update.
With Circle View, it will poll on its own every night to see if a new update is available. If so, it will download and install. There is no way to manually do the update or request an update. So as new firmware is rolled out, you will have to wait for the camera to update on its own.
HomeKit and HomeKit Secure Video
When the camera is added to the Home app and assigned a room, tapping the snapshot brings up the live feed. In our tests, it was very responsive in pulling up in or out of the home, though that may depend on your network and Wi-Fi.
The camera is broken out into three accessories. The video stream, a motion sensor, and a light sensor. The latter two can be used to trigger other automation tasks. For example, when it gets dark, turn on a HomeKit nightlight built into your iDevices wall switch. Or when motion is detected, toggle the lights to turn on at different brightness levels throughout the day.
Notifications for a security camera are key. With HomeKit, you have quite granular control over what you get notified about. First, you can elect to include a snapshot in your notification. Then you can get notified whenever the camera changes state, such as when entering privacy mode.
You can then choose to tailor your notifications to specific times of day (during the day, at night, allotted times). These notifications can be for any motion or when a clip is recorded (more on that in a moment). Finally, notifications can be sent at any time, or they can be sent based on whether or not someone is home.
Piggybacking on notifications is when the camera can stream and when it can record. There are two different times when the camera may record — when someone is home versus when you are away. During each of these times the camera can be set to off, to only detect activity, to stream, or to stream as well as record.
When recording, it can record when any motion is detected, or when any combination of people, pets, or vehicles are detected. Audio can also be enabled or disabled while recording. Worth noting, all video is highly encrypted when stored as well as when streaming.
As an example, you could set the camera to switch to motion only mode when you are home so that your motion-based routines continue to work but no one can view the camera. Then when you leave, it will send you notifications and record whenever people are detected in your home.
Another example is leaving the camera on and able to stream while you are home but only sends notifications during the night.
The camera can also be viewed remotely though of course you need a Home Hub in the form of a HomePod, Apple TV, or dedicated iPad for those to run.
Video quality
The Circle View can record video at 1080p, which isn't the highest in the smart home space. We see the likes of Arlo launch 2K and 4K cameras that offer much greater detail and digital zoom. Unfortunately, HomeKit only supports 1080p footage so a higher-resolution camera, at this time, would be useless.
HomeKit Secure Video will store up to ten days of recordings per camera if a user is subscribed to the 200GB iCloud Storage Plan. If users jump up to the 2TB iCloud Storage Plan they receive ten days of recordings for up to five cameras. Better yet, HomeKit recordings don't count against your storage plan. The 2TB plan only runs $9.99, which is far cheaper than most alternatives.
Circle View has that 180-degree field of view which does allot quite a bit of coverage. Considering the cost, we appreciate when we can capture more in view of one camera without having to pick up another. That will entirely depend on your setup though. Because the camera captures such a wide POV there is a degree of distortion though not so much as to be problematic.
The camera does come equipped with dual IR LEDS for roughly 15-feet of night vision. Night vision is solid, but it can be better. Quick tip: Improve night vision by picking up some HomeKit-enabled LIFX IR smart bulbs. These bulbs can be triggered by the Logitech's motion sensor and will blanket the area in IR light to improve the quality of that video and increase the range.
Circle View versus Circle 2
The Logitech Circle 2 camera was, rightly, one of the most popular HomeKit cameras around. It will well-stocked in Apple Stores, quick to be updated to support HomeKit via a software update, and the first camera to add HomeKit Secure Video support, albeit in beta.
We've consistently seen stock of the Circle 2 waning in recent months, a hopeful sign a successor was on the horizon.
Unlike the Circle 2, the Circle View only comes in a wired version. Circle 2 had a wireless option, but due to HomeKit limitations on wireless cameras, it did not support Apple's smart home platform.
Some cameras — Eufy, Arlo — get around this barrier by including a bridge, but for standalone cameras, there is no way to go entirely wireless.
Circle View has an entirely new design from the Circle 2 wired. Circle 2 had a fully-articulated base, a matte white exterior, and a wealth of accessories. Circle 2 had an interior window mount to help prevent glares, an exterior magnetic mount to connect to a metal surface or the included metal plate, weatherproof power cables, wall outlet mounts, and more.
At launch, there aren't many accessories for Circle View, but as we said, hopefully, they come in time.
The biggest difference is in the software. Circle 2 was set up first through the Logitech Circle app. The app itself had a great user interface, filters for motion type, time-lapse summaries, and an extended cloud storage plan for a monthly fee called Circle Safe.
After voluntarily upgrading a Circle 2 to support HomeKit Secure Video, it no longer supported the Circle app and moved only to the Home app. Circle View avoids a Logitech app altogether, right from the start.
Otherwise, both cameras have a 1080P resolution, 180-degree field-of-view, two-way audio, support HomeKit Secure Video, and operate over Wi-Fi.
If you are debating on upgrading from the Circle 2 to the Circle View, you mostly have to decide if the design is worth the upgrade, because otherwise they are very similar in terms of performance.
Circle View versus Eve Cam
If the entire premise of the Circle View sounds mildly familiar, it is likely because of the news of the Eve Cam which was announced during CES 2020. It too is a home security camera that exclusively works with HomeKit and HomeKit Secure Video.
Because both of these cameras are designed just for HomeKit Secure Video, most of the features are the same. Everything HomeKit-related is feature parity between both.
There are slight differences though in the hardware. Circle View has a waterproof body, while the Eve Cam is intended solely for indoor use. Depending on your use case, this may not be a big differentiator as the Circle View doesn't have an outdoor power adapter.
The other difference is the field of view. Eve Cam is 150 degrees while Circle View is 180 degrees. This should bring a bit more into view of the camera, though it may have more distortion than the Eve Cam. We will certainly have to compare the video quality between the two once Eve Cam launches.
| | Eve Cam | Circle View |
| --- | --- | --- |
| Field of View | 150-degree | 180-degree |
| Resolution | 1080p | 1080p |
| Weather Resistance | Indoor only | Waterproof (Except power adapter) |
| Two-Way Audio | Yes | Yes |
| Mounts | Metal body with adjustable angle and included wall mount | Flat metal base with adjustable angle and included wall mount |
| Night Vision | Infrared night mode | Infrared night mode |
| Price | $149 | $159.99 |
Should you buy the Logitech Circle View?
Right now, the Logitech Circle View is the only HomeKit Secure Video-specific camera to hit the market. The Eve Cam is also tempting, but with no release yet, it is hard to judge them side-by-side. If you are tempted by the Eve Cam, this would be the only reason to hold off on picking up the Circle View.
Historically, the Circle 2 is a reliable, quality, responsive HomeKit and HomeKit Secure Video solution. Circle View elevates it with a much higher-quality design, a cleaner aesthetic, and a simpler setup. It may not be an upgrade by itself but it is the most tempting option right now in the world of HomeKit cameras.
We love the security provided by HomeKit, the ease of use, and the knowledge that relying on Apple's Home app should help additional features come via iOS updates in the future.
Simple setup
Exclusively supports HomeKit and HomeKit Secure Video
No third-party app, account, or subscription required
Wide 180-degree FOV
Fully encrypted
Privacy button and physical obfuscation
iCloud video storage included with iCloud plan
Elegant, streamlined design
Water-resistant body
Loses non-HomeKit features
Not inexpensive
HomeKit is limited to five cameras - but this is more on Apple than Logitech
Rating: 5 out of 5
Where to buy