Apple working on future iPad keyboards with 'touch-strips,' multi-function keys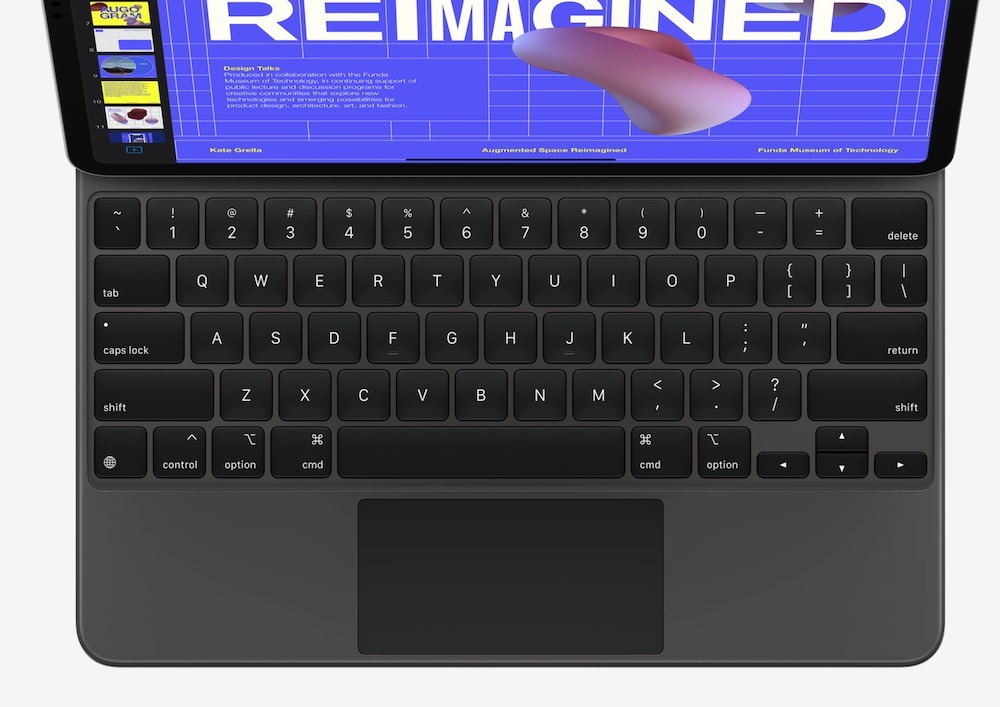 Apple is developing new keyboard input methods, such as multi-function keys and touch-strips, that could address the shortcomings of typing and navigating on smaller-sized devices.
Devices like the iPad Pro have a range of user input methods, such as a multi-touch display, external keyboard cases, and since iPadOS 13.4, trackpad support for accessories like the Magic Keyboard. On smaller portable devices, Apple notes that the size of UX methods "remains an issue."
To help address those issues, Apple has filed a patent application titled "Portable Computing Input Devices and Methods" that offers a range of ideas to implement better control mechanisms and abilities in physical and virtual keyboards.
According to Apple's patent, there's a need for a keyboard that "introduces new multi-functional keys to replace less frequently used keys found on conventional full-size keyboards."
One example of that could be a "notification key," which could register contact sensitivity and perform actions based on how hard a user presses it. It could also determine which action to take depending on context — such as if or when a notification is available.
More specifically in this case, pressing and holding on this key would bring up the notification center. Once a user stops pressing on it, the notification center would disappear. Other possible uses for "multi-functional keys" include dedicated keys for bringing up the share sheet or editing text.
The patent also describes ways of implementing new capabilities into existing keys, such as integrating intensity sensors below the arrow keys and allowing for "improved keyboard arrow key scrolling" on devices that lack a touchscreen. This type of scrolling and inertia effect would be "intuitive," Apple says, likening it to a user taking their foot off the accelerator pedal on a car.
Apple also proposes that some trackpad functionality could be replaced by touch-sensitive strips situated to the left and right of a physical keyboard. The patent essentially describes these touch-sensitive strips are elongated trackpads that can allow users to scroll through content. They'd also be multi-functional, and could perform actions like bringing up the notification center if a specific gesture is performed.
Other portions of the patent detail 3D Touch-like, gesture-based input methods on touchscreen keyboards, such as light pressing, deep pressing, pinching and press-and-hold.
The inventors listed on the patent are Julian Missig, Linda L. Dong, Jeffrey T. Bernstein and Morgan H. Winer, all of whom have worked on numerous previous Apple patents. Bernstein, for example, was listed as an inventor for a patent on a "Force Touch" keyboard for Mac. Missig was named on a patent for location-based authentication settings, among others.
Apple files many patents every week, and there's no guarantee that the technology described in them will ever be used in a finished product.