Review: Pad & Quill Apple Watch cuffs are unique and rugged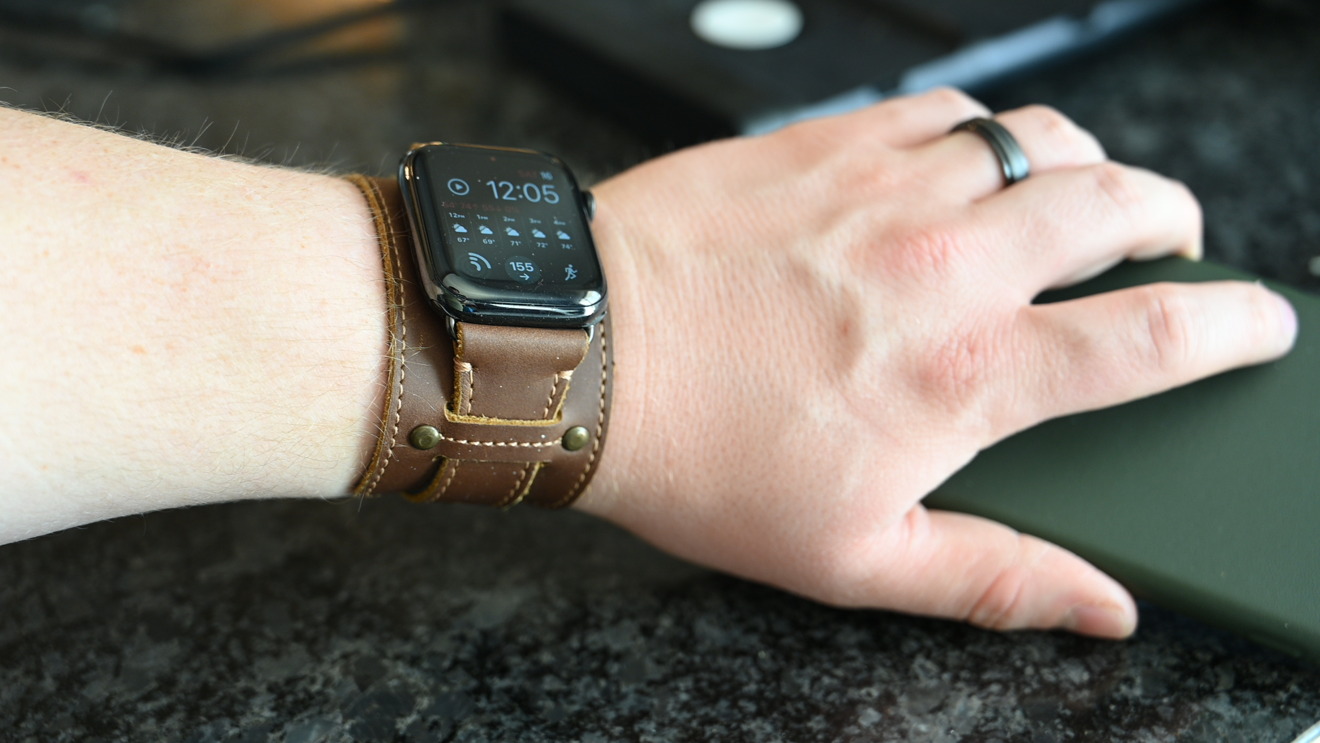 AppleInsider is supported by its audience and may earn commission as an Amazon Associate and affiliate partner on qualifying purchases. These affiliate partnerships do not influence our editorial content.
Pad & Quill's updated Cafe cuff band for Apple Watch is a rugged, hand-stitched statement piece for your wearable.
If you're anything like us, one Apple Watch band isn't enough. We have may favorites that span the gamut from cheapies to pricier options, but one of our favorite "genres" of bands are leather ones. When we think of quality leather goods, there are a few brands that come to mind — with Pad & Quill being one of them.
Pad & Quill is known for its excellent iPhone and iPad cases as well as bags, wallets, and tech pouches, all crafted from leather. Apple Watch bands also happen to be on the list and the new Cafe Cuff is among our favorites.
Our previous go-to from Pad & Quill was the Lowry Cuff but it had a few issues that limited our use of it. As we move throughout this review, many of the changes to the Cafe Cuff apply to the updated version of the Lowry Cuff as well, making both of them winners — but dependent on your own style.
Bold style
Choosing a cuff-style band for your Apple Watch is a bold statement. They are bulkier bands that are sure to stand out.
The Cafe Cuff is made up of three pieces of leather — the free strap, the buckle strap, and a large back piece that the two straps are woven through. Chunky accessories right now are trending and this fits in well.
These cuffs aren't your typical Apple Watch bands and we love to see more traditional watch wear becoming more prevalent for Apple Watch users.
Big improvements
Pad & Quill have had cuffs for a while, but while we loved the look that had drawbacks.
First, the bands tended to stretch a bit. This was due to the raw leather that was used. The back of the band was unfinished and covered, which has a furry, shaggy feel to the leather.
Aside from the stretching, it also caused a problem with where the ends of each strap were wrapped around the lugs. It left a flap that was flat against your wrist but was cut just so that it would hit the back panel where it is woven through.
This makes it problematic to pull the straps through and lets them bunch up on either side of the watch face.
All of this was fixed with the latest versions of the Lowry Cuff and Cafe Cuff. Pad & Quill kept roughly the same thickness to the band but added a solid leather backing layer. This creates a more polished look to the band, makes it more rigid and prevents stretching, and stops the end straps from getting caught.
There is one back panel behind the center center of the cuff, covering where the straps are woven through and then two separate backing pieces on the free strap and buckle strap. Overall, the quality of the band is substantially improved in both looks, durability, and function.
Should you buy the Cafe Cuff or Lowry Cuff?
Bands are all about style, so if you don't want the bulk of a cuff, then opt for something else. There are many alternatives out there, including many from Pad & Quill.
But if you like the style, there is little reason not to pick one up. They are well built, use quality leather, are comfortable to wear, don't impact the heart rate monitor, and are different from many of the common bands out there.
The biggest detractor is the elevated price tag, but for a hand-crafted band we think it is warranted. Each band actually has the stamped initials of the artisan the crafted your band under the free strap.
Improved multi-layer design
Cool, unique style
Soft, quality leather
Work with all generation Apple Watch but designed for Series 4 and 5
Individually marked by artisan
Like all leather bands, it's not water resistant
Pricey
Must like the chunky style
Rating: 4.5 out of 5
Save on the Pad & Quill Apple Watch Band