Review: Output 4K HDR and charge your iPad Pro with Moshi's new USB-C adapter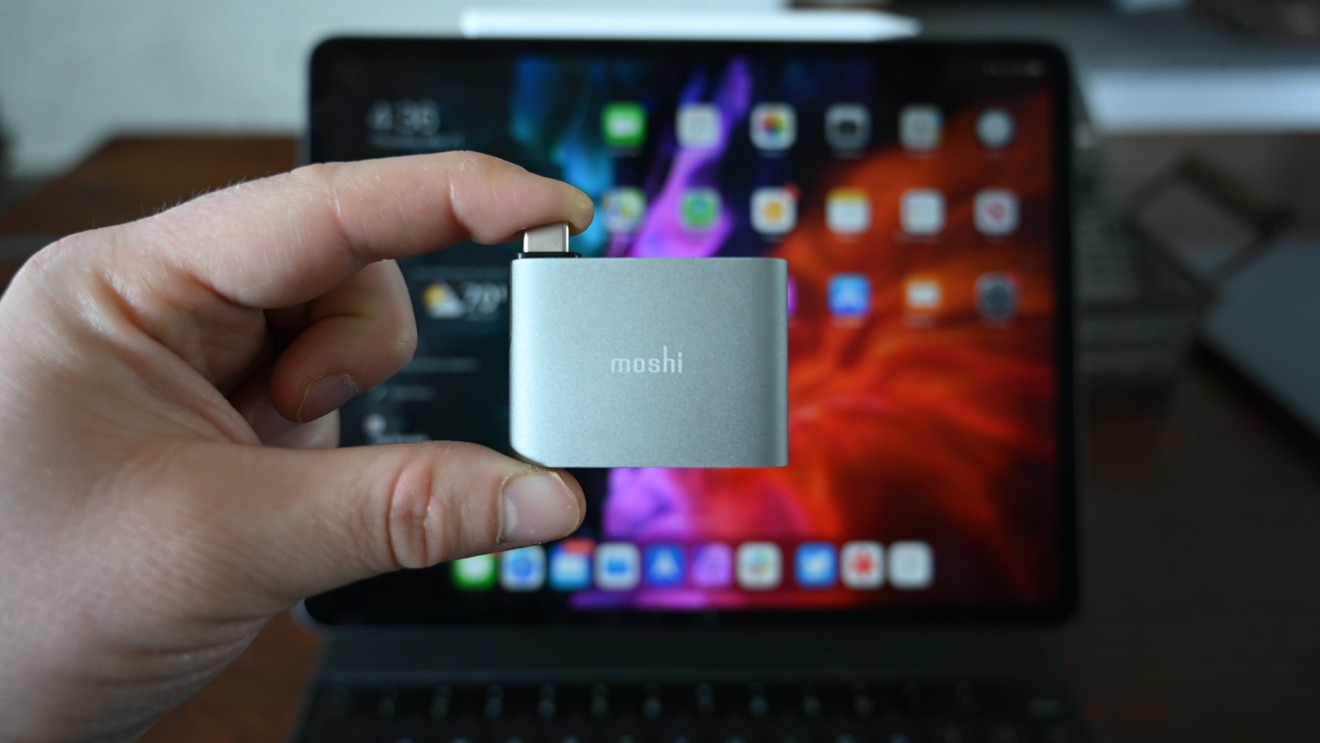 AppleInsider is supported by its audience and may earn commission as an Amazon Associate and affiliate partner on qualifying purchases. These affiliate partnerships do not influence our editorial content.
The Moshi USB-C to HDMI adapter is a simple device with a twist — the ability to charge any iPad Pro or USB-C portable Mac.
Your tiny new AV friend
This small, aluminum box is as simple as it gets. It has a male USB-C adapter on one side and a USB-C and HDMI output on the other. Quickly connect it to your iPad Pro or Mac and you instantly have an HDMI output as well as a second USB-C port to provide power to the host device with your own power adapter.
We see many HDMI adapters for iPad Pro specifically, but they are often limited to 4K at 30Hz. Here, Moshi opted to support 4K video output at up to 60Hz, making it much smoother experience. This is better for using an external monitor or playing games.
Additionally, the Moshi adapter also supports High Dynamic Range (HDR) content. If you are playing back 4K HDR movies on your supported TV, you won't lose that high-contrast boost.
And, the addition of charging to the Moshin USB-C to HDMI adapter is welcome on port-constrained devices. The MacBook has one USB-C port, some the MacBook Air and some MacBook Pros have two Thunderbolt 3 ports like the new 13-inch MacBook Pro — and in either case, it may be useful to not have a port taken up solely by an HDMI adapter.
When charging, the USB-C port supports USB Power Delivery 3.0 for up to 60W of power. That will power the 13-inch MacBook Pro and MacBook at full speed. It won't charge a 15-inch or 16-inch MacBook Pro at full speed, but if you're patent it should be fine — but be wary of heavy loads on the computer that may drain the battery even while under power.
Moshi designed the device with an offset connector on one end, rather than centered. If the male USB-C connector on the adapter was centered, it would likely block the adjacent port. At the same time, it may protrude a bit too much to one side for certain iPad Pro cases.
Compared to Apple's AV adapter
Apple's white plastic USB-C AV adapter is another popular option that Apple offers for any USB-C iPad or Mac owner. It is made of Apple's stereotypical plastic that it uses for all its cables and has a short three-inch cable before the adapter itself.
Moshi shuns the cable and plays things close to the vest. It plugs right into the side of your iPad Pro or Mac, sitting flush against the side. This typically isn't an issue, but if you have a bulky case on your Mac or iPad, it may not fit quite right. In that case, Apple's adapter may prove more useful.
Apple also has the edge in ports. It has both a USB-C charging port as well as an extra USB-A port.
Like Moshi, the Apple Digital AV adapter support 4K at 60Hz and HDR content. Just be sure you have the most recent version of the Apple adapter, as the older model that looks identical doesn't have the same specs.
The Moshi warranty
Each Moshi product comes with a two-year warranty standard. Register the product, and Moshi extends that to a ten-year global warranty. The company guarantees a reply to warranty requests within two days and warranty replacements in two to three weeks.
If the device has long been discontinued when you issue a repair request, Moshi will repair, replace with a comparable product, or issue a store credit — in that order — to make it right. This is unparalleled in the industry and such a good sign for the longevity of Moshi's products.
Should you buy the Moshi USB-C to HDMI adapter with charging?
There are many makes and models of USB-C to HDMI adapters on the market, and picking the best one for you is going to be dependent on your budget, your device, and your needs.
If you need a USB-C adapter for HDMI that lets you quickly charge at the same time while outputting HDR 4K video at 60Hz, then the Moshi device is perfect.
It has a great build quality, video output looked as it should, and it is backed by a fantastic industry-leading ten-year warranty.
Small form factor
Aluminum design
[email protected] output
60W USB-C PD charging
Decade-long warranty
Offset design may pose issues with iPad cases
No data port
Not powerful enough to charge a 15-inch or 16-inch MacBook Pro at full speed
Rating: 4 out of 5
Where to buy