Apple Stores smashed and looted amid George Floyd protests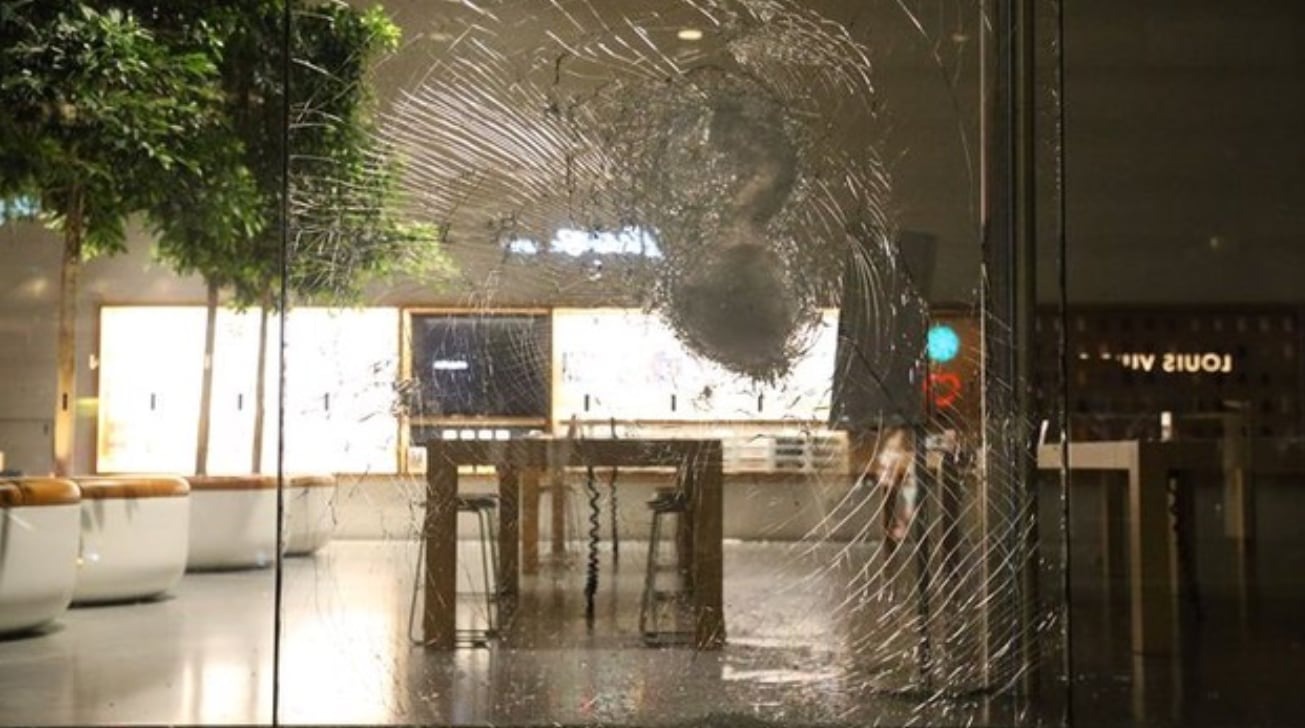 Apple Stores have become a target of opportunist rioters during the ongoing protests across the United States, with some retail outlets suffering significant damage to storefronts, as well as thefts by looters.
The death of an unarmed man, George Floyd, during an arrest in Minneapolis, Minnesota has prompted protests in at least 30 cities across the United States. The protestors seek justice for Floyd, who died after a police officer used his knee to lean on the victim's neck as part of the arrest, with footage of the incident circulating on social media and news sites and causing outrage from concerned citizens.
The protests have led to flashes of violence, including property damage and looting, as some people take advantage of the situation to cause trouble. As a premium technology retailer, Apple Stores have become targets for both destruction of storefronts and thefts.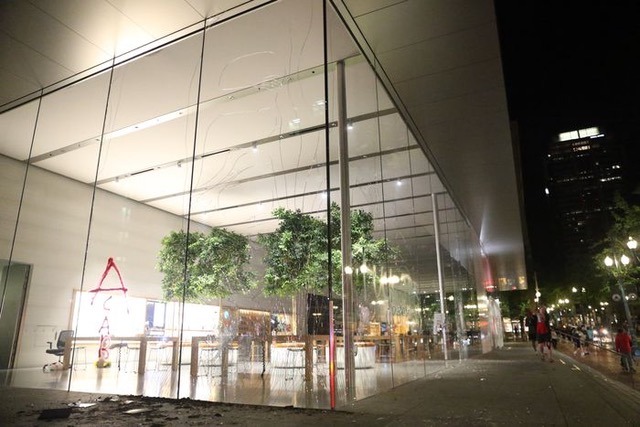 In Portland, Oregon, the Apple Store at Pioneer Place had its 30-foot tall windows smashed on all sides, images and details provided to AppleInsider by "Nate" reveal. The store had opened up just two days prior, and it will require extensive repairs to the outside before it can open up again to customers.
A video of the same store recorded by Zane Sparling of The Portland Tribune shows people getting into the darkened store and running away with Apple products, including both display table units and stock left on shelves.
In Minneapolis, Business Insider reports the Hennepin Avenue Apple Store was boarded up on Wednesday, but was broken into and looted on Thursday night. Looters left the store covered in powder from fire extinguishers, with product demonstration tables empty and turned upside down.
AppleInsider was also informed by a reader that the state of emergency in Georgia forced all Apple Stores to close. The reader saw staff at the Avalon Apple Store packing away demonstration merchandise in the store on Saturday night, in anticipation of riots and potential looting.
Protestors have also caused damage to an Apple Store in Scottsdale, Arizona on Saturday night, alongside other businesses and restaurants in the Scottsdale Waterfront area and Scottsdale Fashion Square, according to ABC15. Video was recorded showing dozens of people rushing in to the Apple Store after breaking into the entrance, again in a bid to take iPhones and MacBooks.
In Washington, D.C., a crowd gathered at an Apple Store in a video captured by Caleb Hull. In the video, the store's doors are forced open, with people rushing in to loot and leaving nothing untouched in the store.
It is claimed that, on that occasion, it took police seven minutes to arrive at the scene.
In Philadelphia, observers saw people entering and leaving an Apple Store in another looting effort. Outside the store, a police car was on fire.
Michael Kan of PCMag saw signs looters attempted to gain access to a San Francisco Apple Store, a fruitless task as there were no items on display to steal. Photographs also show the lower windows boarded up around the sides of the storefront, while higher-up glass panes are left alone.
As part of its security policies, Apple uses special versions of its devices for its demonstration models, which are locked down to only work within the store, and cannot easily be made to work conventionally. This means the looting will be of very little benefit to those grabbing products from the desks.
In Indianapolis, the Keystone Mall store was boarded up on Monday, just in case of potential looting attempts.
I went by to see if the Apple store was open in Indy, they've BOARDED the windows up at this high end shopping mall where there's nothing going on by way of protest or looting! :-( pic.twitter.com/lOHxPo82pg

— Bryan Hudson (@BryanHudson) June 1, 2020
A similar story has taken place in Bethesda, with boards going up to protect the glass storefronts from attack.
The Apple Store in downtown Bethesda is boarded up in anticipation of potential looting. The all glass storefront makes it especially vulnerable to vandals. Several Apple Stores around the country have been damaged or looted the last few days from protest-related violence. pic.twitter.com/zNUiFjLEXp

— MyMCMedia (@mymcmedia) June 1, 2020
The Miami Beach store was also spotted being boarded up on Monday, for the same reasons.
On Monday, media personality Perez Hilton published a video to Twitter showing looting at the SoHo Apple Store in New York City from Sunday night. The video, which has gained traction because of Hilton's online following, shows people throwing phones and small packages through a broken window to the crowd outside.
The continuing escalating tensions between police and protestors makes it highly likely there will be continued protesting and rioting taking place over the coming days and nights.