How to check your AirPods battery charge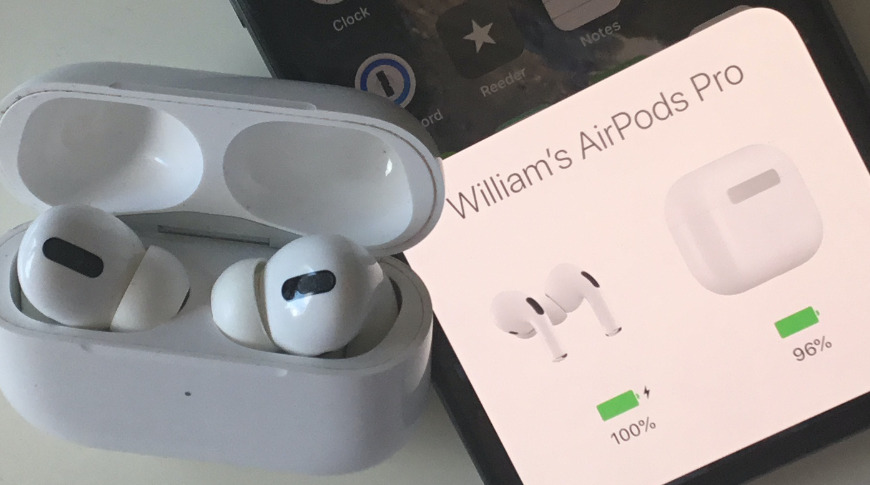 AppleInsider is supported by its audience and may earn commission as an Amazon Associate and affiliate partner on qualifying purchases. These affiliate partnerships do not influence our editorial content.
AirPods and AirPods Pro have fantastic battery life, at least at first, but they do run out. Here's how to know whether they'll last for your meeting, your live stream, or your commute.
We can't seem to find it now, and we've truly tried, but there is one song in one of our playlists that features one riff that sounds like the noise AirPods make when their battery is low. And every time Apple Music plays this, we actually sink a little.
That's how disappointing it is when AirPods run out of battery and you're left with no music or podcasts you can listen to. We get a physical reaction to the impending silence and if anything, that has got worse while we've been working from home.
Using the AirPods as a microphone for Zoom conferences, as well as how we listen to music, has meant that the time they last has shortened, and the need to recharge has grown. Here's how to to make sure you've got enough charge for what you need.
How to roughly check your AirPod battery charge
If you're in a hurry and just want to know that there is charge, rather than a specific battery percentage, open the case. Without or without the AirPods in there, just opening the case will briefly switch on the status light.
This really is approximate as there are only three things the light can possibly tell you. What you hope for is that the light will be green, as that means your charging case is well-charged.
It may or may not be 100% charged, and what's more it is only showing you the case's charge, not the AirPods themselves. But still, you know that if you pop the AirPods into the case, they'll get some charge.
If you instead get an orange light, then you have some charge but don't push it. We would love to be able to tell you that orange means, say, 50%, but even if we could prove that figure, it would be useless.
A 50% charge when you've just bought AirPods would easily mean 2.5 hours of listening time. Yet 50% when those same AirPods are three years old could mean 30 minutes.
At least orange is better than the last possibility, which is that the light doesn't come on at all. That at least tells you that there is zero charge in the charging case.
How to check your AirPod battery charge exactly
While you're getting the AirPods and their charging case out of your pocket, bag, or purse, get out your iPhone too.
Hold the AirPods case near the iPhone
Open the case
Take out one or both AirPods
When you just open the case next to your iPhone, a pop-up message appears on that phone with some details. It will show you the precise battery charge percentage of the AirPods case — and not quite so precise about the AirPods.
While the two AirPods are in the case, the message on your iPhone screen will show the average charge for both of them. Take out one or either, and that will change to showing you the specific, separate charge for each AirPod.
If you solely use your AirPods to listen to music, you may not have experienced this, but it is easy to find that the two AirPods have different battery charges. Some people do use one AirPod because they need to listen or to work on the phones, but then others use them as microphones.
When the AirPods are being used as microphones, it's really just one of them that is. So the charge on that naturally drops lower than the other.
How to check your AirPod battery charge exactly
There is a third way to check your charge which also details the specific separate percentages for the case and each AirPod. It takes slightly more swiping from you, but it can sometimes save you having to open the AirPods case.
Use Notification Center
Pick up your iPhone and swipe to the left to bring up Notification Center
If you already have it installed, scroll to it in your list
If you haven't, scroll to the Edit button at the bottom
You can tap the Edit button either to add a Batteries section, or to position it. So even if you already have it installed, you can move it up and down the screen.
When you've got it, all this does is display the battery percentage of your devices. But it can display them all — iPhone, AirPods, and Apple Watch.
It will always have the iPhone because that is the device you're running it on, but it will typically also always have your Apple Watch. If it doesn't, that's because either Bluetooth is off, or your Watch is.
The same issue of it showing an average for both AirPods applies, as does the fact that this changes if you take one or both out of the case. If you're wearing the AirPods, this Notification Center widget is the fastest way to check the charge on both of them, and your charging case too.
One thing to note is that all of this will get you the battery charge percentage. There's no way to have it show you the time left before you'll need to recharge.
You can only estimate that through using the AirPods a lot. That's no hardship, though, as they sound so great. At least until you get the bleep saying the battery is running low.