WaterField Designs' Saddle turns the Mac Pro into a workhorse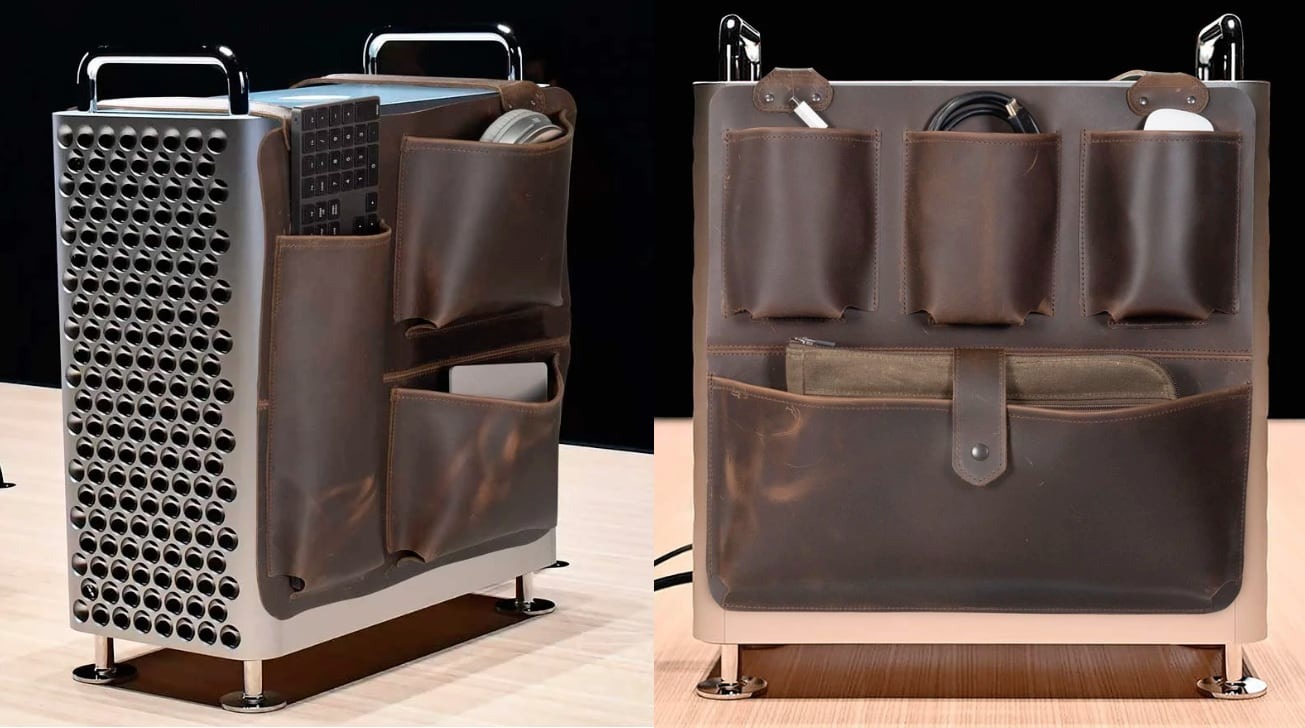 WaterField Designs has introduced the Leather Mac Pro Saddle, a leather accessory for the desktop Mac that gives it pockets.
Most products relating to the Mac Pro typically involve internal changes, or at least match the appearance of the striking Apple-designed case. The same cannot be said about the Leather Mac Pro Saddle from San Francisco-based bag and accessory maker WaterField Designs, as it is a leather add-on that drapes over the top of the Mac Pro.
Consisting of two large square panels with connecting straps, the Leather Mac Pro Saddle takes advantage of the real estate offered by the Mac Pro's sides to add a collection of pockets and pouches. On one side, a large full-length pouch is joined by three smaller top pockets, while the other features two mid-sized pouches and a long pocket, capable of accepting a Magic Keyboard.
According to the company, the saddle bag-style design effectively transforms the Mac Pro "into the workhorse it claims to be." The two leather straps that spread across the top are fitted with rubber grips made from recycled tires to keep the Saddle in place, while still maintaining access to top-mounted ports and the handles.
Accompanying the Saddle is the WaterField Medium Gear Pouch, a multi-pocket case designed to store a plethora of smaller items that may not warrant storage loose in a pocket, such as SD cards and adapters. The pouch is able to fit into the largest pocket on the Saddle.
Cut from one consistent leather batch of premium full-grain chocolate-brown leather, the Mac Pro Saddle measures 36.5 inches by 17 inches, and weighs 2.6 pounds.
Priced at $399, the Mac Pro Saddle will start shipping from SFbags.com from late July.