Former AG Eric Holder calls on developers to forward racial equality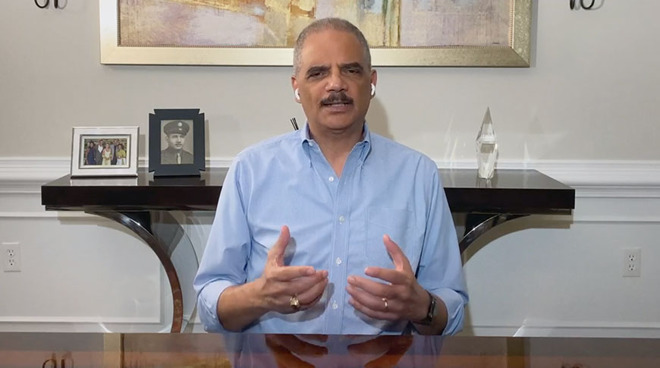 AppleInsider may earn an affiliate commission on purchases made through links on our site.
In an interview with Apple's vice president of environment, policy and social initiatives, Lisa Jackson, former U.S. Attorney General Eric Holder called on developers to turn their talents toward social justice causes.
Conducted as part of WWDC 2020, the remote interview aired on Apple's event webpage Wednesday.
Jackson, speaking from Apple Park in Cupertino, Calif., discussed a range of topics with Holder, though much of the conversation revolved around race relations in the U.S. and beyond. Jackson, who served as Administrator of the United States Environmental Protection Agency from 2009 to 2013, and Holder were the first Black heads of their respective agencies.
The interview comes in the wake of worldwide protests sparked by the killing of George Floyd in May. Weeks of unrest have prompted governments, companies and individuals to turn an eye toward systemic racial injustice, police violence and related social issues.
Asked what app developers can do to support the cause, Holder said they can use their skills to help monitor societal changes, share information and simplify complex data for the everyman.
"I would ask you to think maybe turning your focus from the things that [ ... ] more traditionally have been expected of you and think about new ways that you can look at this other frontier, this racial frontier," Holder said. "And think about ways in which you can focus that creativity, those skills, on this problem of race and ethnic strife."
Earlier in the interview, Holder noted current consternation over race inequality goes far beyond police brutality. In the U.S., in particular, Black communities have been subject to decades of institutionalized racism, and the ongoing demonstrations will force a "very needed" conversation, he said.
"I'm really confident, again, that if this community focuses on those issues — coupled with great companies like Apple — you all could have a real meaningful impact for the good on the issues that we have been discussing," Holder said.
Jackson in the discussion called out Apple's $100 million Racial Equity and Justice initiative, which seeks to leverage the tech giant's platform and resources to "challenge systemic racism." Education, economic equality and criminal justice reform are among the issues Apple intends to tackle with the program.
In announcing the initiative earlier this month, Apple CEO Tim Cook said the company plans to expand connections with and contributions to Black colleges and universities, launch a developer bootcamp for Black developers and increase spending with Black-owned supply chain partners, among other efforts.