Logitech launches Mac versions of MX Keys, K380 keyboards & MX Master 3 mouse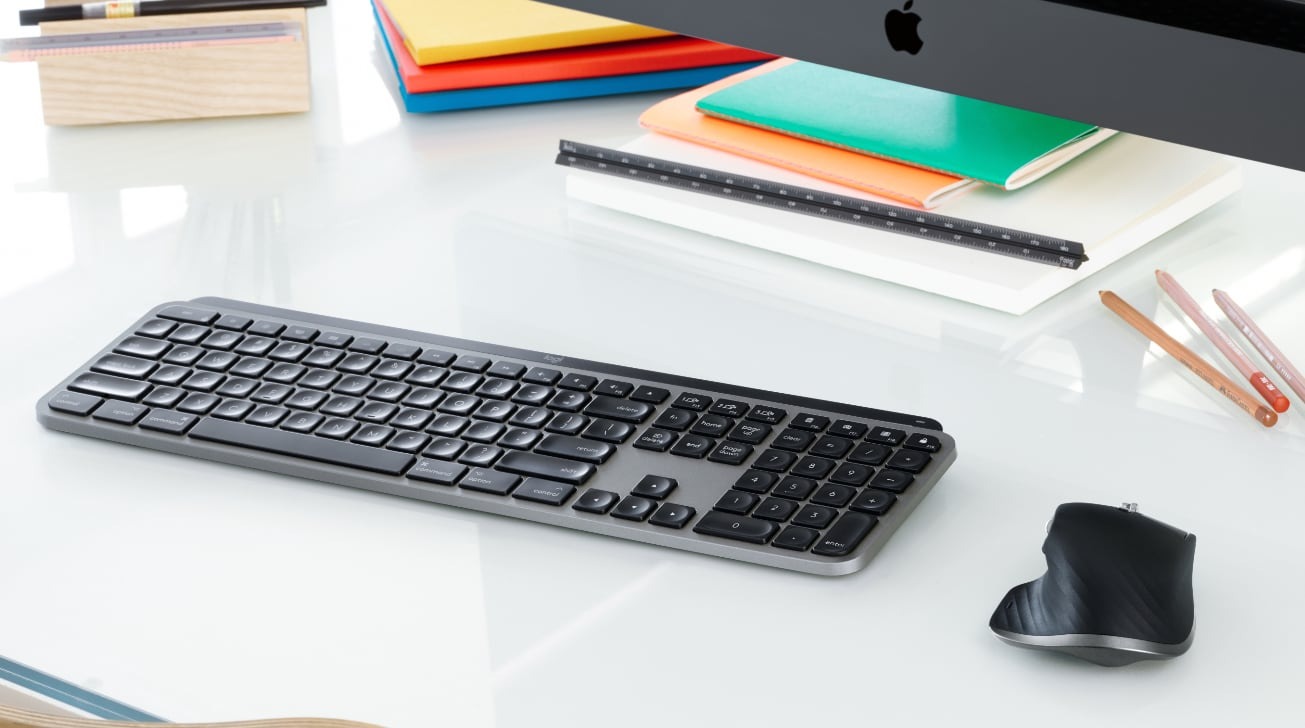 Logitech has unveiled a number of Mac-oriented peripherals, with the MX Master 3 for Mac and MX Keys for Max accompanied by the K380 for Mac Multi-Device Bluetooth Keyboard.
The MX Keys and K380 keyboards, as well as the MX Master 3 mouse, have been out on the market for a while as general-purpose peripherals. In Logitech's new versions, the trio have been refined to work better within the Apple ecosystem by being given a number of tweaks and other changes specifically for macOS and iPadOS devices.
MX Keys for Mac
A wireless illuminated keyboard, the MX Keys offers a low-profile typing experience with keys shaped for your fingertips, as well as a body made from a single metal plate for rigidity. Connecting over Bluetooth, the keyboard has backlit keys that light up when a user moves their hands into position, with the lighting also adjusting to suit changing lighting conditions.
The Flow cross-computer control enables the keyboard to work with a Flow-enabled mouse, for multi-device computing. Functional across three devices, the keyboard can automatically switch from one device to another, depending on which screen the cursor has been moved to.
For the Mac version, Logitech has updated it with a Mac layout, with enhanced keys customizable for any action of the user's choosing. The variant also gains USB-C to USB-C recharging, with a full charge lasting up to 10 days, or up to five months with backlighting off.
It is also provided in a Space Gray finish, to match the appearance of other Apple hardware, and has firmware optimized for Mac usage, as well as compatibility with iPadOS devices.
The MX Keys for Mac, as with the other products, will ship in July 2020 in the US, Canada, and other select countries, with global availability in August. Logitech is pricing the MX Keys for Mac at $99.99.
MX Master 3 for Mac
Declared the most advanced Master Series mouse by the company, the MX Master 3 offers a comfortable shape to hold, a new optimized hand fit, and a redesigned thumb area with back and forward buttons, gesture buttons, and a thumbwheel. The MagSpeed Wheel is able to quietly move from ratchet and hyper-fast modes using controlled elctromagnetic pulses, letting it scroll to up to 1,000 lines per second.
Underneath the MX Master 3 is a Darkfield 4,000 DPI sensor, which is capable of tracking on practically any surface, including glass. The mouse is also faster than standard mice, and is 5-times more precise. App-specific profiles and button customizations are available to use, while its support for Flow allows it to be used on multiple devices simultaneously, as well as controlling which device a Flow-enabled keyboard types through.
The Mac variant of the mouse uses the gesture button to emulate the three-finger gestures from the Magic Trackpad. USB-C to USB-C Quick Charging is available, allowing for a full day of work from three minutes of charge, three hours of use from one minute of charging, or 70 days of use on a full charge.
Like the MX Keys, it is offered in a Space Gray finish, and is compatible with both macOS and iPadOS. It will go on sale in July and August, depending on the market, priced at $99.99.
K380 for Mac Multi-Device Bluetooth Keyboard
Like the original, the Logitech K380 is a Bluetooth keyboard that can switch between multiple devices using its three Easy-Switch keys, allowing it to work with a MacBook, iPad, and iPhone in the same environment. Using a minimalist keyboard layout for a small footprint, the keyboard boasts a light weight of 423 grams, a Bluetooth wireless range of up to 30 feet, and a two-year battery life with an automated sleep mode.
For this model, the keyboard gains dedicated Mac keys on the F and A rows, enabling it to be used for a large number of shortcuts. Logitech is also offering the keyboard in new Rose and Off-White color options. Available again in July or August depending on the territory, it will cost $39.99.