Apple TV+ review: 'Little Voice' is sweet but shallow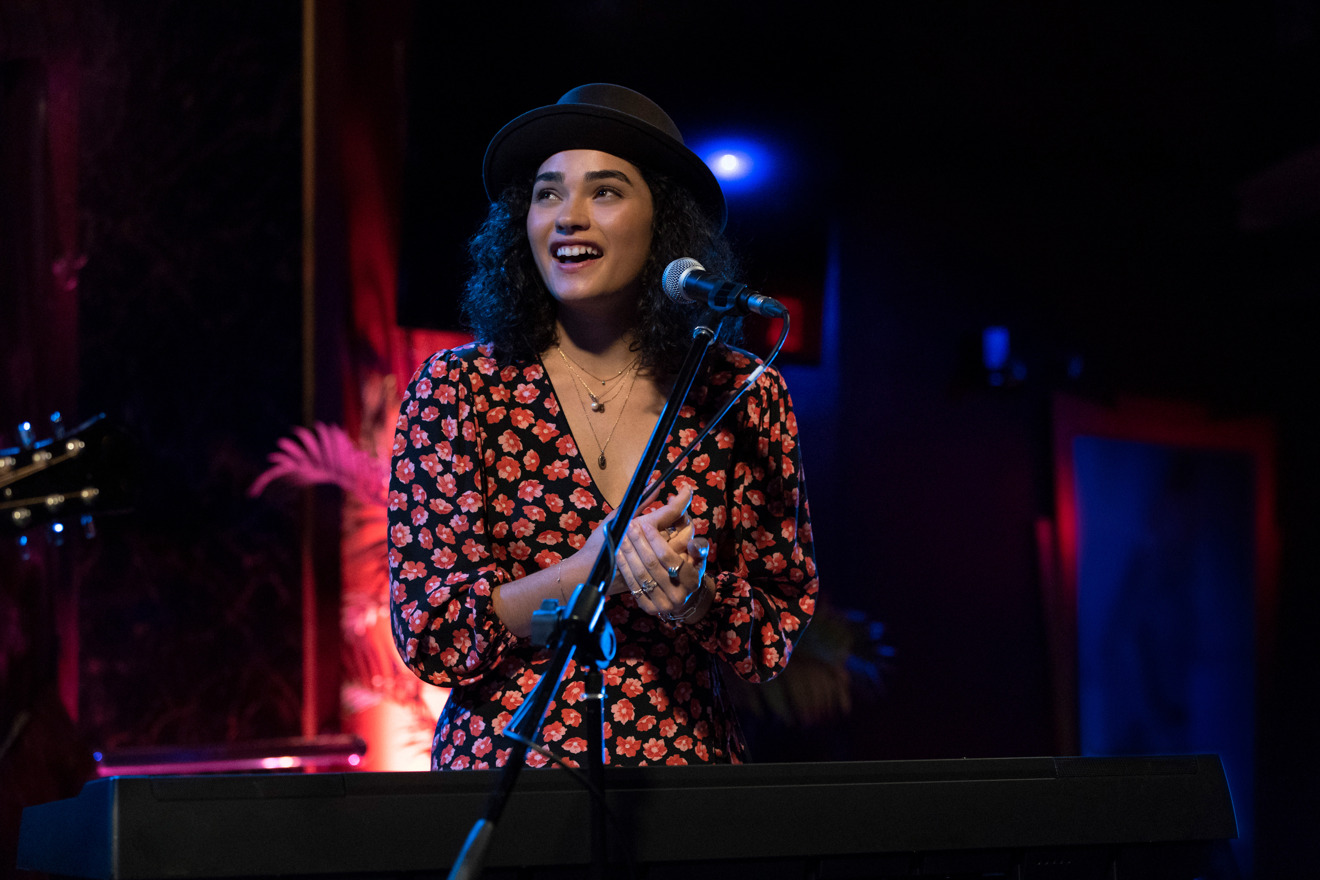 The new show, created by Broadway stalwarts Sara Bareilles and Jessie Nelson, has a great star and decent songs, but the stakes are way too low.
Give the new Apple TV+ series Little Voice this: It knows exactly what it is, and that's a twee romantic musical comedy, built around an appealing new star, original songs, New York City locations and the pull of musical dreams.
The problem is, the show's main plot isn't quite strong enough to sustain an entire series, while it also includes multiple subplots that are compelling on their own but don't seem to fit with the main one. The show's earnestness takes it far, although not quite far enough.
The series debuts July 10, with its first three episodes, with one a week to follow for the six Fridays after that; we've seen the first four.
Little Voice was created by singer Sara Bareilles and director Jessie Nelson, the team behind the popular Broadway musical Waitress. Both Bareilles and Nelson are executive producers along with J.J. Abrams, and the show was produced under his Bad Robot production company, although it's not clear exactly how much creative input Abrams himself had in the show.
Brittany O'Grady stars on the show as Bess King, an aspiring singer-songwriter in New York City, and the primary dramatic thrust of the series centers on Bess learning to overcome stage fright and gather the courage to perform live. Bess describes herself as "Alessia Cara meets Carol King," but really has more in common with early Norah Jones than any other real-life musician.
While that's the main thing going on, the show also takes up its time with numerous subplots.
Bess works various jobs, including dog-walking, teaching and bartending, while also helping out her autistic brother, who's obsessed with Broadway. Also, the show spends time on Bess' roommate (Shalini Bathina) and her struggle to come out to her parents, and Bess' love triangle with a pair of suitors.
A star is born
Most of what works on the show has to do with star Brittany O'Grady, who is a born star in the lead role. O'Grady, probably best known for a supporting role on the late Fox show Star, commands the screen, and sings the songs quite well.
On the other hand, her quest to "find her voice" isn't quite compelling enough to sustain an entire series, especially since it couldn't be more screamingly obvious exactly how things are going to turn out.
Meanwhile, none of the subplots, none of them are especially original or compelling, with the exception of the brother (Kevin Valdez) and his quest to get a job as a Broadway usher, and Bess' alcoholic musician father (Chuck Cooper.)
The show seems to be going for a musical romance vibe that recalls the British movie Once — also adapted into a Broadway musical — but it's undercut by both romantic suitors, played Sean Teale and Colton Ryan, being deadly-dull.
Listen to the music
The press materials call Little Voice "a love letter to the diverse musicality of New York." Indeed, the series features one or two original songs, written by Bareilles herself, in each episode, along with music on the soundtrack from both popular artists like Prince and aspects of the Broadway canon.
The last note
Apple, it was widely reported last year, bid in the hundreds of millions of dollars for a deal with J.J. Abrams, whose past TV hits include Lost andAlias and who has directed movies in both the Star Trek and Star Wars franchise. But Abrams went with Warner Brothers as his new home, and Apple TV+ ended up with a single series with Abrams' name on it, although not one for which he is the creator or showrunner.
Little Voice goes down as yet another Apple TV+ show that collects a lot of big-name behind-the-scenes talent, but doesn't quite add up to all it could be.
Yes, those who love musical performances, New York, and the work of Sara Bareilles will likely find a lot to enjoy here, but overall Little Voice is mostly as a disappointment.