OWC launches Thunderbolt 3 Mini Dock with Gigabit Ethernet port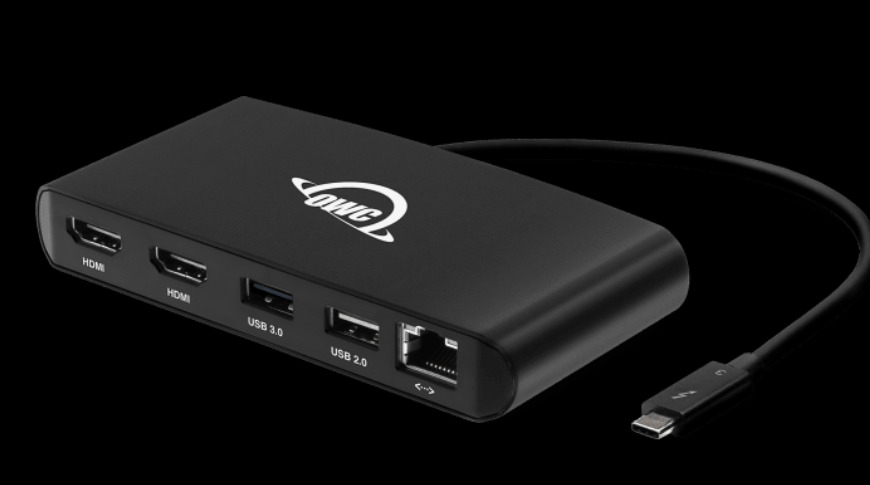 Designed to be carried around, OWC's small Thunderbolt 3 dock lets MacBook Pro users attach multiple displays and devices on the go.
The OWC Thunderbolt 3 Mini Dock comes with two 4K HDMI connections as well as one USB 3.0 and one USB 2.0 ports, and Gigabit Ethernet. "The OWC Thunderbolt 3 mini Dock effectively utilizes your computer's Thunderbolt 3 40Gb/s capability to provide support for two displays up to 4096 x 2160 4K @ 60Hz without impacting performance," claims the company in a statement.
OWC says that the device will allow users to connect two displays, and has HDCP 2.2 compatibility for "effortless streaming of 4K UHD content." Alongside display support, the mini dock offers "HDMI precision multi-channel audio such as LCPM, DTS, and Dolby Digital."
All Thunderbolt 3 docks aim to reduce the need to swap devices in and out of MacBook, MacBook Air, or MacBook Pro models with limited ports. The OWC Thunderbolt 3 Mini Dock is intended to be small enough to be used equally in an office or on the go.
It also comes with a 7.2-inch Thunderbolt 3 cable permanently attached, so there's no requirement to carry a separate cord.