Review: Brydge Vertical Dock is an expensive and elegant way to work at your desk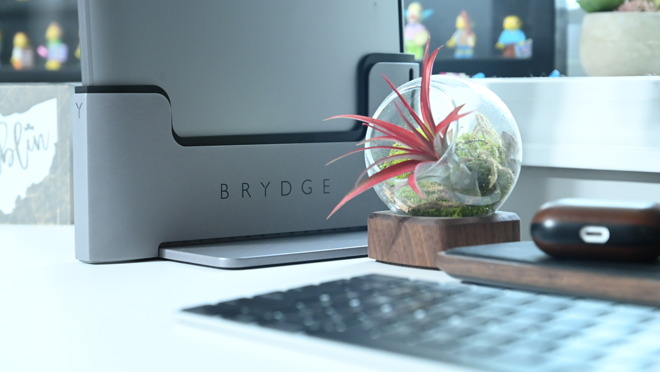 AppleInsider may earn an affiliate commission on purchases made through links on our site.
Brydge has reintroduced its Vertical Dock following its acquisition of Henge with a new two-piece design and spring-loaded guided insert. While it is still a costly investment, it is an elegant and hassle-free way to dock your MacBook.
In 2017, Brydge acquired accessory maker Henge, bringing its docking stations together with its line of excellent iPad keyboards. For the first time since that acquisition, Brydge has introduced new models of Henge's iconic docking stations, now working with all of Apple's latest portable Macs.
A simple Mac-inspired design
The Brydge Vertical Dock is clearly designed with Macs in mind. It has a sleek, aluminum body that feels hefty. That weight not only gives it a solid, premium feel but also keeps it in place when you go to remove your machine.
One big change Brydge made was transforming the body into a two-part design. Instead of a single piece like previous models, the base is screwed into the body creating the assembly.
Going with a two-part design, Brydge was able to drastically reduce the packaging. Being notably smaller, the package takes up less space during shipment which is cheaper and combined with the less packaging required is all around better for the environment.
Another change is the new guiding insert. That insert is spring-loaded and helps you align your Mac before pressing it down onto the Thunderbolt 3 male plugs inside the docking chamber. This helps ensure your Mac is placed correctly and doesn't get damaged by those plugs with repeated insertions and removals.
As an additional protective measure, there are two covers included that fit around the Thunderbolt 3 ports on the MacBook Pro. These are a sacrificial surface intended to take the hit and prevent any cosmetic damage to your machine. They attach with 3M adhesive and are clear when applied so you don't see them.
Inside of the dock along the edge facing the bottom of your Mac is a series of holes. These align with the vent holes on the underside of your Mac, which in our case is the 15-inch MacBook Pro with Touch Bar. These vent holes go all the way to the bottom of the Brydge Dock and allow air to easily pass through.
Around the back of the dock are two Thunderbolt 3 ports. There is an L-shape connector inside that forwards your Mac's Thunderbolt 3 ports to the outside of the dock. You can connect two Thunderbolt 3 cables for power, additional docks, storage, monitors, or other peripherals.
Using the Brydge Vertical Dock
We've used Henge Docks in the past and love the upgrades Brydge has made. It is dead-simple to dock our Mac, as well as remove it. We can both dock, and remove our 15-inch MacBook Pro one-handed without issue.
It sits perfectly on our desk and when our Mac is inserted, it blends together for a seamless look.
Typically, when we use our Mac in clamshell mode with an external monitor, it sits flat on a desk. Brydge's dock keeps it vertical, cutting down on consumed desk real estate. Our Mac retained the same thermal profile that it has when not using the dock, even when working with 4K video editing or working on compiling Xcode projects.
The Brydge Vertical Dock isn't a "smart" dock as you'd consider other Thunderbolt 3 docking stations. Other docks include many chips and controllers to manage multiple ports whereas the Brydge Dock is merely two extension cables for the Thunderbolt 3 ports you have now.
Users are able to pick up simpler docks that merely act as stands for your machine for a fraction of the price. Brydge doesn't offer up USB-A ports, an Ethernet port, HDMI, or anything of the sort. With or without the Brydge Vertical Dock you still only have the same four Thunderbolt 3 ports you had before.
That means if you do need any of those other ports, you have to pick up a second solution as well. We could see Brydge adding some of those ports to the Vertical Dock but it would handily increase the price tag from its already substantial investment.
If your workflow or available desk space demands this dock, none of this is a deterrent. The previous Henge Dock models were popular, and the new Brydge Vertical Dock is likely to continue that trend with its welcomed improvements.
Sleek, Apple-inspired design
Premium build and construction
Access to the covered Thunderbolt 3 ports
New two-piece design is more environmentally friendly
Spring-loaded guide helps place machine
Great airflow for docked Mac
High price tag
No additional ports
Rating: 4 out of 5
Where to buy
Brydge's new vertical docks for Apple's 13-inch MacBook Pro and 15-inch MacBook Pro are available now at Brydge and Amazon for $169.99.