Apple halved Amazon's App Store fee to get Prime Video on iOS and Apple TV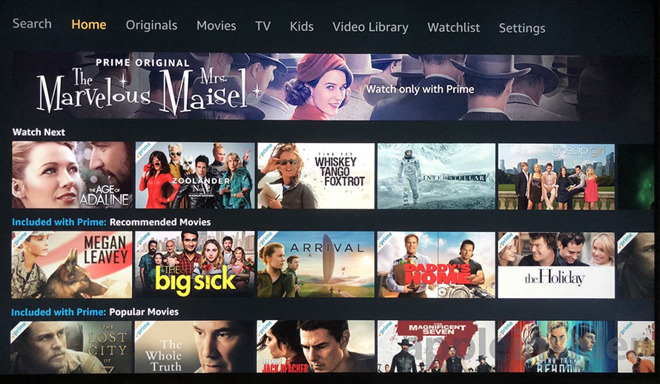 AppleInsider may earn an affiliate commission on purchases made through links on our site.
Apple offered Amazon a reduced rate revenue sharing model in a bid to bring Prime Video to the App Store, a move that seemingly contradicts the tech giant's claims that it treats all apps and app makers equally.
In 2016, Apple services chief Eddy Cue proffered a deal in which Amazon would share 15% of revenues generated by new subscribers who signed up for Prime Video through an in-app purchase. Apple typically takes a 30% share of App Store subscription revenue, with the figure dropping to 15% for paying customers who maintain a subscription for more than one year.
The proposal was detailed in email correspondence published by the U.S. House Judiciary Committee as produced evidence in a congressional hearing on big tech antitrust matters on Wednesday.
Cue in a memo to Amazon CEO Jeff Bezos recapped an apparent meeting at which the two executives discussed terms of a deal that would see Prime Video debut on iOS and Apple TV. At the time, the lack of Prime Video on Apple's set-top platform, a result of Bezos' unwillingness to allow the service onto devices that competed with Amazon's Fire TV boxes, was viewed by consumers as a platform shortcoming.
Along with a reduced 15% cut of subscriptions, Apple agreed to support integration with Siri and the then-new TV app for iOS, as well as incorporate Prime Video metadata for Siri and Spotlight searches. As part of the arrangement, Apple would take 15% of in-app processed subscriptions to "upsell" streaming services like Showtime, the email reads.
The finalized deal was never made public and it is unknown if terms of the agreement changed in the interim between Cue's email and the tvOS launch of Prime Video in December 2017. It is assumed that Amazon took advantage of the offer, however, as details align with a 2017 report regarding the Prime Video tvOS app and a return of Apple TV products on Amazon.com.
Bloomberg reported on the release of Cue's email on Wednesday.
The special arrangement calls into question claims made by Apple CEO Tim Cook and other executives regarding the company's App Store policies. In an opening statement at the Wednesday hearing, Cook said, "The App Store guidelines ensure a high-quality, reliable and secure user experience. They are transparent and applied equally to developers of all sizes and in all categories." He added that the rules are "not set in stone."
Cook doubled down on the stance during questioning, saying Apple "treats every developer the same."