Compared: 2020 27-inch iMac vs 2019 iMac 5K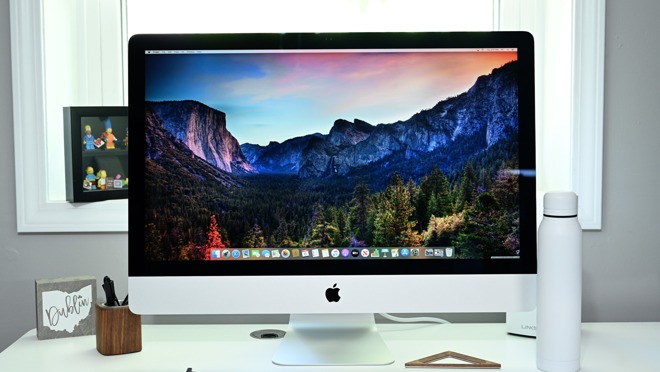 AppleInsider may earn an affiliate commission on purchases made through links on our site.
Apple on Tuesday unveiled a new generation of 27-inch iMac with faster processors, the T2 chip and only SSD storage options. Here's what's new versus the 2019 iMac 5K — and whether it's worth an upgrade.
This is not the radical iMac redesign that many users were expecting, but it does modernize the iMac form factor with some of Apple's latest features and Intel's latest available hardware.
Although the changes are incremental, there are some notable updates. Here's how the new 2020 27-inch iMac compares to the previous iMac 5K model from 2019.
Specifications
27-inch iMac (2020)
iMac 5K (27-inch, 2019)
Processor
10th-generation Intel
starts with 3.1GHz 6-core Core i5 processor with Turbo Boost up to 4.5GHz
8th- or 9th-generation Intel Core
Starts with 3GHz 6-core Intel Core i5 with Turbo Boost up to 4.1GHz
Graphics
Radeon Pro 5300 with 4GB of GDDR6 memory
Configurable up to Radeon Pro 5700 XT with 16GB memory
Radeon Pro 570X with 4GB of GDDR5 memory
Configurable up to Radeon Pro Vega 48 with 8GB memory
RAM
8GB base
Configurable up to 128GB
8GB base
Configurable up to 128GB
Internal storage
256GB internal SSD (base)
Configurable up to 8TB SSD
No Fusion Drive
1TB Fusion Drive Base
Configurable up to 2TB SSD
Display
5120 x 2880 Retina display
True Tone
5120 x 2880 display
Connectivity
802.11ac Wi-Fi
Bluetooth 5.0
10Gb Ethernet available for $100
802.11ac Wi-Fi
Bluetooth 4.2
Microphone + Camera
1080p FaceTime Camera
Studio-quality, three-mic array
720p FaceTime camera
Standard microphone
Video output
Up to two 6K displays at 60Hz, one 5K at 60Hz, or two 4K displays at 60Hz
One 5K display at 60Hz or two 4K displays at 60Hz
Special features
T2 chipset
Hey Siri support
Nano-texture glass ($500 upgrade)
N/A
Price
Starts at $1,799, configurable up to $8,799 when spec'd out
Best 2020 27" iMac prices
Starts at $1,799, configurable up to $6,399 when spec'd out
Processor, RAM, and graphics
The 2020 27-inch iMac models feature incrementally updated Intel chips — so no Apple Silicon here. With that being said, there are measurable gains in performance.
Apple says the new 10th-generation Intel processors deliver up to 65% faster performance. Similarly, on the graphics front, the new AMD Radeon Pro options can bring users up to 55% better graphics performance.
The previous iMac 5K model packed either 8th-generation or 9th-generation Intel processors, depending on the specific tier.
Internal storage
Apple has done away with the Fusion Drive on the new 27-inch iMacs. For users, that means you'll always have top-tier storage performance thanks to the all-SSD lineup.
There are some compromises when it comes to actual storage space. The base model 27-inch iMac this year starts with a 256GB SSD, down from the 1TB Fusion Drive included with the previous generation.
For those with the wherewithal, the 27-inch iMac can be configured with a lot more storage. The previous model topped out with a 2TB SSD, while the new 2020 refresh can be customized with up to an 8TB SSD.
Display
Resolution, aspect ratio, pixels-per-inch and brightness are all exactly the same between the 2020 27-inch iMac and the 2019 iMac 5K. But there are a couple of notable differences.
The new iMac model supports Apple's True Tone technology, which adjusts the color temperature of the screen based on a user's environment. Apple says it makes for a more pleasant viewing or reading experience.
For an additional $500, users can also opt to upgrade to nano-texture glass. First introduced on the Pro Display XDR, the upgrade adds high-quality, anti-reflective technology to the display glass.
Other considerations
The 27-inch iMac is the first of Apple's all-in-ones to sport a T2 chipset. That enables Hey Siri, introduces upgraded security functions, and may even speed up certain video-encoding related workflows.
Compared to the previous generation, the 2020 27-inch iMac should feature a better video and audio recording experience. That's thanks to a new 1080p FaceTime camera and a "studio-quality" three-mic array similar to the one on the 16-inch MacBook Pro.
While the 2020 iMac update doesn't introduce support for Wi-Fi 6, it does bump the Bluetooth specification up to 5.0 (from 4.2). Additionally, users can now opt to add a 10Gb Ethernet port for a $100 upgrade.
Our conclusion
Alongside the standard processor and GPU bumps, the 2020 27-inch iMac features some notable upgrades over the past iteration. Users who have been waiting to update from an older iMac may have just the reason to do so.
With that being said, the upgrades here are fairly incremental. We didn't see a major redesign, as many users have been anticipating. Similarly, we're in the midst of a major architecture transition to Apple Silicon.
Because of those reasons, users who have recently bought a new Apple desktop may be better served by waiting until a more substantial upgrade arrives. The patience will likely pay off.
Lowest iMac prices
At press time, both models qualify for triple-digit savings with exclusive coupon and/or instant discounts. To bring up applicable coupon codes and instructions, click on the green price tag icon in the Price Guide next to the corresponding prices.