Apps using Apple-Google Exposure Notification API see robust adoption in Ireland and Germany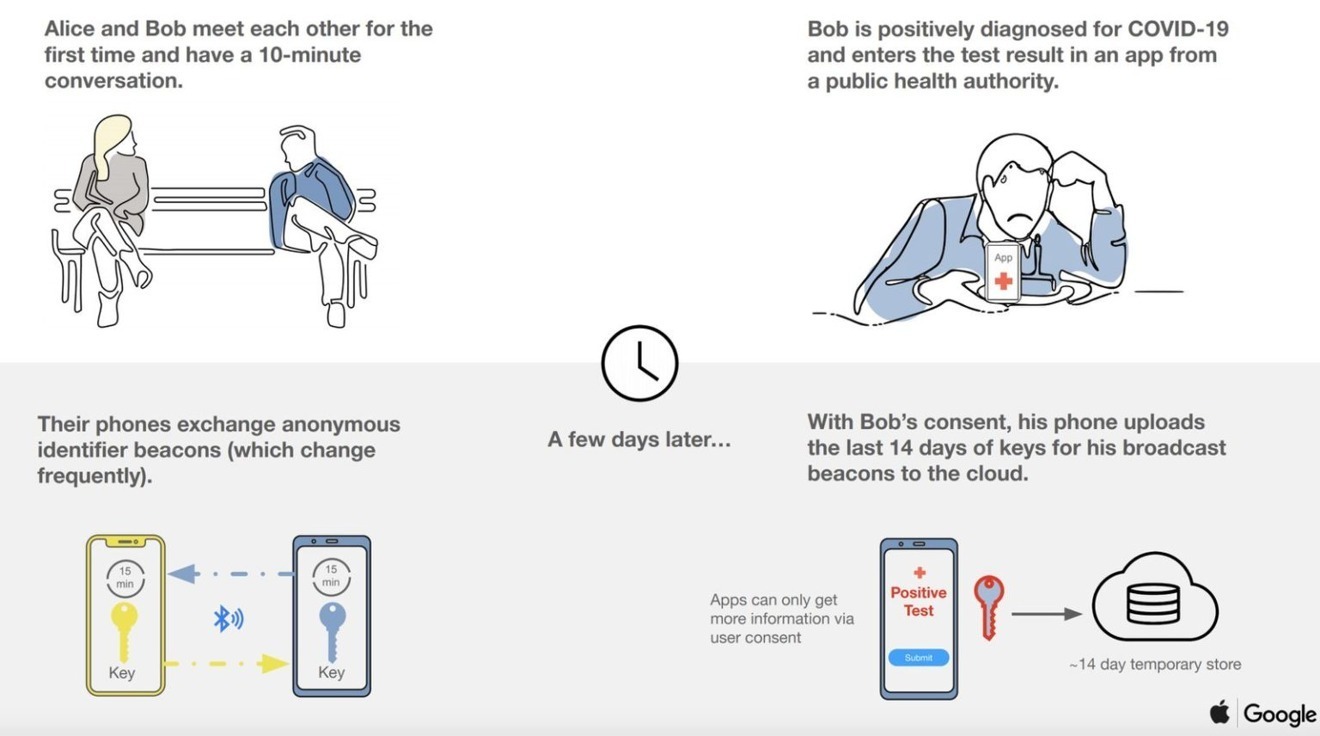 AppleInsider is supported by its audience and may earn commission as an Amazon Associate and affiliate partner on qualifying purchases. These affiliate partnerships do not influence our editorial content.
Apple and Google's joint coronavirus contact tracing effort, dubbed the Exposure Notification API, has seen reasonably rapid uptake internationally despite continued foot-dragging from U.S. states.
Since exiting beta in May, the Apple-Google API has been integrated into coronavirus contact tracing apps in 16 countries including Italy, Japan, Latvia, Saudi Arabia, Switzerland and Uruguay, The Markup reports.
In early July, Ireland's Health Service Executive integrated the Apple-Google API in the country's COVID Tracker Ireland. According to today's report, the app has been downloaded 1.4 million times, accounting for a significant portion of the country's approximately 4.8 million citizens.
Adoption in Germany, another coronavirus hotspot, is similarly strong with the Corona-Warn-App downloaded some 16 million times since June.
Though the apps are not being used by an overwhelming majority of either nation's population, participation could be enough to make an impact. As noted in the report, a study conducted by researchers at Oxford suggests that the number of daily infections can be reduced even if a mere 20% to 40% of a given population downloads and uses contact tracing apps.
The Apple-Google Exposure Notification API uses random device identifiers — keys — to generate temporary IDs that are sent between devices via close proximity Bluetooth communications. By swapping keys, apps integrating the Apple-Google system can track and notify users when they are exposed to others who test positive for coronavirus.
With security at the fore, the solution does not store data on central servers run by Apple or Google, but instead silos anonymized Bluetooth beacons on user devices until participants elect to share the information with an outside party. If and when a user is diagnosed with COVID-19, they can opt to upload a 14-day list of recent anonymized contacts to a distribution server, which matches beacon IDs and sends out notifications alerting those individuals that they came in close contact with a carrier of the virus. Doctors can also peruse the data, if such access is granted.
Research has yet to conclude whether the Apple-Google API is an effective tool in combating coronavirus, but more than a few major world powers have adopted or pledged support for the system as part of an unprecedented worldwide response. Domestically, however, the solution has not won over many states.
Alabama and Virginia were the first to adopt the framework with app releases in August. Others, including North Dakota and South Carolina, have signaled intent to follow suit as virus rates climb.
Some states elected to forego the Apple-Google API in favor of invasive solutions that tap into personal information like user location data. Utah, for example, declined Exposure Notification for its Healthy Together app, which collects user names, location and phone numbers to pinpoint virus spread. State officials in June decided to disable the GPS-tracking feature after finding potential users disliked the idea of being constantly monitored. At the time, only 200 people had downloaded the app.
Rhode Island's Crush Covid RI app also uses location data, though the information is anonymized. App download numbers were left unreported.