Switzerland first to launch contact tracing app based on Apple-Google API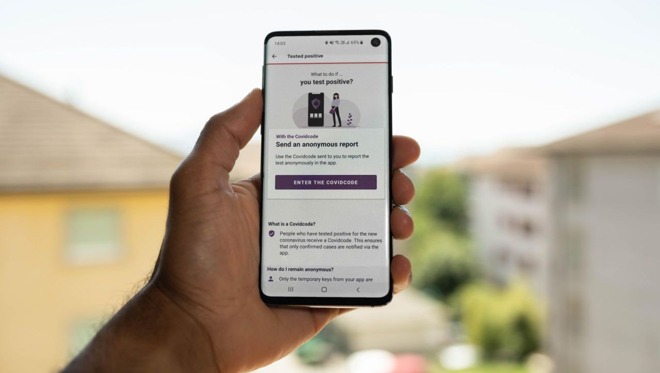 AppleInsider may earn an affiliate commission on purchases made through links on our site.
A team based in Switzerland claims that it has developed and debuted the first digital Exposure Notification app using a framework made by Apple and Google.
The Apple-Google API, first announced on April 10 and launched on May 20, is a developer toolkit that can be used to create public health apps that track the spread of coronavirus via Bluetooth signals.
Switzerland's app based on the API, dubbed SwissCovid, on Monday entered a pilot phase where it will be tested by members of the Swiss army, hospital workers and civil servants, the BBC reports.
The app, which relies on a "decentralized" approach, was developed by the Swiss Federal Institute of Technology Lausanne (EPFL) and ETC Zurich. Development teams at those institutions say that their app is the first one based on the Apple-Google framework in the world to actually launch.
Unlike other digital contact tracing efforts, apps based on the API must adhere to a set of privacy and security protocols, including a strict opt-in policy, the decentralized storage of data, and cryptographic and anonymizing measures.
Because of the stringent requirements, some governments, such as the UK and the U.S. state of Utah, have decided to forego the API in favor of their own solutions. According to the BBC, the National Health Service is still considering the Apple-Google API as a "backup."
According to Swiss news site Swissinfo.ch, the Google version of the app was accidentally leaked to the public before access was restricted, though EPFL officials say that the incident wouldn't affect the pilot phase.
The Swiss parliament will "debate the legal basis" for the app in June. If it's approved, it should officially launch to the public by the middle of that month.