Review: The Rock Space AC1200 compromises on security for cheap whole-home Wi-Fi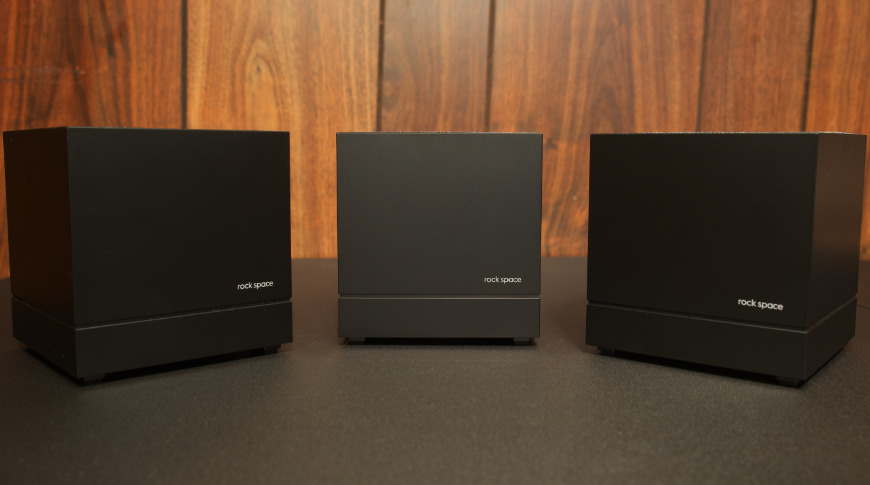 AppleInsider is supported by its audience and may earn commission as an Amazon Associate and affiliate partner on qualifying purchases. These affiliate partnerships do not influence our editorial content.
The Rock Space AC1200 Dual-Band Mesh Wi-Fi System wants to tackle the market with a cheaper option but sacrifices security to get there.
The mesh network created by Rock Space routers can cover up to 5380 square feet when using all three access points. This is similar to other popular mesh networking systems, but at half the price as its competitors.
The 2.4GHz and 5GHz channels work in the background to ensure each device connects to the right channel for that specific device. MU-MIMO technology also enables simultaneous communication between devices and a single node. To keep those costs down, there is not a discrete radio for network backhaul.
The Rock Space website says the router is rated for 1200 Mbps over Ethernet, 800Mbps over 5GHz connection, and 300 Mbps over 2.4 GHz connection. For wired connectivity, there are two Gigabit Ethernet ports on the bottom of each unit for hard wiring network devices.
The box comes with three stations, and each is identical in specs and design. They are all square, plastic boxes with a black finish and felt-like material on top.
Rock Space AC1200 Dual-Band Mesh Wi-Fi System set-up
The app used for setup is simple but easy to understand. While it may not offer a flashy app experience like other routers, it gets the job done. More tech-savvy users can dive into the limited settings and set per-device limits and other restrictions within the app. There is no browser configuration on the unit whatsoever, so the iOS or Android app is the only way to manage the network.
To get going, users just need to power on the first router and connect to the network that is spun up — the app will walk you through the rest. Users can create an account to log in remotely and view their network when not at home.
Following initial setup, the second and third routers can be placed in desired locations and they will automatically pair with the original router. If connection issues occur, a manual connection mode is available within the app.
Rock Space AC1200 Dual-Band Mesh Wi-Fi System performance
Devices were connected over ethernet and over the air to test the network, and connections remained stable throughout the home. Speed tests conducted returned results similar to the Linksys Velop system that it was tested against.
Upload and download speeds were tested using the Ookla Speedtest app with varying results. While the results were similar to the Linksys system, some dead zones did occur outdoors or in areas further from a node.
The iPhone connected to the Rock Space router saw about 90Mbps download over Wi-Fi. When the iPhone was connected to the Linksys router it saw similar results. Running the test over an ethernet connection showed both mesh networks at over 400Mbps, which is the expected limit.
Due to internet variability and network traffic, speed results can change moment to moment, so our tests may not reflect other results.
Rock Space AC1200 Dual-Band Mesh Wi-Fi System security
The lower price comes with some compromise, however, as the system is only capable of WPA2-PSK security. When connecting to the Rock Space network, a warning is displayed in Settings to show that it is connected to a "weak security" Wi-Fi network.
The app that controls the system does not have any controls for choosing which security protocol is used. WPA2-PSK security can use a more up to date version with AES, but the Rock Space routers do not have a setting to change to a more secure protocol. While not listed on the website, the outdated protocol being used would be TKIP and not AES.
Apple recommends users connect to networks using AES or WPA3, and will warn users that are connecting to older security protocols. The best that the Rock Space mesh can offer is WPA2-PSK TKIP — an older standard and has been deprecated and is less secure than modern network security. So, expect that warning, and expect it often.
For a relatively new router, this is unacceptable. Users should expect modern security standards to be in use for equipment manufactured in 2020. While cutting corners to save on price, the manufacturer chose to provide only this basic security.
The website claims that there is an additional firewall to protect the network with specific protections against UDP/TCP attacks. What this is or does, though, isn't exactly clear.
Should you buy the Rock Space AC1200 Dual-Band Mesh Wi-Fi System?
The Rock Space Mesh Wi-Fi system offers decent network coverage and high-speed connection for a price more than half of its competitors. Despite these specs, the router compromises its security by offering outdated protocols.
Customers who have no concern over network security that need a strong home network may opt for this system. Other mesh networks in the space that sell in packs of three start at $399, so the lower price tag will attract less discerning customers.
If you want the latest and greatest security protocols, this is not the system for you. The weak security is visible now for more tech-savvy customers, and will be visible soon enough for the less-aware.
Low entry price
Wide in-home coverage
Reliable connection
Bare-bones feature set and app experience
Uses older security protocol
The Rock Space Mesh Wi-Fi system is a functional wi-fi mesh system at a low price point. The lack of modern security protocols is a giant problem, and we can't recommend it for purchase.
Where to buy