Fitbit announces new Fitbit Sense smartwatch to help keep stress in check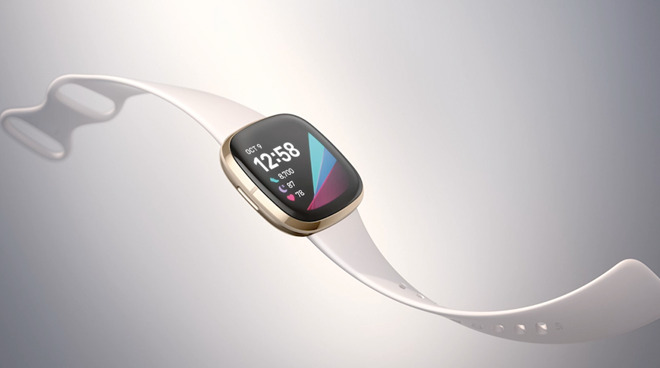 AppleInsider may earn an affiliate commission on purchases made through links on our site.
Fitbit, known for its line of health and activity tracking wearables, has announced the Fitbit Sense, a new stress-tracking smartwatch.
Over time, the physical strain from chronic stress can contribute to a host of health problems, including high blood pressure, heart disease, obesity, diabetes, and mental health disorders. The Fitbit Sense, Fitbit's newest wearable, boasts several sensors that can be used to track a user's physical stress responses. This includes an EDA sensor that can detect electrical changes in the sweat of a wearer's skin.
Additionally, Fitbit gives users a Stress Management Score, which is calculated based on heart rate, sleep, and activity data. Scores are calculated on a 1-100 scale, where higher scores are better.
The Fitbit Sense includes a new temperature sensor that can detect changes that could alert users to fever, illness, or the start of a new menstrual phase.
Those who subscribe to Fitbit Premium, Fitbit's upgraded health-tracking subscription service, will be able to view a breakdown of how the score is calculated. The analysis includes detailed information on different biometric inputs used to calculate the score.
The device can use Google Assistant or Amazon Alexa for question answer, alarm set, and more. The screen is an AMOLED display, and the face of the watch is Gorilla Glass 3. Fitbit claims six-day battery life.
Fitbit Sense is available for preorder starting today, in both Carbon/Graphite and Lunar White/Soft Gold stainless steel models. Both models retail for $329.95. Orders are expected to begin shipping by September 25.
Apple is clearly interested in bringing mental health monitoring to the Apple Watch, as the company has partnered with UCLA for a three-year study on depression.