Future AirPods may switch to touch sensor for controls instead of force detection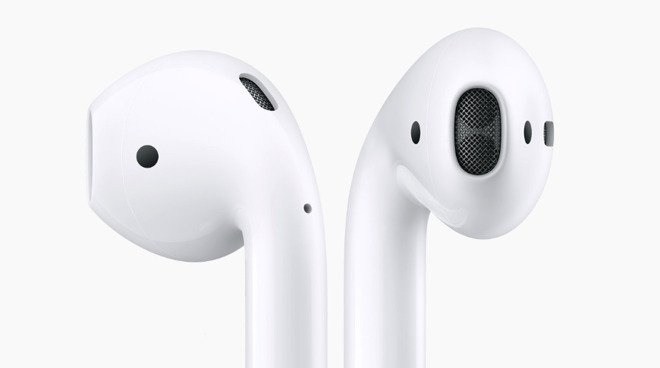 AppleInsider may earn an affiliate commission on purchases made through links on our site.
Apple is examining a shift from a force sensor in AirPods to a capacitive touch system to make a set easier to control, and provide new options.
The latest in Apple's surprisingly long history of AirPods patents and patent applications concerns improving how you control them through touch. Currently it takes quite a tap on the earbud or a squeeze of the stem to answer calls or to skip tracks, but a new idea may change that.
Most of a newly-revealed patent application called "Portable Listening Device with Sensors," appears to be a description of existing AirPods or AirPods Pro. It really concentrates, though, one significant difference with how the device's sensor work.
"[AirPods have an exterior surface that defines a shape of the earbud such that the earbud is sized and shaped to be at least partially inserted into a user's ear," says the application. "[And] a touch-sensitive sensor positioned within the housing and adjacent to the exterior surface."
That touch-sensitive sensor defines "a touch sensitive region at a portion of the exterior surface of the housing and [is] configured to generate an interaction signal in response to detecting a touch of a user's finger."
Apple specifies that the application is about when "the touch-sensitive sensor is a capacitive sensor." It doesn't detail the difference between that and the current force sensor, but describes how when the user touches the device, the system "detects the contact via a change in capacitance."
Capacitive sensors are able to detect when they are touched without requiring a pressure or movement. Even with AirPods Pro, it's possible to knock them out of your ear so anything that stops you having to tap or to tug at the stem is an improvement.
Apple's patent application is more concerned about the specifics of how such a sensor routes data to the device, than it is about the practical uses of the idea. But alongside the ability to have a user touch instead of press on the device, there could be a way to leverage the technology to provide more controls.
For instance, if the earbud can detect a touch, it may also be able to detect movement. So changing the volume on a pair of AirPods might be done by simply swiping across the surface of one.
This patent application is credited to seven inventors, all of whom have multiple prior related patents. For instance, Arun D. Chawan, Kurt Stiehl, and Benjamin A. Cousins are all listed on one called related patents such as "Magnetic retention of earbud within cavity."
Their patent regarding a capacitive sensor follows very many other Apple patents and applications. Most recently, those have included a plan to have AirPods automatically adjust their audio to help wearers hear hazards.