iOS 14 ad tracking protection coming in early 2021, App Store privacy features arriving later in 2020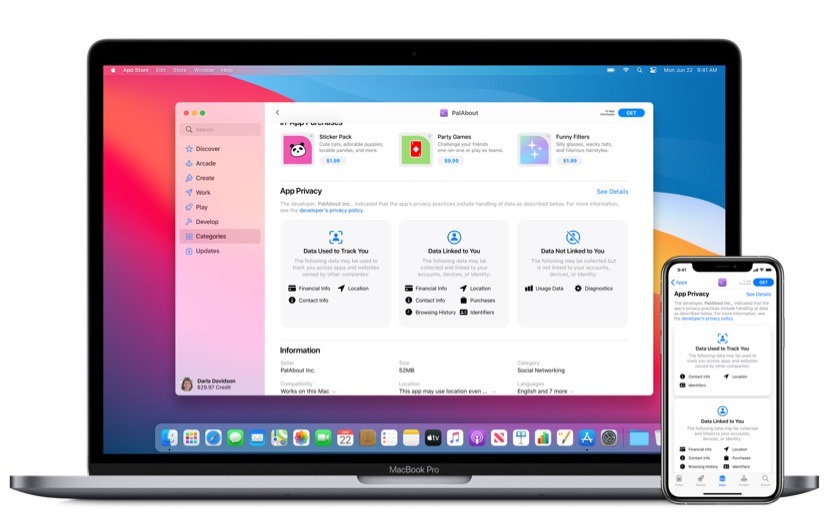 Apple has given a timeline for when developers and consumers can expect new privacy features in iOS 14, including the controversial ad tracking block, to roll out.
In a developer news update, Apple said that developers will be able to submit information for new App Store privacy sections by the end of October. The feature itself will begin launching to users by the end of 2020, Apple added.
The privacy information that developers submit will appear as a new section on an app's App Store page, and will allow users to better understand an app's privacy and data practices before installing it. The privacy section will be required for every app going forward.
Additionally, Apple said that it will delay the launch of its controversial anti-ad tracking mechanism in iOS 14, iPadOS 14 and tvOS 14 to "give developers time to make necessary changes."
That feature will require each app to obtain permission from users to track them across other websites and apps. Among advertisers, the feature has proven controversial. Apple said that it will launch in early 2021.
App Privacy Questions
Once iOS 14 launches this fall, Apple will require app developers to answer privacy related questions in App Store Connect. Each question will target a data collection point and the developer must disclose any time the app might collect that data.
Apple offers these guidelines when considering answers to the questions:
You should identify all possible data collections and uses, even if certain data will be collected and used only in limited situations.
Your answers should follow the App Store Review Guidelines and any applicable laws.
You're responsible for keeping your responses accurate and up to date. If your practices change, update your responses in App Store Connect.
Data Collection
Apple lists the following categories and data types as information the developer will need to disclose:
Contact Info

Name
Email
Phone Number
Physical Address

Health and Fitness
Financial Info
Location
Sensitive Info
Contacts
User Content

Emails or text messages
Photos or Videos
Audio Data
Gameplay Content
Customer Support

Browsing History
Search History
Identifiers
Purchase History
Usage Data

Product Interaction
Advertising Data

Diagnostics

Crash Data
Performance Data
Data Use
Apple lists the following data uses as information developers will need to disclose:
Third-Party Advertising
Developer's Advertising
Analytics
Product Personalization
App Functionality
User-linked Data and Tracking
Developers will need to disclose how the data is linked to accounts, devices, or partners. If appropriate precautions are taken prior to data collection to ensure the data is not associated with a user, then it should be reported as such.
Precautions include stripping direct identifiers or manipulating data to break any ability to link back to real-world identity. Developers must not attempt to reconnect data to a user after it has been anonymized, or it is considered user-linked data.
Any tracking performed by third-party partners must be disclosed as well. Tracking includes any attempt to follow a user using identifiers like user ID, device ID, or profile for use in advertising or data collection.