Echelon 'Prime bike' has nothing to do with Amazon, and has been struck down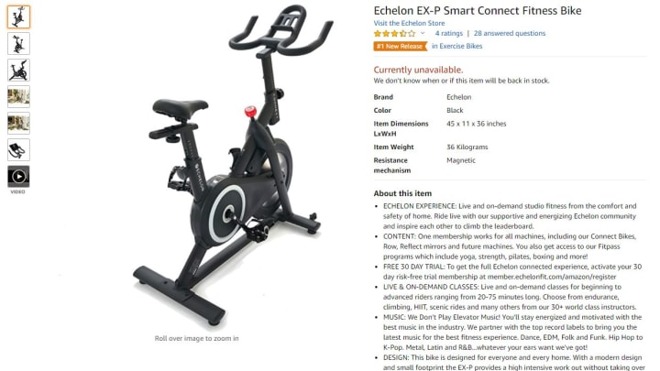 AppleInsider may earn an affiliate commission on purchases made through links on our site.
A company called Echelon Fitness on Tuesday unveiled an exercise bike "in collaboration with Amazon," but Amazon says it wasn't involved and has ceased sales of the product pending modifications.
Echelon Fitness touted the $500 now ex-"Prime Bike" as "Amazon's first-ever connected fitness product" that was developed in partnership with the online retail juggernaut. On Tuesday evening, however, Amazon denied that it was ever involved with the product or Echelon Fitness.
"This bike is not an Amazon product or related to Amazon Prime," Amazon told Bloomberg. "Echelon does not have a formal partnership with Amazon. We are working with Echelon to clarify this in its communications, stop the sale of the product and change the product branding."
As of Wednesday morning, the name of the bike has been changed to "EX-P" instead of "EX-Prime." All mentions of Amazon have been removed, and the bike is also listed as "currently unavailable."
The launch of the bike caused a stir on Tuesday, with some industry sites suggesting that Amazon was to be the latest Peloton rival. Shares of Peloton, in fact, fell as much as 6% in intra-day trading.
Amazon does offer fitness-related products and services, including livestream classes and clothing through its AmazonBasics brand. It doesn't currently manufacture smart fitness equipment, however.
Health and fitness appears to be the latest foray for many tech giants, however. Apple in September unveiled a new Apple Fitness+ subscription service, which Peloton called a "legitimization of fitness content."