Future HomeKit system could track users through rooms, authenticate via biometrics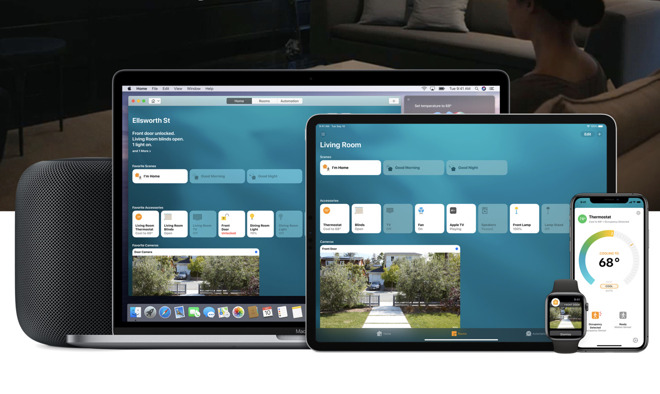 AppleInsider may earn an affiliate commission on purchases made through links on our site.
Apple is developing a smart floor plan deduction system for HomeKit that could detect, analyze, and authenticate users and objects moving through an environment — allowing for deeper customization per user.
The system, detailed in a patent application titled "Deducing Floor Plans Using Modular Wall Units," would use a suite of wall-mounted sensors to analyze and detect the activity within a given room. In addition to actually analyzing the floor plan of a room, and providing that data to a smart device like an iPhone or iPad, the system goes in-depth with various ways that it could track movement and room usage patterns.
For example, sensors mounted on one or more walls could define at least one room of a building. Those sensors could then detect activity within that room; determine the type of room based on that activity; and modify floor plan data on an output device accordingly.
That data, collected through sensors such as those sensitive to electromagnetic interference (EMF), could then be used in novel applications related to smart home functionality.
For example, the sensors could track the movement of an object or person through a room and adjust smart home features based on that movement. Data used to determine the type of room could comprise traffic patterns, the amount of time an object spends in a room, or the amount of time spent moving. The patent describes the mounted sensors as "virtual tripwires," perhaps arranged in a mesh configuration.
More than that, the system could produce data that is highly contextual. A remote control could be intelligently switched to control various smart home devices based on which direction it is pointed.
In some embodiments, the sensor suite could also include image data. That could open the door for the use of computer vision and machine learning algorithms, such as those in Apple's ARKit and the iPad Pro LiDAR sensor.
The system could be intelligent enough to differentiate separate people passing through a room based on their biometric data.
"In such cases, biometrics such as a person's heart rate can be measured wirelessly (e.g., via a 60 GHz millimeter wave sensor (MWS) system) to differentiate between people, as shown and described below with respect to FIG. 18. Other characteristics can be used as well, including a person's detected speed, gate, size, or other features that may be particular to certain users," the patent reads.
That biometric data could be used to authenticate a particular user, and trigger some customized functionality or activity.
As far as what the wall-mounted sensors could look like, the patent suggests they could be implemented in common everyday objects such as power outlets, light dimming units, thermostats, or cameras.
The patent credits Travis McQueen, Clark Della Silva, Scott. G Johnson, Wade Barnett, Christopher Merrill, and Jay C. Couch as inventors. Many of them have worked on previous HomeKit-related patents for the Cupertino tech giant.