Apple helped feds to catch man accused of burning cop cars in the Apple Crime Blotter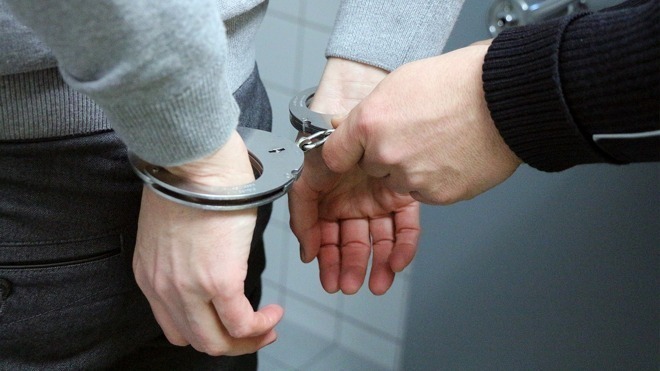 Video shows officer trying to unlock a man's iPhone, a monkey takes selfies in Malaysia, what went on with the Mueller team's iPhones, and more crime stories involving Apple, its products, and services.
The latest in an occasional AppleInsider series, looking at the world of Apple-related crime.
Police caught on video tearing off man's mask, attempting to unlock iPhone with FaceID
Surveillance video surfaced in mid-September of police from New York City's Department of Homeless Services handcuffing a Queens man after he photographed them without masks. The video also shows the officers pulling off the man's mask and attempting to unlock his iPhone with FaceID, but the man said he was able to swerve out of their way.
According to Patch, which obtained and published the video, the footage contradicts earlier statements by the officers, who have since been suspended.
Accused drug dealer accused of stealing iPhones, along with bong beating
An alleged drug dealer in Wisconsin is accused of beating a man with a glass bong, as part of an alleged home invasion that included the theft of two iPhones and an iPad. The Racine Journal Times reports the incident arose out of a dispute over THC vaping cartridges, and the stolen items include an iPhone 7, an Apple iPhone XS Max, an iPad Pro, an Xbox One, and $2,700.
The accused assailant, who is only 18 years old, was charged with two felony counts of armed robbery, a felony count of substantial battery, and a felony count of burglary of a building or dwelling, the newspaper said.
Apple helped to find protestor accused of firebombing police cars
Forbes reported September 16 that Apple agreed to hand over iCloud data to the FBI, to apprehend a man accused of firebombing two police cars in Seattle. The firebombing took place on May 30, during the early days of the protests following the killing of George Floyd.
The data included screenshots of both the suspect in the act, a list of "ingredients" for a Molotov cocktail, and even incriminating videos. The man was arrested and brought up on federal charges of unlawful possession of a destructive device and arson.
Malaysian man's iPhone was lifted by selfie-taking monkey
A student who lives in Malaysia lost his iPhone for a day in early September and feared that it had been stolen. But it's not the kind of theft that's going to lead to an arrest, because the phone was actually taken by a monkey, who proceeded to take several selfies.
Per The Hindustan Times, the man found the phone after losing it, and a relative suggested that he check the photo library for clues, since more than one iPhone theft has been solved that way in the past. But instead, the culprit turned out to be a monkey, who had retrieved the phone from a jungle behind the man's house:
Something yang korang takkan jumpa setiap abad. Semalam pagi tido bangun bangun tengahari phone hilang. Cari cari satu rumah geledah sana sini semua takde then last last jumpa casing phone je tinggal bawah katil tapi phonenya takde. Sambung bawah. pic.twitter.com/0x54giujnY

— z (@Zackrydz) September 13, 2020
Dozens of iPhones reportedly taken from warehouse in Canada
Police in Calgary said September 15 that a cache of 192 smartphones was stolen from an area warehouse in August, and that customers should be aware of any phone they buy and make sure they're not stolen.
In addition to phones from Samsung, LG, and Huawei, the missing phones include iPhone SE, iPhone XR, and iPhone 11 models. Police added that the phones cannot be activated on a wireless network, although they could work with Wi-Fi.
Apple asked about Mueller team members who wiped iPhones
Those who followed Special Counsel Robert Mueller's investigation closely may remember that multiple people indicted by Mueller, including Paul Manafort and Roger Stone, were incriminated by material found in their iCloud accounts. Now, there's controversy related to the iPhone security habits of Mueller's team.
Per Fox Business, Congressman Doug Collins of Georgia on September 15 demanded that Tim Cook provide information about iPhones belonging to Mueller's staff, following the release of Justice Department records showing that several members of Mueller's team wiped their iPhones due to "forgotten passcodes, irreparable screen damage, loss of the device, intentional deletion or other reasons."
Nefarious as the wiping of the phones may sound to Mueller skeptics, journalist Julian Sanchez found a note in a report from the Department of Justice's Office of the Inspector General which stated that the office investigating the origins of the Russia investigation was able to get most of the data it needed. In addition, per that report, "the [Justice] Department routinely resets mobile devices to factory settings when the device is returned from a user to enable that device to be issued to another user in the future."
Police car struck by drunk driver while investigating stolen iPhone case
A police officer in Wisconsin was at a nightclub investigating a stolen iPhone when an apparently drunk driverstruck his squad car. The incident, according to Patch, took place at 3 a.m. on September 12, and the driver was arrested.
South African official's iPad stolen in car break-in
Panyaza Lesufi, a regional member of the Executive Council in South Africa, claimed an iPad Pro with "sensitive information" was stolen from his state-owned BMW in a break-in.
Opera News reports Lesufi had parked his car at a country club.
Woman accused of stealing from band booster club bought iPad, laptops
An Ohio woman who was indicted on charges that she embezzled $65,000 from a Band Boosters club over three years used some of the money on an iPad and two laptops. According to The Dayton Daily News, the woman was the treasurer of the organization and was caught after her successor found discrepancies in financial records.