Apple's research of Apple Watch charging coil use for haptic feedback could lead to thinner devices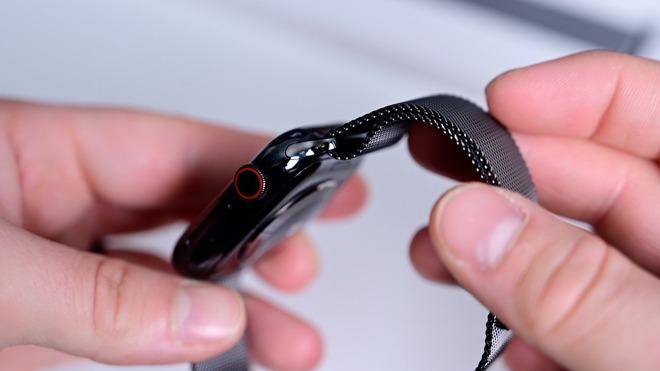 AppleInsider may earn an affiliate commission on purchases made through links on our site.
Apple is exploring using the wireless charging coil on an Apple Watch to also provide haptic feedback, potentially leading to smaller and thinner wearables.
Current Apple wearables are outfitted with a charging coil assembly to allow for wireless charging. But that component only provides charging at this point, and Apple is developing technology that could allow it to serve a double purpose.
In a patent application titled "Electronic Device with Coil for Wireless Charging and Haptic Outputs," published by the U.S. Patent and Trademark Office on Oct. 15, Apple details a way to use the inductive charging case as part of a device's haptic actuator. Essentially, using the coil to provide haptic feedback.
"Using the same coil for both wireless battery charging and haptic output operations may help reduce the size and weight of devices, as a common component may be leveraged for multiple uses," Apple notes of the potential for the technology.
However, traditional coils used in wireless charging systems aren't automatically suitable for a haptic actuation system. Apple writes that "the positioning of magnets, ferromagnetic materials, or ferrite, which may be used as part of a haptic output system, when positioned proximate a conventional charging coil, may be detrimental to the operation of the charging system."
To mitigate that, the patent envisions a system that could operate in different modes. Although the coil itself would be shared between the two devices, the patent notes that each system — both haptic actuation and wireless charging — could have dedicated components. Both systems would provide their respective function with the shared components.
In a charging mode, the coil would be "configured to inductively couple to an output coil ... of the external charging device ... in order to receive power from the output coil." In haptic output mode, it would operate in conjunction with the haptic output system to "cause, trigger, initiate, or otherwise produce a haptic output."
As far as how it would do, the patent contends that the coil be energized "in a manner that causes a haptic actuator component to produce a haptic output," whether through magnetic attraction, reluctance forces, or similar forces.
Interestingly, the patent doesn't stop at smartwatches, and points out that a similar system could be used on an iPhone or iPad. Apple just recently announced its new iPhone 12 and iPhone 12 Pro models, which sport a MagSafe feature that brings Apple Watch-like wireless charging to the company's handsets.
The patent lists Benjamin G. Jackson; Brenton A. Baugh; Brian T. Gleeson; Steven J. Taylor; and Thayne M. Miller as its inventors. All have been involved in Apple haptic and Taptic Engine research in the past, including for devices like the iPhone and the Apple Pencil.
Apple files numerous patent applications weekly, and there's no guarantee that the technology described in them will ever make it to market. Similarly, patent applications don't give any indication when such features could arrive.