AirPods Pro versus Bose QuietComfort Earbuds: Which are the best true wireless headphones?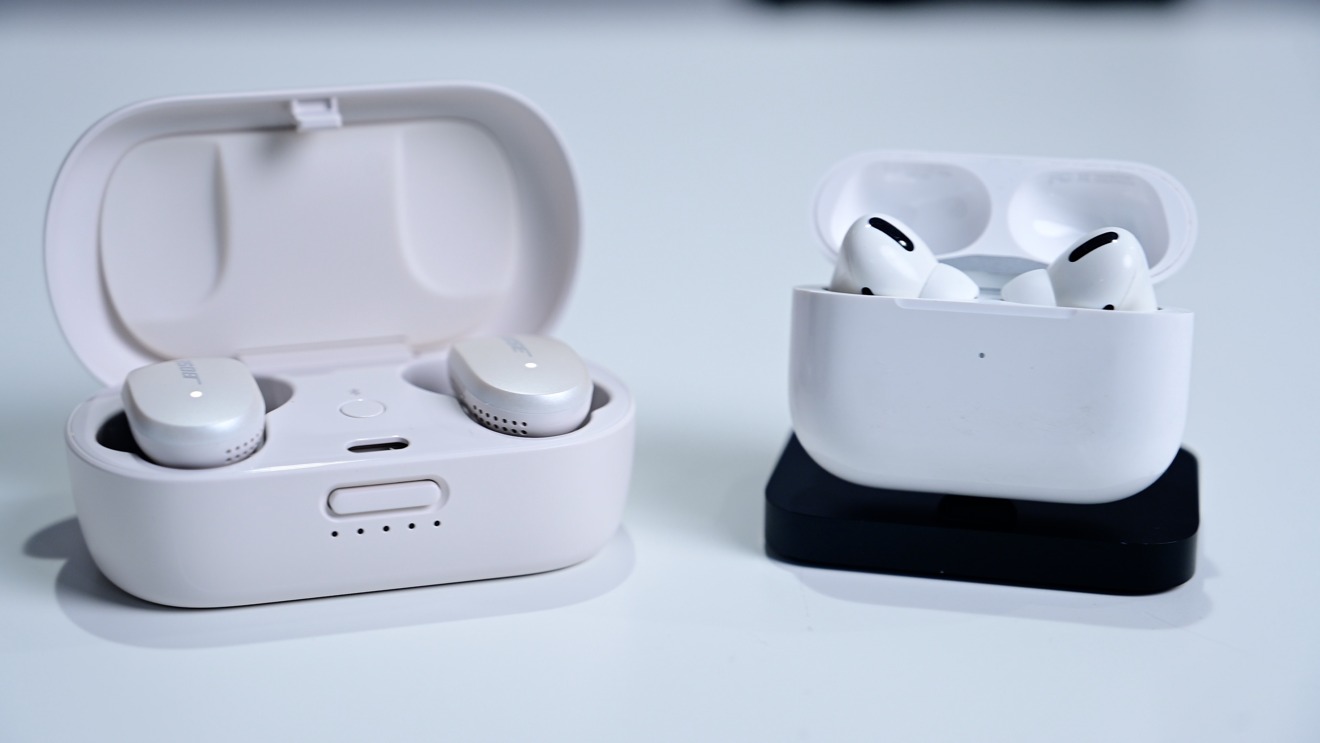 Bose has just released its newest, and most impressive, set of true wireless earbuds — the Bose QuietComfort Earbuds. We got them in the studio and compared them to Apple's flagship AirPods Pro.
Apple offers up AirPods as well as AirPods Pro, but the latter is within $30 of the Bose QuietComfort Earbuds and also offers active noise cancellation. That's why we chose to compare those two specific models.
Design
There is no getting around it: the Bose QuietComfort Earbuds are significantly larger than AirPods Pro. This is true of the case, as well as the earbuds themselves. Just by looking at them, the Bose may be three times the volume of the AirPods Pro case. This makes a big difference on something intended to be portable that you carry with you all day.
Both of them have a flip-open top, but the Bose has a nice feature we sometimes wish AirPods would adopt. There is a physical button that needs to be pushed before the top can come open. We love the fidget factor of the AirPods case, but if you've ever dropped it, you know those individual earbuds go flying. A locking mechanism stops that.
If we look at the earbuds, very few have copied the iconic look of the AirPods (other than grey market knockoffs). Most choose to go their own way, as Bose has. The Bose QuietComfort Earbuds look much more in line with a traditional set of earbuds. They are decently large and have wings that fit into your ear as well as an oval tip that goes into your ear canal.
When using them, they are absurdly comfortable. Even though they are larger and heavier than AirPods Pro, because of the wide size and dispersion of weight on your ear, we had no issues with ear fatigue and were comfy for hours on end. They do have a more secure fit compared to AirPods Pro, just because of the wings on the back.
AirPods Pro don't have a bad fit for us, they fit perfectly. But due to their stem and design, they can come free easier than the Bose do.
As for controls, Apple uses the Force Stems on AirPods Pro while Bose uses a tapping gesture. Both are a little fiddly, but we prefer the Force Stems because it is a little easier to do. Bose does have more options though with favorites to be assigned to the left ear and the right ear for playback controls.
Battery and power
Both of these true wireless earbuds have Qi-enabled charging cases, allowing you to power up wirelessly. If you prefer to use a cable, you must use a Lightning cable for AirPods Pro and a USB-C cable for the Bose.
Battery life for these is a mixed bag. Bose wins for single-charge usage, netting six hours. AirPods Pro only get four and a half hours, though that can extend to five if you disable ANC and transparency mode. But AirPods Pro win on total usage time, with an extra 19 hours in the case for 24 hours total. Bose only nets 18 total hours with 12 hours in the case.
This was surprising to us considering how large the Bose case is. With its large size, we wholly anticipated a much longer total time. When you are traveling with your ANC earbuds, you may not get the chance to keep charging, and that total time can be important.
Both have a quick charge feature, with Apple touting an hour of usage time after only five minutes of charging, while Bose states two hours of use after 15 minutes.
Connectivity
Bose is utilizing Bluetooth 5.1 against Apple still using Bluetooth 5 for AirPods Pro, but Apple is using its H1 wireless chip which gives it a massive advantage. The H1 chip uses Class 1 Bluetooth audio, which is more power-intensive and creates a more robust signal than the typical Class 2 audio used in the industry.
Because of that H1 chip, AirPods Pro have a massive 100-foot range whereas Bose is limited to the industry-standard 30 feet.
That H1 chip is also what enables AirPods Pro to automatically sync with all of your Apple devices after initial setup with no effort. AirPods Pro show up straight away on your Apple TV, Apple Watch, iPad, and Mac.
Unique features
Before we get to the all-important ANC and audio quality compares, we want to look at unique features for each set of earbuds.
AirPods Pro features
As mentioned, the way AirPods Pro propagate across all your Apple devices is magical. It is easy to pair just by opening it near your iPhone, and they have a very tight integration with Apple's operating systems. ANC and transparency mode can be toggled right from Control Center on your Apple Watch, iPhone, or iPad. Even in macOS Big Sur.
The battery life is displayed too in your Apple Watch Control Center and in the battery widget on your iPhone and iPad. Siri can be helpful too, letting you know where your AirPods are, what their battery life is, and for controlling ANC.
When setting up AirPods Pro, Apple has a unique fit test that lets you try different tips to determine which seal your ears best. Adaptive EQ uses the inward-facing microphone to adjust the audio EQ so that it sounds its best in your own ears.
With iOS 14, AirPods Pro got new features such as auto-switch that moves you between devices as necessary without you having to pair or unpair and spatial audio which recreates a Dolby Atmos-like 3D audio. It can also be used by developers in their games and apps for a more immersive experience.
Audio Share is another cool feature that allows multiple sets of AirPods Pro to connect to your iPhone, iPad, or Apple TV at once.
Bose QuietComfort Earbuds
Bose is unique for offering 11 levels of noise cancelation. If you go to zero, you will let all the noise from the outside world into your ears whereas 11 blocks out all the outside noise. This is far more granular than AirPods Pro on or off toggle. Because there are 11 levels, Bose allows you to assign your three favorite ANC settings to the left earbud to cycle through.
For example, you can set your favorites to zero, five, and 11, and tap to go between each of those.
There is also a neat setting that lets you automatically answer a phone call whenever the right earbud is inserted. When a call comes in, you don't even have to touch your phone, just put an earbud in and the call is answered.
All of this can be controlled from the Bose Music app. It shows the earbuds' volume, ANC level, firmware, and other settings.
Audio Quality
While the size, connectivity, and other unique features are worth considering, what should be the deciding factor is audio quality and ANC abilities.
With that, we can firmly say that Bose wins out. The Bose QuietComfort Earbuds have a much bolder, fuller sound with punchier bass. As Apple already has the Beats brand with a poppy, bass-heavy sound, it set out to design AirPods and AirPods Pro to be more neutral. There is no overly-heavy bass, sound overall is very crisp, and mids are particularly nuanced.
Even then, Bose, which is clear with their larger size, put out a more impressive sound. The soundstage is larger, bass stronger, and overall better.
Calls were good between the two, with AirPods Pro edging the Bose out by just a hair thanks to its multiple beam-forming microphones.
ANC
ANC is the other big deciding factor and once again Bose has the upper hand. As we discussed previously, Bose QuietComfort Earbuds have 11 levels of noise cancellation. This is very nice to tune them to your preference.
While we didn't hop on a flight right now we did limited testing around the studio and outdoors and were left more impressed with the Bose. We had an older Mac rendering a 4K video which had the fans running full blast right next to our head. With the Bose turned up to 11 we couldn't hear the fan at all.
We tested various white noise sounds playing at high volumes through our speakers and AirPods Pro did an excellent job, but let in just a bit more background noise than the Bose did.
Decision time: Which is best?
Based on noise cancellation and audio quality, Bose QuietComfort Earbuds are the unequivocal winners. They sound better and have superior noise cancelation capabilities.
They also have features like a locking case, a standalone app, and a 25% longer battery life.
At the same time, we acknowledge the AirPods Pro's ineffable qualities that make them adored by everyone who uses them. They work seamlessly and integrate into the Apple ecosystem like no other can.
Where to buy