Apple temporarily closes Philadelphia store amid protests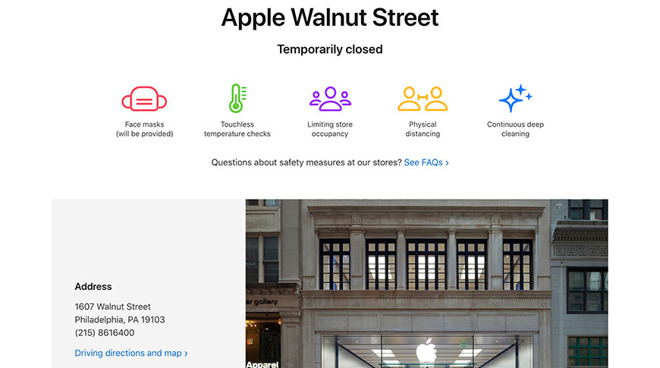 AppleInsider may earn an affiliate commission on purchases made through links on our site.
Apple has temporarily closed Apple Walnut Street in Philadelphia as protests over the police killing of Walter Wallace Jr. continue.
The store closure was announced in an update to Apple's dedicated retail web portal on Wednesday. As of this writing, Apple Walnut Street is displaying "special store hours" that show the store as closed from today through at least Nov. 3.
Apple has not publicly commented on the temporary shutdown, though the move is likely related to ongoing protests in the area.
On Tuesday, demonstrators clashed with police for a second night in hotspots around the city, reports the Philadelphia Inquirer. The situation deteriorated at the protest's epicenter at the intersection of 52nd and Market Streets, where Wallace was killed, with looting reported in other areas.
The Philadelphia store was among a number of Apple retail locations that became targets for looters in May during nationwide protests over the police killing of George Floyd. Apple subsequently boarded up or removed stock from stores in at-risk locales.
It is unclear when Apple Walnut Street will reopen.