First iPhone 12 mini, iPhone 12 Pro Max hands-on videos illustrate vast size difference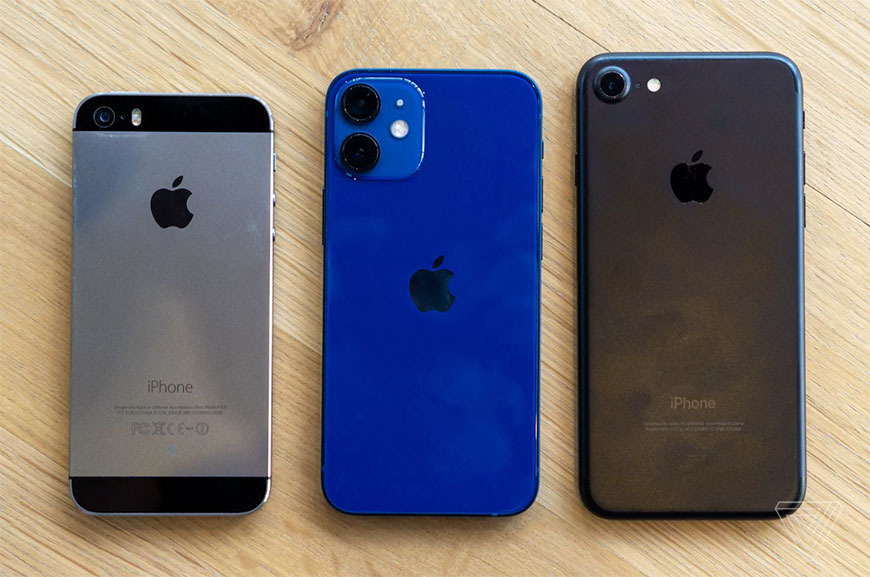 Apple this week invited press outlets to take a first look at iPhone 12 mini and iPhone 12 Pro Max before launch on Friday, loosing a deluge of photos, comparisons and initial analysis.
For the most part, the first batch of reports fail to provide much in the way of new information, though The Verge came equipped with older iPhone models for a few handy comparisons.
The publication pits the iPhone 12 mini against the iPhone 5S and iPhone 7. With its 5.4-inch screen, the mini is Apple's smallest flagship handset in years and many are looking forward to returning to a more pocketable form factor.
"And that smaller size is really nice to hold. iOS scales well to the 5.4-inch display, and the iPhone 12 design looks and feels just as nice on the slightly more compact version as it does on the full-sized model," The Verge reports. "If you liked the size of the the old 5 / 5S / SE, though, the 12 mini feels like the closest Apple has come to that style of device in a long time."
The report also takes a first pass at iPhone 12 Pro Max, offering side-by-side comparisons with the iPhone 12 and iPhone 6 Plus.
In its hands-on look, CNET calls the iPhone 12 mini the most interesting of Apple's new lineup, saying it "feels like a return to the idea of packing the most features into the smallest body."
TechCrunch was also provided access to the handsets, as well as the forthcoming MagSafe Duo charger that juices up both an iPhone and Apple Watch. The publication does not present much in the way of analysis and its comparison photos don't offer any revelations that haven't already been seen in Apple's own press materials.
Likewise, Engadget published a cursory overview of the smartphones that goes over basic information first announced in October. A pair of videos offer a look at the phones in action.
Apple is set to initiate preorders for iPhone 12 mini and iPhone 12 Pro Max on on Friday, Nov. 6, at 5 a.m. Pacific, 8 a.m. Eastern.