An Apple smart ring may be an accessory to Apple Glass, Apple VR headset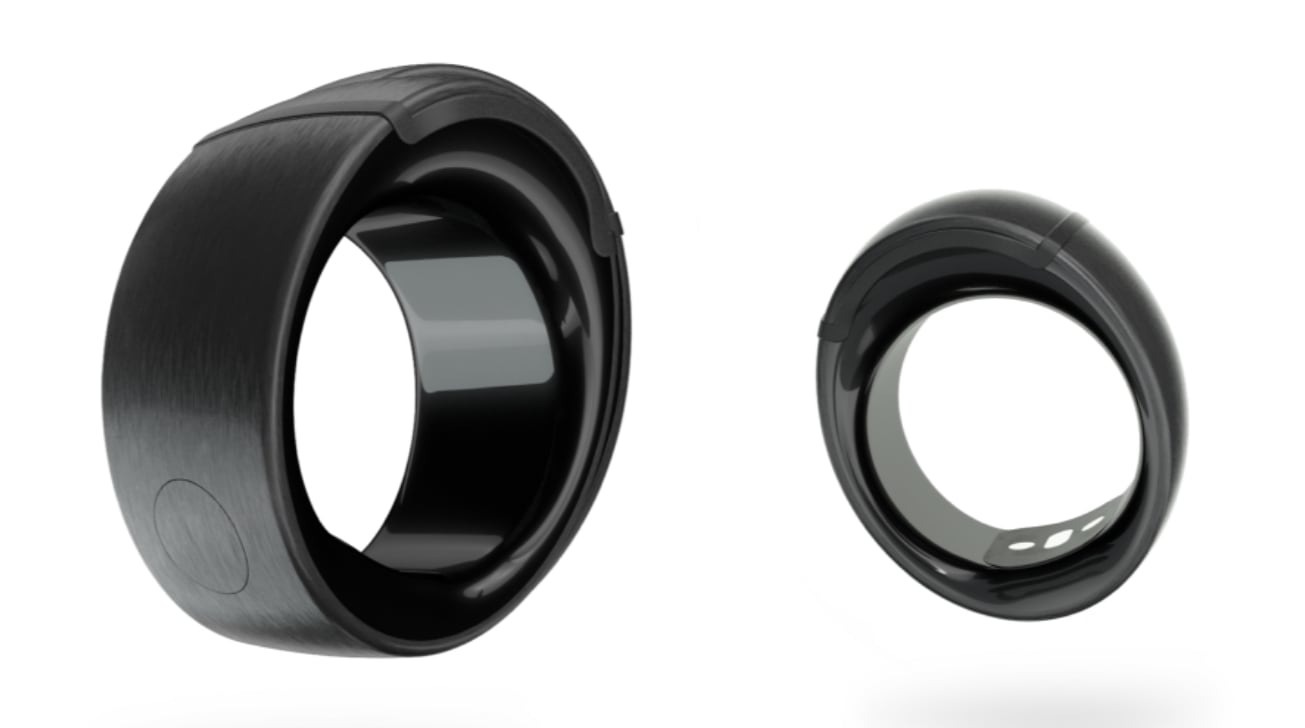 Apple is continuing to research a smart ring device that could be an accessory to or work in conjunction with a head-mounted display such as Apple Glass or a VR headset.
The company has filed numerous patents related to finger-worn devices since 2015. A new patent application published Thursday continues previous work on an "expandable ring device."
According to the patent, the system it describes incorporates a "wearable electronic device configured to be worn on a finger of the user," and a "head-mounted device comprising a display viewable by the user."
The first device could sport "having a hinge that rotates about an axis that is parallel with a longitudinal axis of the user's finger when the wearable electronic device is worn on the user's finger, a visual marker, and a first sensor that gathers input from the user."
Interestingly, the patent also notes that the head-mounted portion would pack a sensor and could detect the visual marker on the ring-worn detect to track its movements and perhaps provide some type of gesture-based control.
Both the head-mounted portion and the ring device could communicate via a wireless connection. The head-mounted device could display virtual content over a real-world environment, and may contain circuitry configured to modify that content.
The patent also reiterates its claim for how the two devices would function together.
"A system comprising: a ring device worn on a user's finger, the ring device comprising: a housing, first communications circuitry configured to send data to external devices; and a head-mounted device comprising: a display configured to generate images, second communications circuitry configured to receive the data from the ring device, wherein the first and second communications circuitry comprise communications circuitry that supports bidirectional communication between the ring device and the head-mounted device, and control circuitry configured to adjust the displayed images based on the received data."
Additionally, in the background portion of the patent, Apple notes that a ring device could be used to bolster systems such as virtual reality headsets or other electronics.
"Electronic devices such as computers can be controlled using computer mice and other input accessories. In virtual reality systems, force-feedback gloves can be used to control virtual objects. Cellular telephones may have touch screen displays and vibrators that are used to create haptic feedback in response to touch input," the patent reads. "Devices such as these may not be convenient for a user, may be cumbersome or uncomfortable, or may provide inadequate feedback."
As a continuation patent, much of the new patent's text remains unchanged from the previous one. It details how a ring device could expand to fill an entire finger.
This also isn't the first time that Apple has explored using a finger-worn device and a head-mounted device in a patent. A patent application from July 2020 contends that a smart ring could interface with an augmented reality peripheral.
Paul X. Wang and Dinesh C. Mathew are listed as the patent's inventors. Wang has appeared on a number of Apple patents before, including one covering an iMac made of a single sheet of glass. Mathew was listed on that same patent, and is also named as an inventor on a solar-powered Mac notebook device.