OGIO Pace review: the storage of a larger bag without the bulk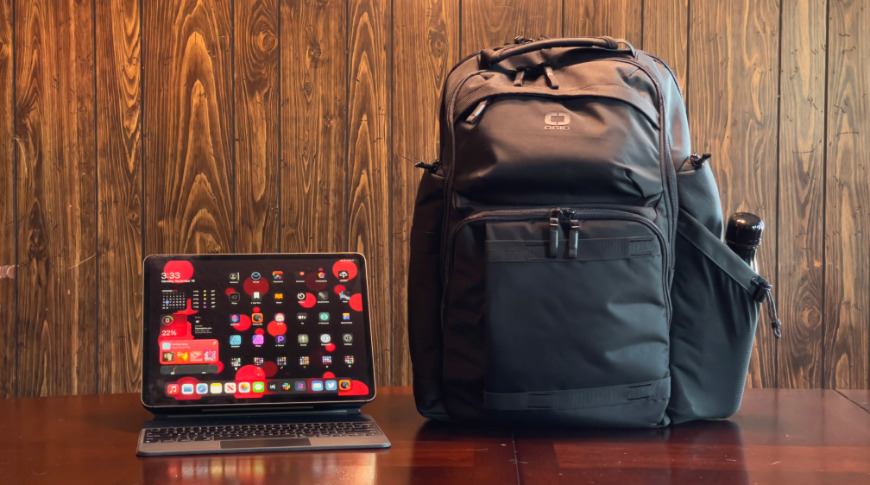 The OGIO Pace 25 liter backpack is built for a mobile and productive lifestyle with a multitude of pockets and big storage compartments.
When shopping for a good backpack it can be difficult to find a balance between size, price, and economical storage. OGIO designed this bag to fit everything you'd need for school, work, or travel without too much bulk or compromise.
The bag is rated for 25 liters of storage, which tend to be medium-sized bags for short overnight stays or an office commute.
External design and material
This bag is divided up into three primary compartments, two side pockets, a back RFID-blocking storage compartment, and a valuables pocket with soft lining. It has a luggage pass-through slot on the back and contoured shoulder straps.
It is made of 1680D and 840D ballistic nylon. This makes it sound more durable than it is, but it just refers to the type of material used and the pattern it was weaved into.
Ballistic nylon is basket weaved in a 2x2 or 2x3 pattern with layers of fabric. The material was originally developed to protect soldiers from explosive shrapnel.
1680D grade nylon tends to wear down over time since it's made from larger yarn than other variants. The entirety of the bag is made from this material, with the exception of some of the pockets and mesh materials, which use the lighter 840D nylon.
If you've ever owned a nylon backpack you'll find the OGIO Pace a similar experience. This bag will be weather resistant and repel water and dirt while showing some wear and tear over time.
The overall design is nothing to brag about as it is indistinguishable from most bags in its class. This does not take away from the utility of the bag, however, as OGIO likely wanted to avoid anything too flashy so it could fit into any environment be it work or a campsite.
Laptop compartment
Despite being a medium-sized bag, it has a dedicated laptop/tablet compartment. While some bags might eschew this compartment and have a sleeve in the main compartment, OGIO splits it up to give you even more options for storage.
The zippers stop one-third of the way down the bag due to the large side pockets preventing further travel. Many modern laptop bags have zippers that travel top-to-bottom on both sides to enable the laptop compartment to fold out for easy access.
The designers of this bag chose to keep things a little more simple with a classic design.
There are two sleeves, with one big enough for a 17-inch laptop, and the other is the exact size and thickness of the 12.9-inch iPad Pro. Try placing the 12.9-inch iPad with a Magic Keyboard or case attached and it will not fit.
The compartment has some space outside of the two sleeves for the additional storage of thin keyboards, notebooks, or maybe a charging adapter.
Some other bags place a mesh pocket here to store laptop cables, but this bag has no such addition. While it would have been welcome, the bag has plenty of other compartments for additional storage.
When the central compartment is full, it leaves very little space for additional items in this pocket.
Central compartment
The center or main compartment has a handful of smaller pockets and one additional large sleeve similar to the laptop compartment. There is a cord dangling that will let you easily attach a set of over-the-ear headphones to hang rather than have them rattle around in the bottom.
This section opens with zippers that pull about half-way down the sides of the bag, also stopped by the large side pockets. Again, some bags allow more zipper travel to easily open the entire front face of the bag for better organization.
This means that the mesh pocket located at the bottom is a bit of a mystery, as you can't see it without pointing a flashlight into the bag or using your fingers to locate it.
The backside of this compartment has a full-sized sleeve which will hold anything from notebooks to iPads. There is a small pocket on the front of this about the size of a 7-inch notepad that might hold a cable or other item.
There are four pencil holders next to this with closed bottoms. The second-generation Apple Pencil sticks out of this holder about a full inch, which is the perfect amount.
There aren't any more pockets on the backside, which leaves space at the bottom for bulk items like clothes, snacks, or whatever you want.
The front side of this compartment has a clear plastic bag attached with velcro. It feels like a soft plastic pencil case, though looks cheap compared to the bag and kind-of sticks out. The white-transparent color doesn't quite show what is inside, so the design choices behind its inclusion are unclear.
You can always remove the bag entirely or stick a different bag on using your own velcro strip. My cheap tech bag from Amazon fits in this spot perfectly.
Below this removable velcro bag is a pair of mesh pockets side-by-side, then a large mesh pocket below that. This bag's interior is black like the rest of it, and unless you have a light shining directly into the bag, it is hard to make out exactly what pockets are where.
Front pocket
The front pocket is very standard fare when it comes to backpacks, as it is just big enough to hold an iPad mini or a couple of video game controllers. It has some depth, but that will also depend on how much is stored in the center compartment.
The backside is one large zippered compartment for something thin and small. The front side has two small pockets which would be good for additional charging cables or adapters or a storage drive.
The front side of this pocket has a quick access section with a hidden zipper. It has a keychain holder for your keys and can store things like a wallet or passport, though storing those in an external pocket might not be wise.
Other pockets
There is a hidden back pocket that is not accessible while the backpack is worn. This is where you can store valuable documents and cards like a passport or ID.
The side pockets are enormous and likely the most unique part of this backpack. While most companies tend to have simple mesh pockets for a water bottle, OGIO has opted to make these full-sized storage areas.
Both of the side pockets are half the total bag height and have internal mesh pouches for additional sorting. The right-side pocket has a water bottle mesh pocket that is adjustable for securing your bottle to the bag.
The final pocket is the top-front pocket OGIO calls the "valuables" pocket, which has enough space for sunglasses or a cell phone, but not much else. Some bags have double zippers with a padlock on such pockets for extra peace of mind, but this bag does not.
Using the OGIO Pace
This is a big bag and can become quite hefty depending on what you pack. Once the central compartment is packed, the other pockets become distended, making them less useful.
Despite this, the bag does not become overly large or bulky when full, keeping its shape rather than becoming more round or lopsided.
Other 25L bags tend to feel bulky and take up a lot of space, but OGIO has utilized its vertical space well, making this bag feel more compact despite its size.
The addition of a sternum strap makes this bag easier to carry over long distances without hurting your back. It fits well with its contoured straps and once properly positioned, didn't sag or awkwardly press into my back or shoulders.
If you planned a weekend trip, this bag could easily cover most bases. As shown in the photo, the bag easily held a couple of changes of clothes, cables, and a charging hub, the Nintendo Switch complete with a compact docking station and cables, and an extra controller for gaming on the iPad.
There was enough room to spare for a small hygiene bag to squeeze into the top of the filled backpack if desired.
Should you buy the OGIO Pace 25L backpack?
The OGIO Pace backpack is a well-built bag with plenty of compartments and sleeves. It has a focus on education and business users with how the layout emphasizes document and computer storage, but outdoors use is still possible.
This bag is much larger than what I personally carry, and even when I travel, I choose to carry a small bag for tech and a suitcase rather than a large backpack. For those who use a laptop, tablet, and carry a notebook with pens, this is the bag for you.
Some of the design choices are lackluster, like poorly placed mesh pockets and oversized side compartments that limit zipper travel. Despite these opinionated complaints, the backpack does hold everything you could ever need for a day trip without becoming overly large and bulky.
If you need a medium-sized bag with a focus on tech storage for a fair price, this bag should be enough for most people.
Plenty of storage
Comfortable to wear and carry
Detachable bag is convenient
Odd internal pocket placement
Other compartments become too tight when the central compartment is full
Side pocket design a strange choice
Rating: 4.0 out of 5
Where to Buy
You can buy the OGIO Pace 25L backpack on Amazon for $149.99.