Grovemade's walnut and steel iPad stand review: it belongs on our desk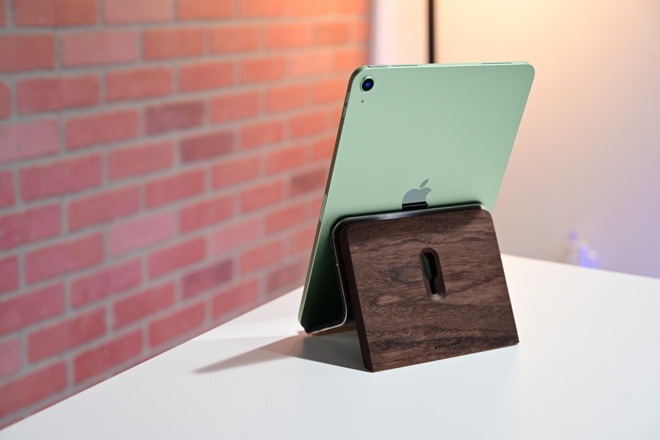 Grovemade iPad Stand
4.5 / 5
---
AppleInsider may earn an affiliate commission on purchases made through links on our site.
Grovemade's new iPad stand is a striking piece made from walnut and steel, with it being a highly practical accessory that is also great to look at.
Steel. Cork. A hunk of walnut. Merino wool felt. Those are the only real materials that go into making Grovemade's new iPad stand. With its premium, handmade nature, few come close to it in our world of mass-produced world of Apple accessories.
A much-needed divergence
We see a lot of iPad stands come through our inbox, and they almost all have one thing in common — they are mass-produced products that, while functionally solid, are rarely unique. Don't get us wrong, there are many iPad stands out there that we love, but it is nice to see something different.
Grovemade prides itself on its intricately-crafted products of which none will look perfectly identical, especially the wood-based ones. The new iPad stand is no different.
The body of the stand is a slab of wood with a hole in the back for the power cable. The hole is big enough for the cable to fit, but the narrow channel at the bottom lets the cable settle but not slip free. The angling on the sides of the hole also reduces stress on the cable if it is pulled.
Affixed to the wood is a curved piece of stainless steel, which wraps up over the top of the wood and comes out as a small shelf at the bottom, with a bit of a lip to keep your iPad in place. Merino wool felt is applied atop the steel which protects your iPad and adds to its stoic appearance.
Between the hardwood and the steel, the whole device is quite hefty, weighing in at more than a pound.
Getting to work
There's been no better time for Grovemade to launch an iPad stand, as Apple has been hard at work releasing new iPad Pros and a new iPad Air all in 2020, with revamped iPad Pros reportedly destined for early 2021. Apple has also been working hard on more productivity features for iPad.
With iPadOS 13 and 14, we've enjoying much better multitasking, improved support for split-screen apps, and Picture in Picture. Not to mention Sidecar to use your iPad as a second display for your Mac, or external mouse support.
This makes iPad a common tool for use docked on your desk or side-by-side with your Mac. Several AppleInsider team members do all their work on an iPad.
Grovemade's stand holds your iPad at a shallow 20-degree angle, which is great for productivity. We found this to be a perfect angle for our desk, and very similar to what we typically would keep our MacBook Pro's display positioned at.
It doesn't slide around your desk much which is aided by the cork feet on its underside. It isn't adjustable which some may see as a problem, but it never really became an issue for us in our use.
This stand works in any orientation you need your iPad, though we think it is best in landscape mode so that is able to charge simultaneously. We placed our iPad Pro on its side to charge, and while the cord does stick out of the side, it didn't pose a huge problem.
There's just no way to avoid it, but at least the cable can still wrap back behind.
Grovemade's iPad dock won't be for everyone, but if you are looking for something to stand out from the crowd, this is a solid option. It is exceptionally well designed, versatile, and worthy addition to our desk.
Beautiful, handcrafted design
Works in portrait and landscape orientations
Simple and effective cable management
Premium materials
Walnut and maple hardwood options
Premium quality has a cost
Unadjustable angle
Rating: 4.5 out of 5