Developer devises workaround to run ARM Windows on M1 Mac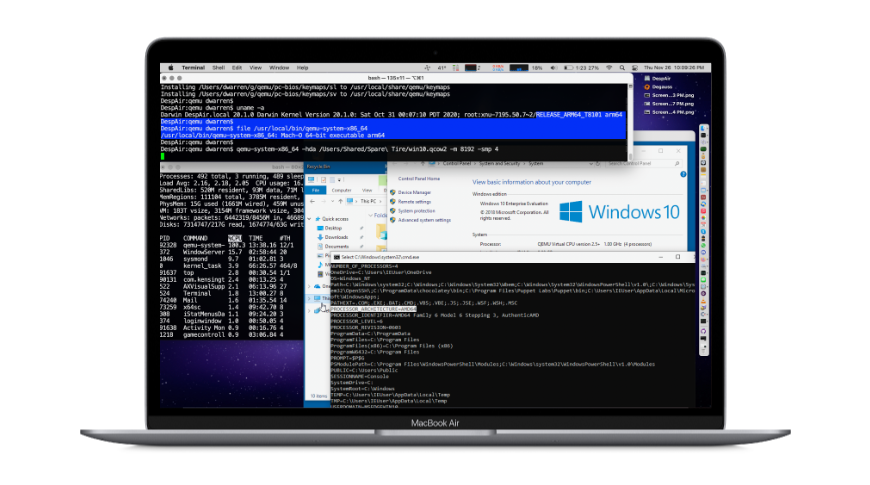 Using some custom patches to popular virtualization tool QEMU, a developer has managed to launch Windows for ARM processors on a M1 Mac with decent results.
The ability to run Windows for ARM processors has been in question since Apple revealed its Macs running custom Apple Silicon. The closest to a confirmation so far had been Craig Federighi stating that is "a decision Microsoft has to make."
Users have been tinkering with custom software and emulation tools to try and get Windows to work, and one developer finally succeeded. The developer in question used QEMU and custom patches to get the OS running and claims it runs smoothly enough, and can even run some x86 apps.
The details of this workaround were covered by The 8-Bit, with the report stating the developer was able to run the preview version of ARM Windows by using the Hypervisor.framework. This framework lets users virtualize software without dealing with kernel extensions.
Graf claims to have achieved "near-native" performance though it is still early days. Other users trying to perform the same operation report slow startup times and lagging apps when operating normally. When QEMU is running ARM Windows, battery life is effectively cut in half.
Microsoft may release an official version of ARM Windows for consumers to purchase and run on M1 based Macs, but the timeline is unclear. Microsoft has not given any official statement regarding even working on such compatibility.