Sonnet launches three-slot PCIe expansion system for Thunderbolt 3 computers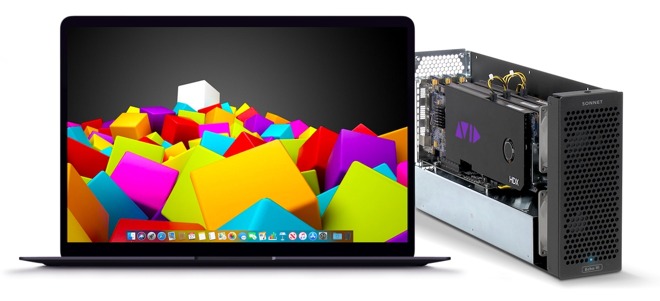 AppleInsider may earn an affiliate commission on purchases made through links on our site.
Sonnet Technologies has announced a new chassis that allows users to use up to three PCI Express cards externally on Thunderbolt 3 computers, including Apple Silicon Mac devices.
The Echo III expansion system supports up to three full-length PCIe cards simultaneously, and connects to a computer via a single Thunderbolt 3 cable. That makes it useful for professional users on Apple machines like the MacBook Pro, Mac mini, or iMac.
The expansion system comes in both a desktop hub unit or a rack-mountable model that's compatible with a 2U enclosure. Both variants support installation of a double-width card and a single-width card, or three single-width cards, and are Avid-qualified. From a PCI-E communication and card support perspective, the chassis has one x8 mechanical and electrical slot, one x16 mechanical and x8 electrical slot, and one x8 mechanical and x4 electrical slot.
A wide range of cards is supported, including PCIe cards for video capture, audio processing, networking, or adding SSD storage. Pro Tools users can also add up to three HDX PCIe cards with no additional components necessary.
Inside, the Echo III sports a 400W power supply and a 75W auxiliary power connector for powering non-GPU cards. Both the desktop and rack units feature low-noise Noctua NF-R8 redux-1800 fans.
In terms of ports, the Echo III module has two Thunderbolt 3 ports and provides up to 15W of power to connected peripherals or host devices. One is for connection to a computer and the second can support daisy-chaining up to five additional Thunderbolt peripherals, plus two 4K monitors, one 5K monitor, or a single USB device.
The rack-mountable Echo III also has mounting space for an additional Echo III module, and Sonnet says that future expansion systems are coming in the future.
The Echo III desktop module will be available soon, and will retail for $799.99. The Echo III rack-mount variant will cost $899.99.