Apple refining waveguide technology to keep AR headset weight down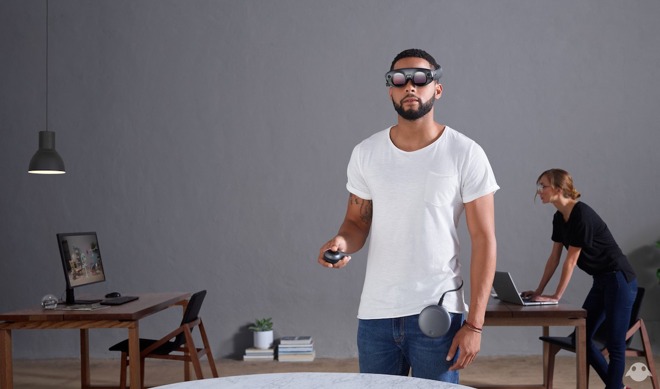 AppleInsider may earn an affiliate commission on purchases made through links on our site.
Apple is continuing its development of optical waveguide technology, likely as a way to make an "Apple Glass" augmented reality headset lighter and more comfortable to wear.
Waveguides are structures that redirect and guide light. In augmented reality devices, they're commonly used to route graphical information from an output source to a display pane in front of a user's eyes.
In a patent application titled "Pixel array implemented on photonic integrated circuit (PIC)," Apple outlines a method for a system that uses a substrate, light emitters, and waveguides to display information on an optoelectronic device.
The patent application is much more technical than most, and focuses on the underlying technology and mathematical formulae associated with the system. In fact, no part of the patent mentions wearable devices, smartphones, or other uses cases for consumer products.
However, the focus here appears to be on "Miniaturized projectors for visual applications" that "require a compact and efficient pixel generator for light at wavelengths in the visible spectrum."
In one embodiment of the idea, Apple notes that an "optoelectronic device" could comprise at least three light emitters disposed on a substrate. Waveguides on that substrate could receive that light as an input, curve adiabatically from the input ends, and guide them to output ends.
The PIC could also include directional couplers that could be chosen to "selectively transfer the optical flux at different wavelengths." For example, one coupler would transfer green light from a green laser to a waveguide carrying blue light from a blue laser.
"The waveguide will then output a beam that includes red, green and blue components. The actual output color and intensity can be modulated by modulating the individual emitters or by means of external variable optical attenuators (VOAs), which can be implemented and integrated on the same PIC. As noted earlier, multiple sets of emitters and couplers of this sort can be combined to produce an integrated, multi-pixel light engine," the patent reads.
On its own, the patent doesn't reveal anything concrete about Apple product plans. But taken together with other waveguide-related rumors, it hints at use in an augmented reality (AR) or mixed reality device (MR).
Previous patent applications have explicitly suggested that waveguides could be used to make head-mounted devices lighter and more balanced for wear. Another patent application from 2019 indicates that Apple may be working on another waveguide system involving mirrors and lasers in lieu of display panels.
There's also the fact that many current AR devices, such as Magic Leap, already use waveguide-based technology. Apple reportedly met with waveguide suppliers and other AR component makers at CES 2019.
The patent on Thursday list Igal I. Bayn, Alexander Shpunt, and Arman Hajati as its inventors. Bayn previously worked on photo-based technology at Cisco; Shpunt is credited on a variety of 3D and display-related patents for Apple; and Hajati is named as an inventor on patents from Apple and Fujifilm.
Apple files numerous patent applications on a weekly basis, so they are a poor indicator of the company's future product plans.
However, Apple is rumored to be developing a pair of AR/MR glasses, potentially dubbed "Apple Glass," that could cost $499 and debut sometime in 2022.