How to remove yourself from a group chat in iMessage on iPhone or iPad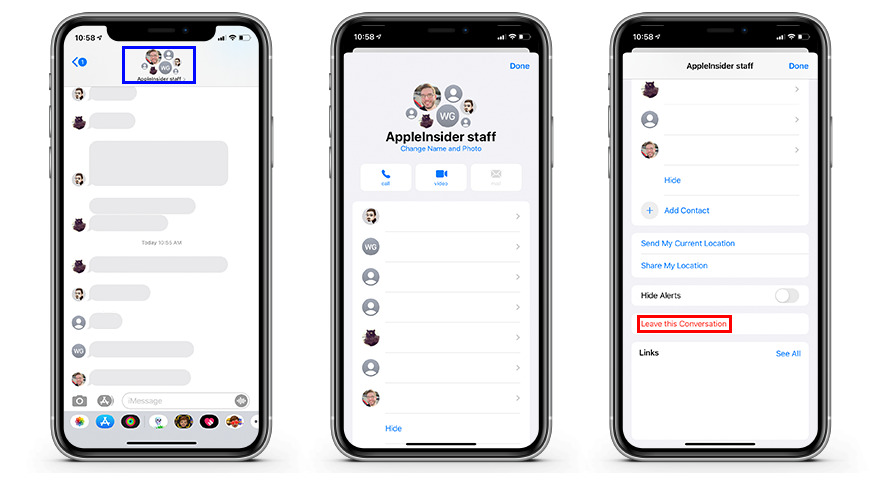 AppleInsider is supported by its audience and may earn commission as an Amazon Associate and affiliate partner on qualifying purchases. These affiliate partnerships do not influence our editorial content.
If you have a group message that you don't want to be a part of anymore, we can help. This guide will show you how to leave a group message or mute alerts for group conversations on your iPhone, iPad, or iPod touch.
Group text messages are a convenient and easy way to talk to multiple people at once, be it for work or fun. However, there never seems to be a shortage of group text messages that we'd rather not be a part of.
Here's how you can leave a group message that takes place on iMessage between three or more people.
Important: If you leave a group message, you won't be able to join unless you are readded by one of the group members.
How to leave a group text on iMessage
Open the group text you would like to leave
Tap the name of the group text
Tap the Info button
Scroll down, then tap Leave this Conversation
Of course, this only works if every participant in the group chat is using iMessage. If even one member uses MMS/SMS, such as an Android user, you'll be unable to leave the group.
And there are other times when it may not be advisable to leave the group chat, but maybe you don't want to deal with your iPhone constantly pinging, either.
Both of these situations can be made a bit more bearable by muting the group chat alerts. Muting the alerts allows you to pop in and view the chat at any point but doesn't provide any sound or banner alerts.
How to mute a group message
Open the group text you would like to mute
Tap the name of the group text
Tap the Info button
Scroll down, then toggle on Hide Alerts
Once Hide Alerts is on, you'll find a do-not-disturb crescent moon icon next to the conversation in your Messages app. If you'd like to start receiving alerts again, you can toggle them back on at any point.