Popsockets announces upcoming MagSafe-compatible grips for iPhone 12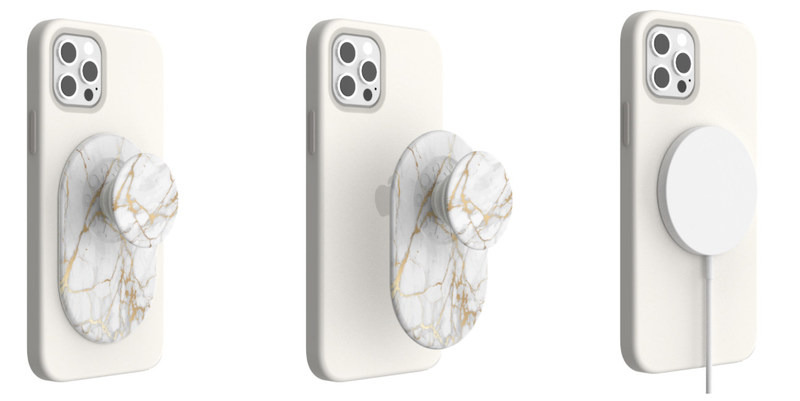 PopSockets has announced the launch of a new line of MagSafe-compatible grips, allowing iPhone 12 owners to easily snap their favorite PopGrip on and off their iPhone.
PopSockets will be releasing a line of new, including a MagSafe-compatible grip for iPhone 12 owners. The PopGrip for MagSafe will attach magnetically to MagSafe-compatible cases for the iPhone 12, feature a non-slip rubber back, and work with mounts in the PopSockets PopMount 2 line.
The company has also announced PopWallet+ for MagSafe — a stick-on wallet with an integrated grip. The PopWallet+ attaches magnetically to MagSafe-compatible cases and features a shield to protect credit cards from magnetic damage. Additionally, the integrated grip twists off and can be swapped with other PopSocket tops.
The new PopMount for MagSafe line includes two mounts for MagSafe-compatible cases: PopMount for MagSafe Multi-Surface and PopMount for MagSafe Car Vent. The mounts allow users to magnetically mount their iPhone 12 without removing their grips and feature swappable tops for users to customize their grips to their liking.
The company is also offering a revamp to their PopGrip Slide line, including the new PopGrip Slide Stretch, which attaches mechanically to the sides of most phone cases, allowing users to slide their grip down to allow for Qi and MagSafe wireless charging. The PopGrip Slide for iPhone 12 features the same benefits but has been designed specifically to fit Apple silicone cases for the iPhone 12.
The new additions to the lineup will start rolling out in Spring 2021.