macOS Big Sur upgrade can lead to data loss without ample storage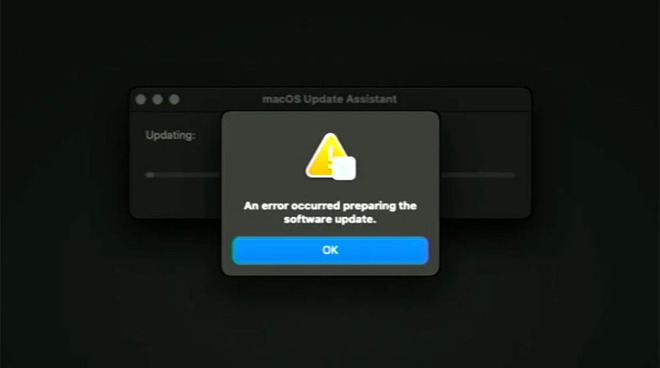 AppleInsider may earn an affiliate commission on purchases made through links on our site.
An issue with Apple's macOS Big Sur installer allows users to upgrade from an earlier operating system without first verifying that the target Mac has enough free hard drive space, resulting in installation failure and data loss.
The problem is present in currently shipping Big Sur installers and appears to date back to the first macOS 11 builds launched in November, reports Mr. Macintosh. Interestingly, subsequent point releases and delta updates are unaffected by the bug.
Apple's installers fail to check system hard drive space on initiation and continue to run through the installation process until all storage is exhausted. The resulting failure can lead to an install loop, purgatory in Boot Recovery Assistant with a pop-up reading, "An error occurred preparing the software update," or display of Big Sur's Recovery startup screen that shows no startup disk available.
Macs require at least 35.5GB of free space — not including the 13GB installer — to upgrade to Big Sur.
According to the publication, any Mac that is compatible with macOS Big Sur or has downloaded the macOS Big Sur upgrade is vulnerable to the flaw. Testing has confirmed the issue exists in both macOS Big Sur 11.2 and 11.3 beta versions, and is possibly present in macOS Big Sur 11.1.
A failed installation might be the least of a potential upgrader's worries, however, as Macs with a T2 security chip can suffer data loss when FileVault 2 encryption is activated. As detailed by Mr. Macintosh, users are unable to use their Mac's admin password to initiate the recovery process. Further, attempting to reset the password using Personal Recovery Key or AppleID fails, while Target Disk Mode is rendered unusable on Catalina and Big Sur. Passwords do work in TDM on macOS Mojave and High Sierra, the report says.
Data recovery is possible using a system backup and a second Mac, though the process is complicated when FileVault is enabled. Macs that did not have FileVault enabled prior to upgrade can free up space for a new install through a bit of quick file management in Terminal or transferring data to a second Mac via TDM.
Alternatively, users who do not need to recover data from an affected Mac can simply erase the drive and reinstall macOS. Newer Macs with T2 chips require users to go through an "Erase Mac" step, according to the report.
Mr. Macintosh alerted Apple to the issue, and others have complained of identical problems on Apple's Support Forums, but the company has yet to respond.