macOS Big Sur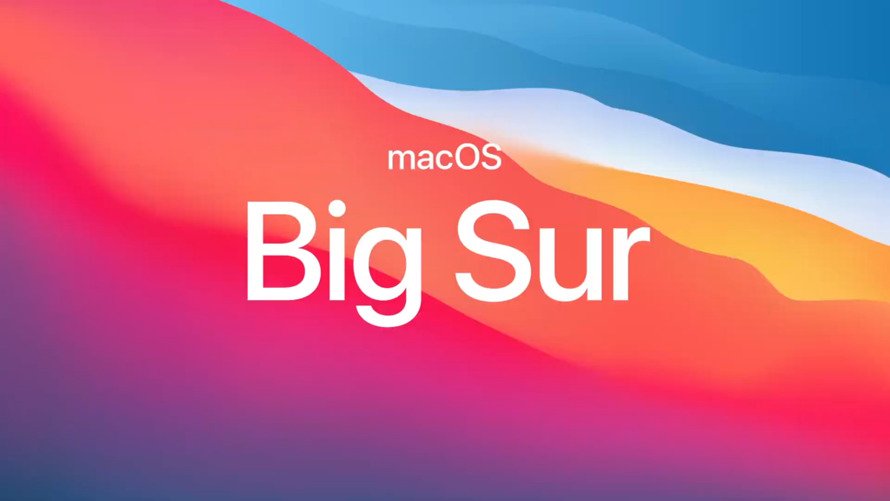 Last updated: 1 month ago
The operating system built for Apple Silicon and the M1 processor is called macOS Big Sur. This operating system brings optimized apps for the new system architecture, universal apps, and better responsiveness across the board. Also use your iPhone and iPad apps on the Mac when running an M1 Processor.
● New design language
● Icons more iOS-like
● Improved Safari
● Mac Catalyst iMessage app
● New Apple Maps experience
● Released on November 12, 2020
---
The next Mac operating system is called macOS Big Sur. The version numbering finally goes to 11 to signify a major transition year for the Mac and Apple.
The naming for Mac operating systems has used macOS 10 or Mac OS X since its first release in 2001. By moving the version number forward Apple wants to signify the importance of the Apple Silicon transition and the design revisions that are sure to come to future Macs running the custom processors.
macOS Big Sur Features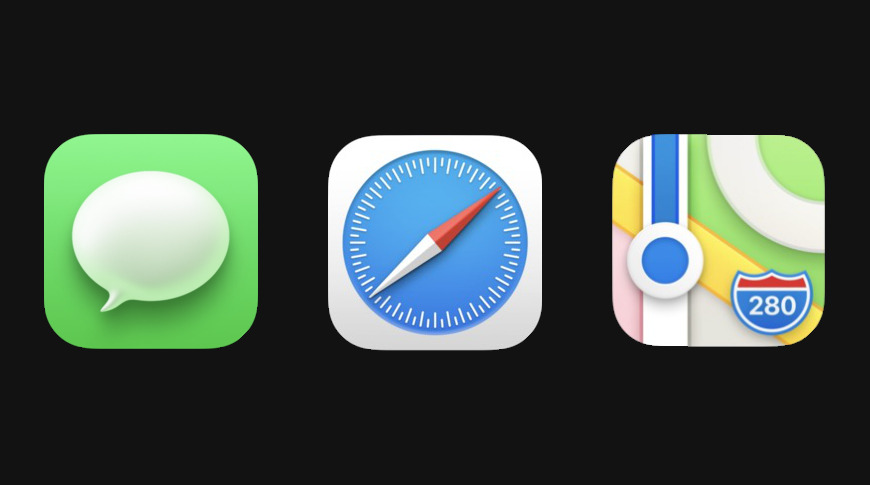 The first most obvious change in macOS Big Sur is the design. Apple added more curvature in window edges, app icons are designed to mimic their iOS counterparts, and widgets are made with the new iOS 14 designs.
More changes include disappearing menu items and buttons that fade into view only when needed. New redesigns for colorful icons and interactions can be found across all major Apple apps, including the iWork apps.
The control center has also made its way to Mac, where users will find easily changed system controls for brightness and volume. The new control center can be found in the menu bar on the top right of the display.
Safari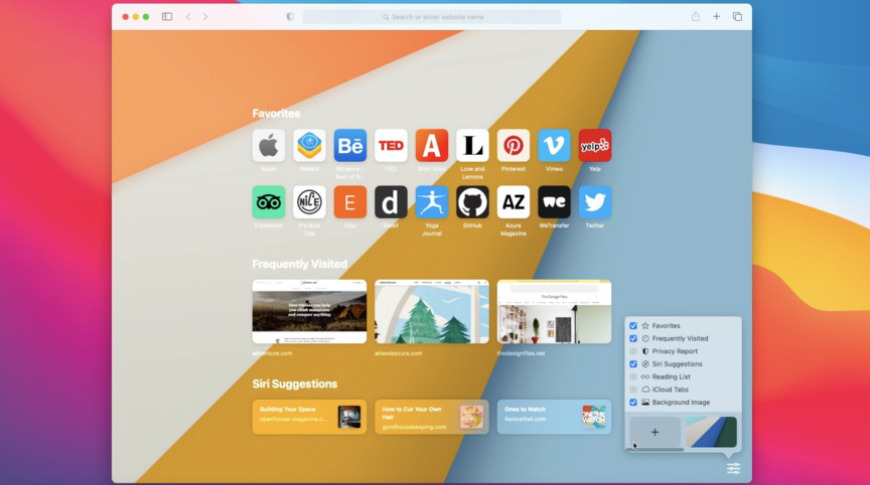 Safari gets some updates with every macOS release, but this one changes many interaction and design elements across the board. Apple also claims this version of Safari will be faster and more secure than ever.
This is the "biggest update to Safari since its original launch in 2003," at least according to Apple. New customization options allow users to add a custom wallpaper to the Safari start screen. Reading lists and iCloud tabs will now occupy the open space on this screen.
Safari handles tabs differently in the new version of macOS, with the goal of making Safari navigation faster and more powerful. The browser now shows more tabs onscreen and displays website favicons by default to make it easier to identify tabs. Users will also see a pop-up preview of an open tab by hovering over the tab.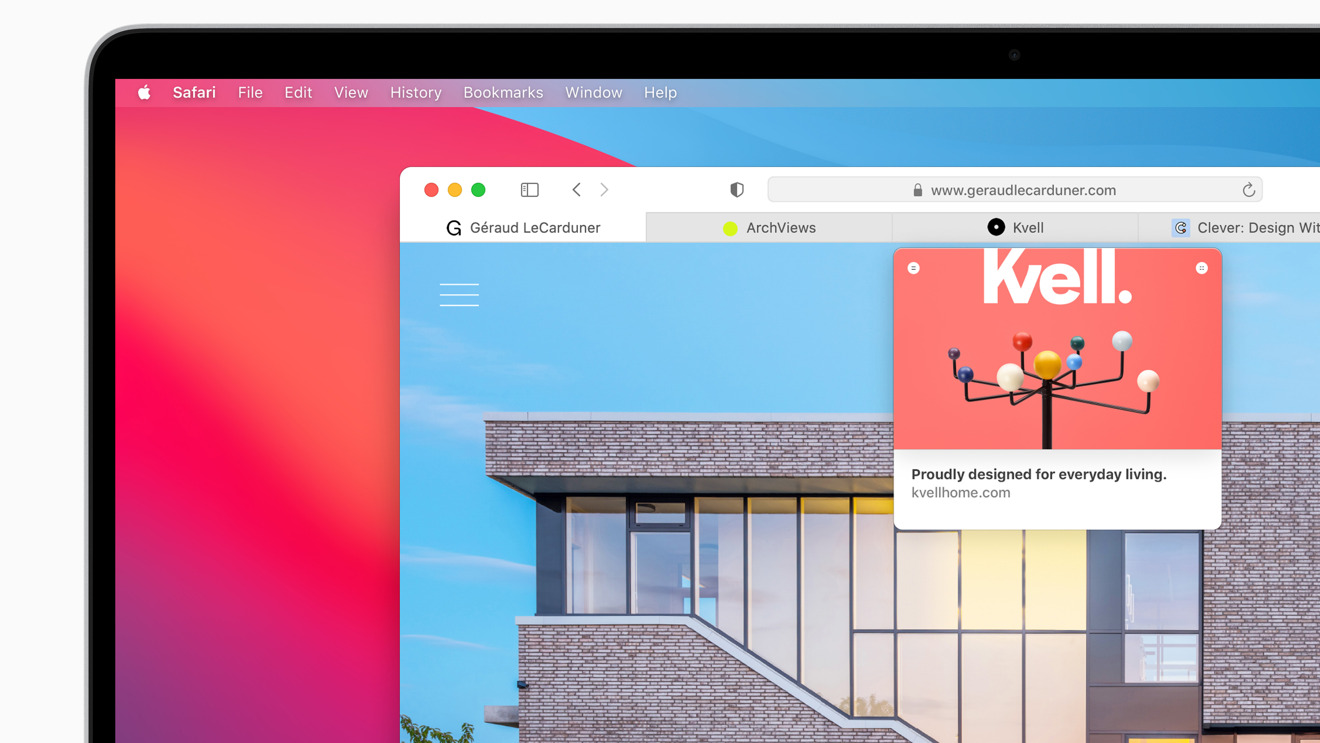 Apple also advertises speed improvements in Big Sur's Safari. The company ran tests showing frequently visited sites' average loading times were 50 percent faster than Chrome's.
Built-in translation tools are now in Safari, which will detect languages and translate them from seven languages with just a click. Apple has expanded the available Safari Extensions in the Mac App Store as well, with two new categories for editorials and top charts.
Other small updates include background password monitoring in data breaches, and the ability to control where an extension will work per webpage.
Messages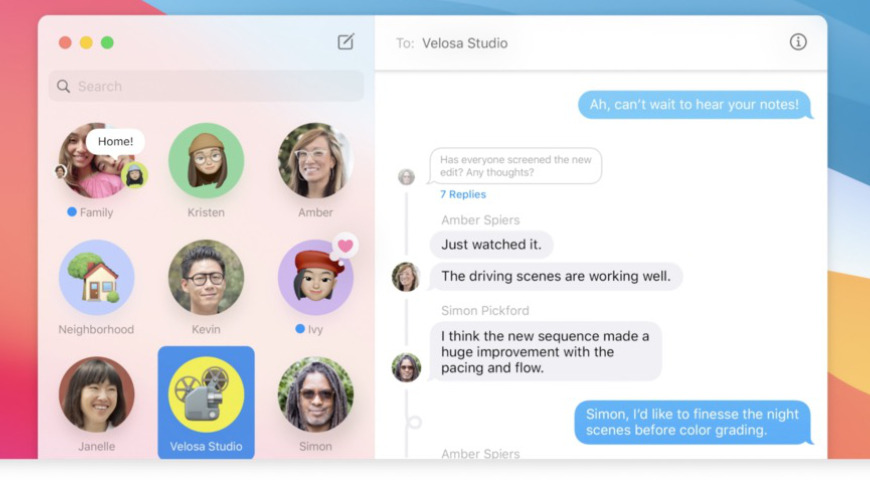 Messages on the Mac is now a Mac Catalyst app. That means it's a modified version of Messages for iPad and many iOS 14 Messages features will work on macOS Big Sur as well.
In Big Sur, you can pin favorite chats to the top of the conversations list. Appearing as large and round icons, they will always stay at the top for easy access unless you manually remove or replace them.
Inline replies are also coming to Messages in Big Sur. When you long-click or right-click on a chat bubble, you can choose "reply" to compose a new message replying to a previous message in the same conversation. A small box next to your reply will reference the original message. Inline replies work in both one-on-one and group chats.
Group chats will also add mentions. To mention someone from a chat, type the name of that person in the group conversation, and it will highlight. Click their highlighted name, and you'll see a bubble with their name pop up. When you click the bubble, it will notify that chat member when you send your message – even if they have muted the conversation.
You can also set a group-chat image that all group members will see.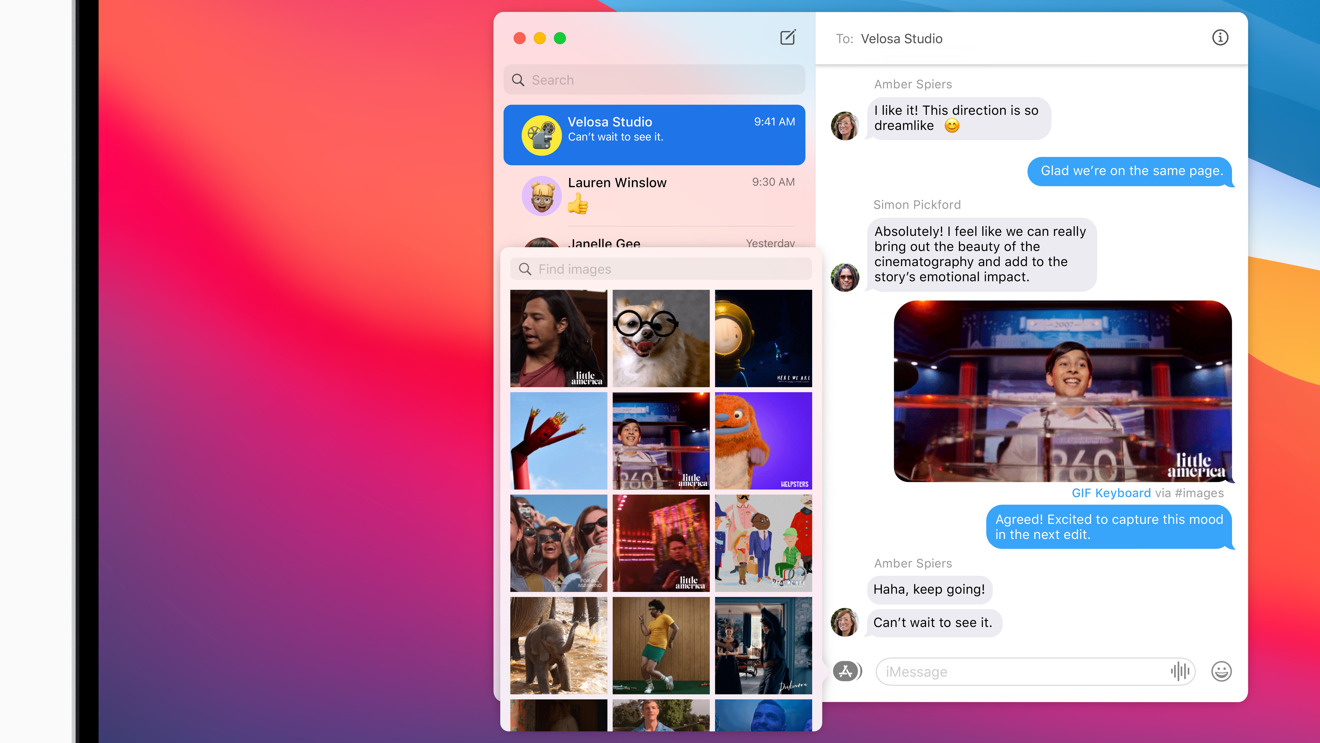 While third-party iMessage apps aren't supported, Big Sur brings some of Apple's iMessage apps to macOS Messages. That includes Photos for easy image and video attachments, Memoji stickers for avatar-based emoji stickers, and #images for inserting GIFs and images from a large library of presets. iMessage chats in Big Sur also allow you to use message effects, like slam, confetti, and lasers.
Apple Maps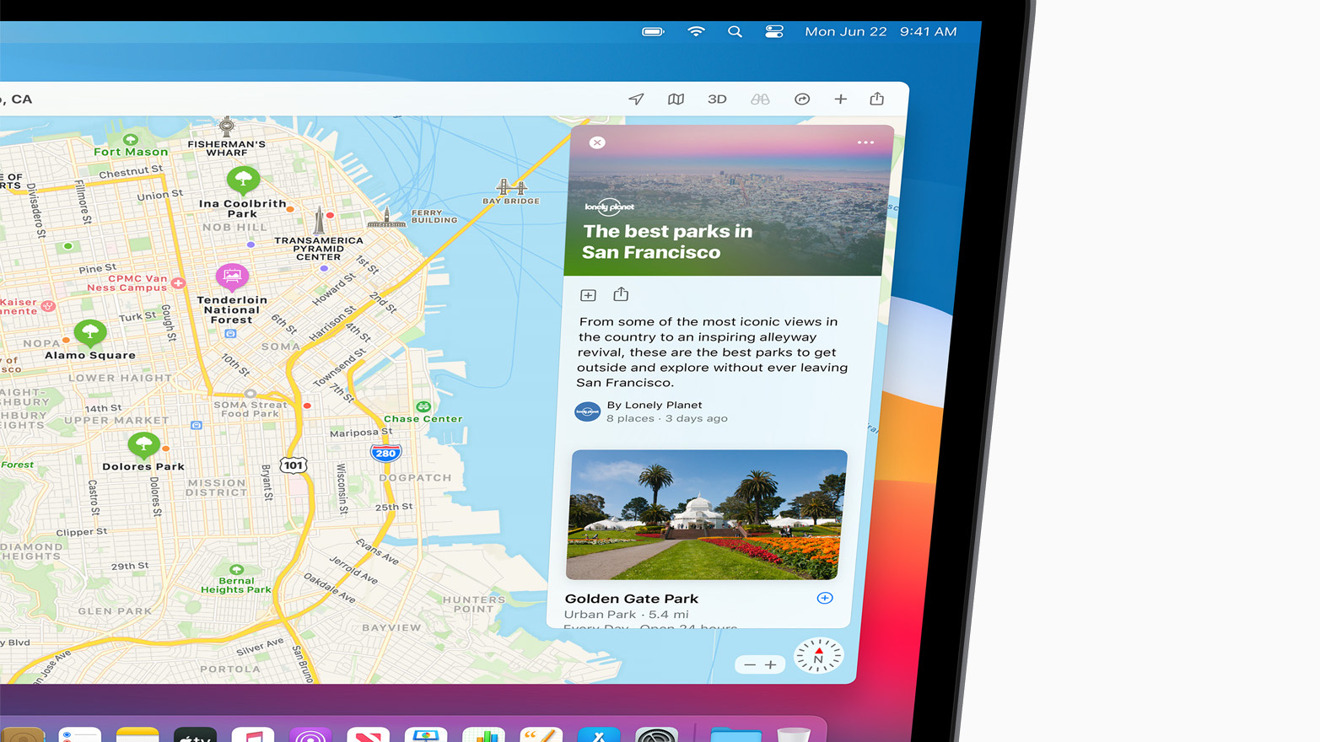 Apple Maps app also has significant updates in Big Sur. Like Messages, it's now a Catalyst app, supporting iOS-based features.
That includes Look Around, Apple's answer to Google Street View, and cycling navigation to help navigate while on a bike in big cities.
Apple Maps for Mac also adds Curated Guides, which are recommendations from "trusted brands" on things to do or places to visit nearby. You can also create Guides to share with friends and family.
Big Sur Maps also includes indoor maps of airports and shopping centers.
Moving from Intel to Apple Silicon using macOS Big Sur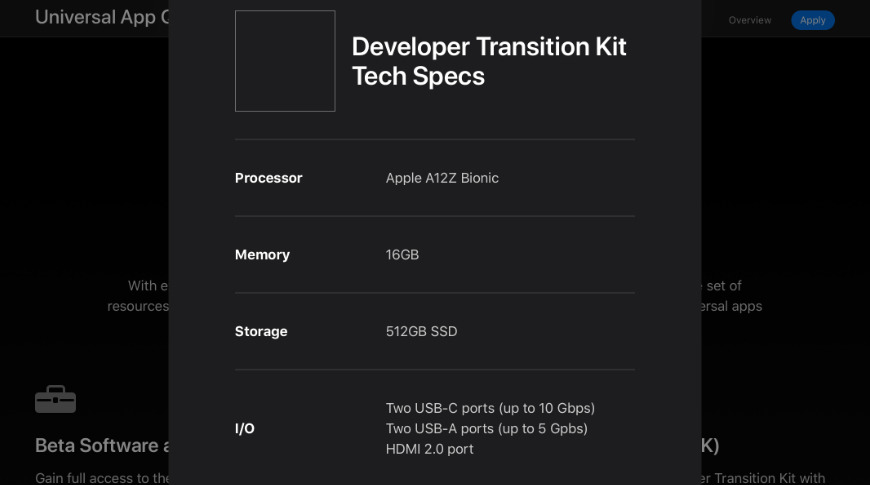 Apple's transition to an ARM Mac is one of the company's worst-kept secrets. Apple discussed the transition plans during the WWDC keynote and said that all the tools for the transition are included in macOS 11. Transition is the biggest theme of macOS 11 Big Sur. It delivers a common user interface design language like iOS to the system, emphasizing Mac Catalyst and the move to Apple Silicon.
Apple Silicon started on the iPhone and later moved to iPad, Apple Watch, Apple TV, and HomePod. Apple's chips on Mac will provide developers with a scalable architecture with unparalleled performance-per-watt. In addition to allowing developers to create more powerful pro apps and games, the move also brings Apple's Neural Engine to macOS, opening the door to apps that integrate the chips' built-in machine-learning capabilities.
Using the provided Developer Transition Kit, developers can begin optimizing their apps for use on custom Apple Silicon chipsets. The development kit comes in the form of a Mac mini running the A12Z Bionic chipset found in the iPad Pro.
Developers can make their iOS and iPadOS apps available on macOS with little or no modifications. By selecting the "Mac" checkbox in Xcode 12, developers will instantly have a Mac-ready version of existing iPad apps. The macOS version will run natively, using the same runtime environment, frameworks, and resources as Mac-first apps. Catalyst will automatically add Mac desktop and windowing features, and it adapts touch controls to keyboard and cursor.
From that point, developers can optionally modify the app better to fit the cursor-friendly and non-touch nature of macOS. With the new tools built into macOS Big Sur and Xcode 12, Apple estimates that most developers will get their apps running in a matter of days.
macOS Big Sur Release Date
macOS Big Sur is now available to download. Be sure to backup any essential data before performing the update.
Apple announced the first Macs with Apple Silicon during its "One More Thing" event in November. The M1 processor enables more efficient and powerful computing for the new 13-inch MacBook Pro, MacBook Air, and Mac mini.