Brydge debuts $129 Max+ keyboard with trackpad and case for 10.2-inch iPad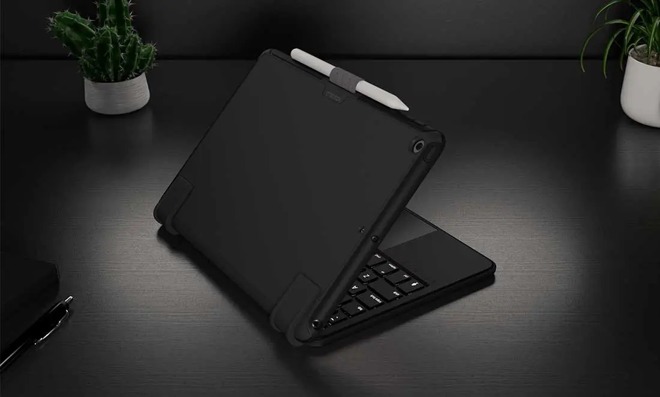 Brydge is announcing its latest keyboard, the 10.2 Max+ which includes a multitouch trackpad and an Otterbox case for Apple's entry-level iPad.
The Brydge 10.2 Max+ represents several firsts for the accessory maker. This new keyboard/trackpad combo is the first co-branded product between Brydge and Otter Products who strategically invested in Brydge in late 2020. It also is the company's first device that the company claims has a six-month battery life plus redesigned magnetic SnapFit hinges.
Designed for the 7th-gen and 8th-gen iPad, the 10.2 Max+ includes a protective case for the tablet that meets the military MIL-STD-810G specification of four-foot drop protection. It is a black plastic shell case that is in a signature Otterbox style and includes an elastic holder for Apple Pencil along the top. Both the keyboard and case include an antimicrobial coating to fight germs.
Brydge's new magnetic SnapFit hinges easily grip the Otterbox case and pull it into position while still easily detaching when necessary.
Unlike Brydge's other offerings, the 10.2 Max+ is a plastic keyboard rather than aluminum. It still feels well-crafted with rubberized edges and a large glass trackpad.
The trackpad is the largest available for the 10.2-inch iPad and features full multitouch capabilities. Trackpad performance is also much-improved from the original launch of the Brydge Pro+ keyboard/trackpad thanks to new firmware. Brydge is also updating the Pro+ with this firmware for smoother tracking and multitouch support.
Other features include dedicated iOS function keys, three levels of adjustable backlight, and inverted "T" arrow keys.
Brydge's design is universal enough for any user but it will likely appeal most to the education market with its durability, functionality, and low price point.
Available to order now
Brydge has opened preorders for the 10.2 Max+ which are priced at $129 with shipping beginning in late March.