Brydge 10.2 Max+ iPad keyboard review: impressive balance of features and cost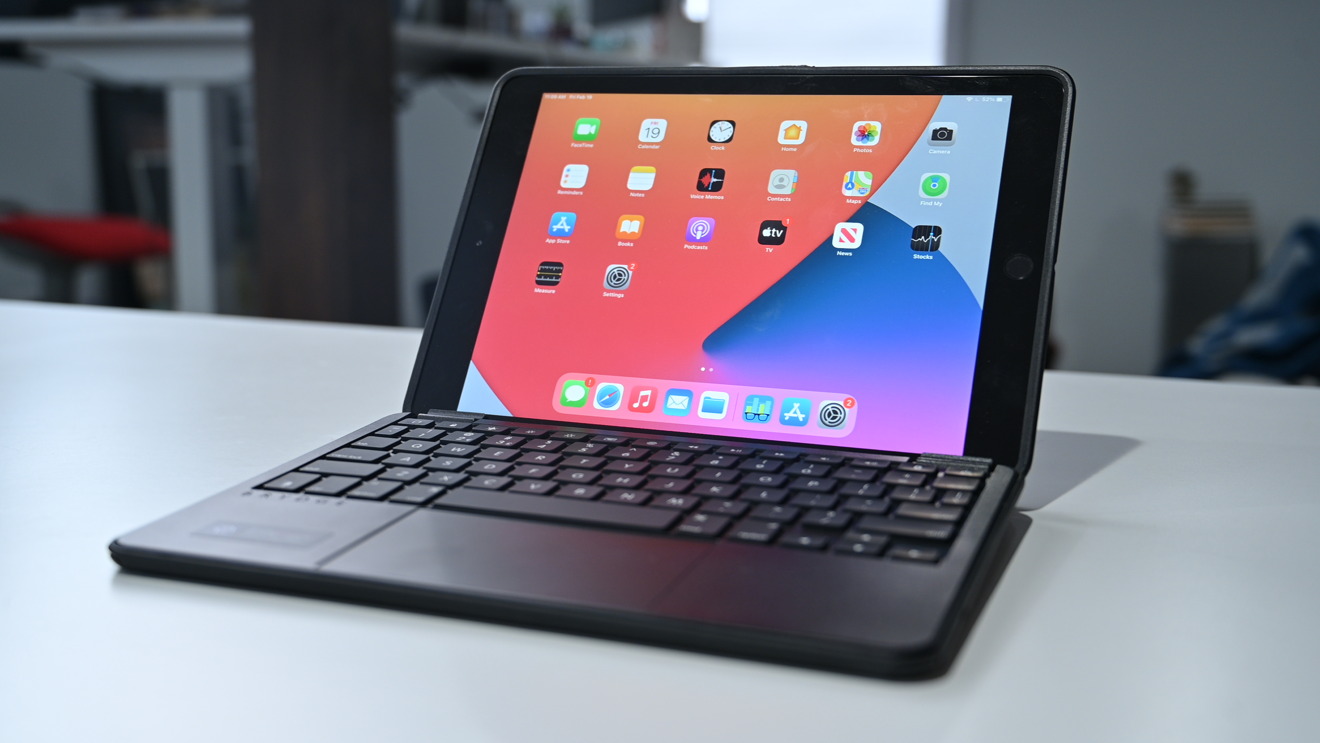 AppleInsider is supported by its audience and may earn commission as an Amazon Associate and affiliate partner on qualifying purchases. These affiliate partnerships do not influence our editorial content.
Brydge's latest keyboard and trackpad for the 7th and 8th generation iPad is shipping soon, and we're impressed with what it brings to the table for the low price.
While the Brydge 10.2 Max+ doesn't launch until late-March, we got our hands on the device early. It comes in a black finish and includes an OtterBox case and a backlit keyboard with an integrated multitouch trackpad. It is both different from Brydge's other offerings as well as very familiar.
This new accessory includes several firsts for the company, including redesigned hinges, exceptional battery life, and a bundled case.
Design and build quality
All of Brydge's previous products were crafted from aluminum, but it decided to go with a more cost-effective material for Apple's entry-level tablet. Both the keyboard and the case are molded plastic with rubberized edges for impact protection. This keeps the weight down and easy to carry.
Looking at the case, it seems to be a relatively typical OtterBox-style case cobranded with Brydge. The top edge has an elastic holder for your Apple Pencil, and the edges are reinforced with a rubber-like material. The case, along with the keyboard, has a promised drop protection rating of four feet. There isn't much in terms of self-expression with the case, but the back is primed for stickers.
The fit of the case is quite iPad-tight. So snug, that in our review unit, the long-edge of the case bows a bit, exposing the slightest bit of the iPad bezel. This doesn't appear to impact protection of the case at all, and we've seen wider variances on other cases.
The case is designed to accept the new magnetic hinges of the 10.2 Max+. These are a new hinge design for Brydge that is slightly evolved from its historically-unchanged look. Instead of squeezing the iPad between a set of silicone inserts, the hinges are smaller in the front and use magnets to help align the hinges and hold it in place.
To remove the iPad, you simply pull it from left to right (or right to left), and the tablet will easily slide free from the keyboard portion. That way, you can use the iPad on its own when you want and then quickly recouple the pair when it's time to get some work done.
Brydge's 10.2 Max+ keyboard looks like plastic and slightly smaller version of the Pro+ keyboard. The top row is full of iOS function keys such as media controls, keyboard and iPad brightness, and more. A mic button sits just to the left of the control key.
Once again, Brydge is relying on USB-C to charge up the keyboard's battery. Brydge says this is its most advanced battery yet, lasting up to six months on a single charge with two hours of use per day.
One last benefit of the 10.2 Max+ hardware is the antimicrobial coating. While an antimicrobial coating fights bacteria rather than a virus such as COVID, antimicrobial coatings can help protect users from many ailments, such as some forms of strep throat, pneumonia, food poisoning, and many others.
Keyboard and trackpad use
Starting with Brydge's keyboard, it has only gotten better over the years. It isn't as solid as Apple's, and there is more lateral key wiggle than we see in a non-first-party keyboard, but it feels solid to type on. For the 7th and 8th-gen iPad, it is a bit more cramped than we are used to coming from the 12.9-inch iPad Pro keyboard.
It does make the best use of the size it does have, though, and is generally pleasant to type on. The keys have a solid click feel to them as they are depressed, and once we acclimated to the size, we were just as proficient as on a larger keyboard.
The keyboard connects to the iPad over Bluetooth, and there didn't seem to be any lag in our typing or using keyboard shortcuts. Tapping the keyboard will sufficiently wake your iPad from sleep, but unfortunately, you can't wake the iPad or the Brydge by clicking the trackpad. Brydge says this is due to battery drain that would result from keeping the trackpad on at all times, monitoring for interaction.
Moving to the trackpad, we are more than happy with it. It is quite a large size, literally filling the entire space between the edge and the keys. It appears to be frosted glass and nice to glide your finger across. At that size, palm rejection is essential, and only a few times did the cursor jump elsewhere on the page from an errant tap from our palm. Brydge did a great job at mitigating this issue.
Apple brought trackpad and mouse support to iPads in early 2020, and initial third-party options were middling. They worked decent enough but suffered from over-scrolling, stuttering when tracking, and lack of full multitouch. We'd be worried about that here if it weren't for Brydge's latest firmware.
This new firmware is currently in testing on the Brydge Pro+ iPad Pro keyboard/trackpad. It made a night and day difference for that device, and Brydge has brought the same firmware to this product straight from launch.
Tracking across the screen is much-improved and only sees minor stuttering from time-to-time. This is what the experience should have been for the Pro+ a year ago. Anecdotally, it seems the 10.2 Max+ tracks slightly better than the Pro+ models, perhaps just due to the hardware being a year newer.
Should you grab the Brydge 10.2 Max+?
Brydge has created a very attractive package with the 10.2 Max+. It's debuted an all-new improved hinge design, it has a protective OtterBox case included, the keyboard and case offer four feet of drop protection, the new firmware is miles-ahead of past options, long six-month battery, and it has a low price point. Combined, we can see this being incredibly popular with a wide range of users from in-office use to students.
There are few reasons not to jump to the Brydge 10.2 Max+, such as the fact you cannot use it without a case. You have to have the OtterBox case on your iPad to connect the keyboard. We don't usually use a case with our iPads, so it is a bit annoying. For those running around campus or who have a company-issued device, that protection may be more necessary. The case also comes off easily, so it shouldn't be a deal-breaker.
When we tested this device, we were also trying it with beta firmware. The device will likely see more improvements and refinements to the trackpad experience as it approaches full release in late March.
This is the best case, keyboard, trackpad combo for the 7th and 8th-gen iPad we've encountered to date even in beta form.
Lightweight case and keyboard
Long six-month battery
Full iOS function keys
Smooth, large trackpad with multitouch
Tactile keyboard
Magnetic SnapFit hinges easily connect and come free
OtterBox protection
USB-C
Adjustable backlight
Only works with included case which stretches over edge
No other colors or styles
Plast, while durable, doesn't feel as premium as aluminum
Still small stutters on cursor
Rating: 4.5 out of 5
Where to buy
The Brydge 10.2 Max+ keyboard/trackpad/case is available direct from Brydge for preorder at $129.99 with shipping beginning in late March, 2021.