Apple clarifies how to pay for devices interest-free with Apple Card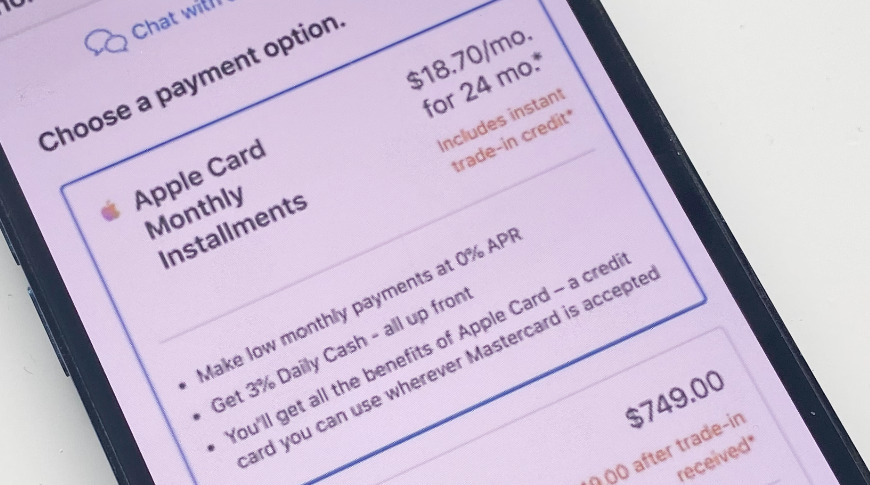 Apple has updated the details of how to pay monthly for products with Apple Card, by specifying the steps purchasers need to go through to get interest-free terms.
Since December 2019, it's been possible to use Apple Card to buy certain Apple products and pay monthly without incurring interest. Initially, this option was solely available for buying an iPhone, but Apple has steadily added eligible products — while not changing the terms of the process.
It still hasn't, but Apple has updated its support documentation to emphasize when buyers have to choose to pay this way. It remains the case that buyers have to select monthly repayments using Apple Card at point of purchase, it cannot be applied later.
"To receive a 0% APR installment on eligible products from apple.com, the Apple Store app, or an Apple Store, you must choose Apple Card Monthly Installments as your payment option at checkout," says Apple's updated support document.
"If you choose to pay for your eligible Apple purchase all at once with your Apple Card," it continues, "that purchase will not receive 0% APR and instead will be subject to the standard purchase APR assigned to your Apple Card."
The option to use Apple Card Monthly Payments is available via the online Store, physical Apple Stores, or the Apple Store app, in the US. The number of months users can spread a purchase over varies depending on the cost of each item, or bundle of items.
Apple displays the monthly installment as part of users' next Apple Card minimum payment. It separates out these installments in the Wallet app under the heading Monthly Installment History.
The monthly plan is limited to the US because currently so is Apple Card. However, Apple was recently granted trademarks for Apple Card and Apple Cash in Canada. It's most likely that the installment plan will be made available wherever Apple Card launches.