How to get more from Spotlight on the Mac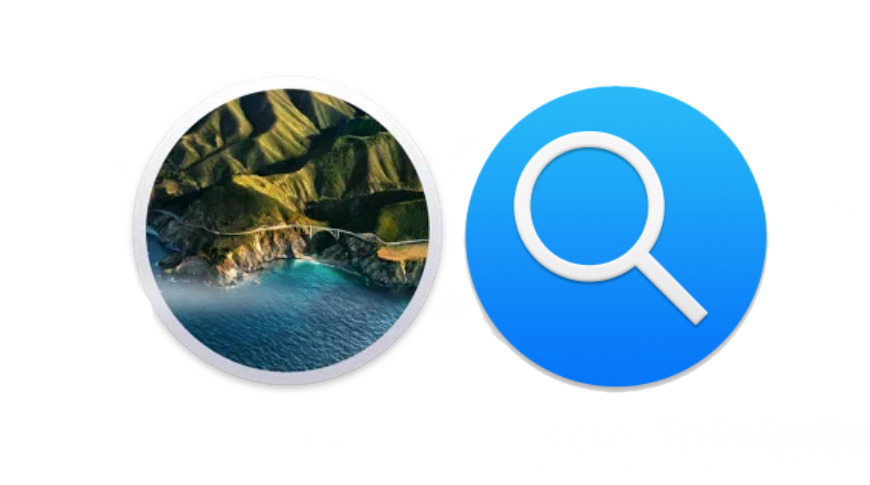 Spotlight is the most under-used feature of macOS, and it is waiting to transform how you do your work from finding files to checking the weather, and contacting people.
You're already working in front of your Mac, make it do more for you. As you edit video, as you record music, or as write endless emails, Spotlight on your Mac is waiting. It's there and ready to do more for you, from automating tasks, to looking up countless different details you need.
Such as currency conversions, or really just about any math you might need. Spotlight can quickly keep you updated on the Dodgers, it can rapidly look up any contact you've got.
Spotlight can define a word for you, it can find your documents. It can even save you turning your head to look out of the window, because it will tell you the weather.
This is perhaps the most under-used part of macOS. And it is so worth learning about even just a couple of time-saving things it can do for you.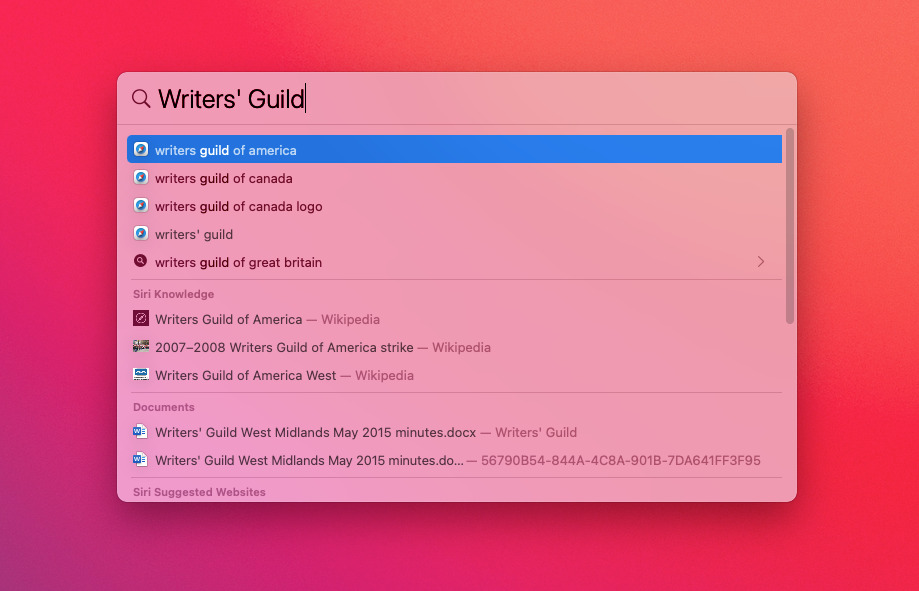 How to do basic searches on your Mac using Spotlight
Press Command and tap the space bar to call up Spotlight, or
Click on the magnifying glass icon toward the far right of your menubar
Start typing the name of a document, or
type something you remember is contained within it
If that's all you ever use Spotlight for, fine. It means you find your files without having to search around your Mac.
However, Spotlight is likely to show you a long list of results. It can filter those down, though, because you can limit the search.
Typing "Resume" into Spotlight, for instance, might reveal a very long list of job applications going back to when you first got a Mac. Try typing "Resume date:2019" instead.
Or if you know you've got media called "Hello," type "Hello kind:movie" or "kind:audio."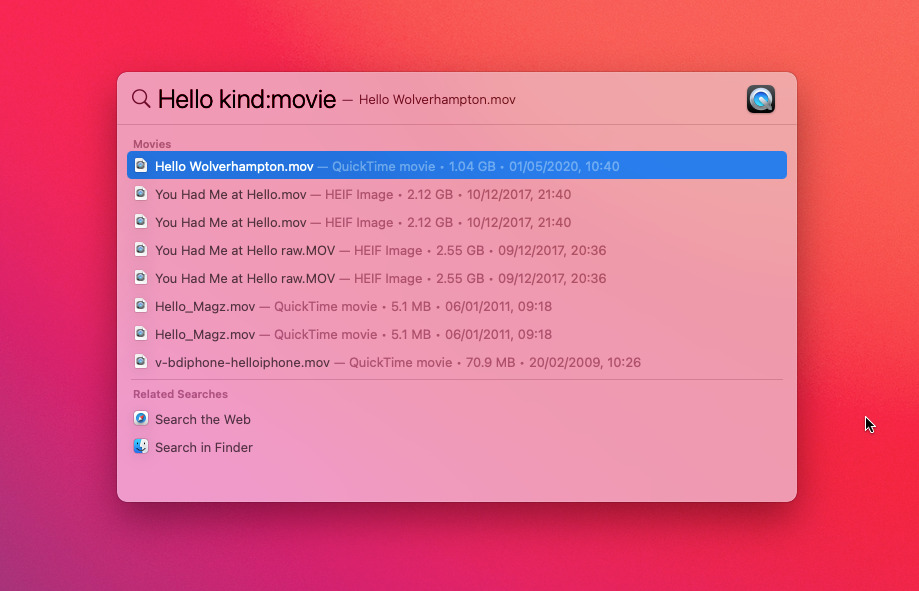 If you're still getting too many results, or just not the one you want, then you can do all of this — and add dates. Typing "Hello modified:
Spotlight is probably most often used for finding files that exist on your Mac. Maybe its second-most common use is for searching the web, as any time it can't find a local file, it will search online for you.
However, you can also use Spotlight as a reference tool.
How to use Spotlight as a reference tool on your Mac
Bring up Spotlight and simply type a word
After a moment, Spotlight will show you its definition
Or, type the name of a sports team like "Dodgers," to see results
Or alternatively, type "Weather" followed by a city
For queries like this, Spotlight knows to show you the definition, the result, or the temperature at the top of its search results. But it will also then include what it finds searching for these terms across your Mac, or online.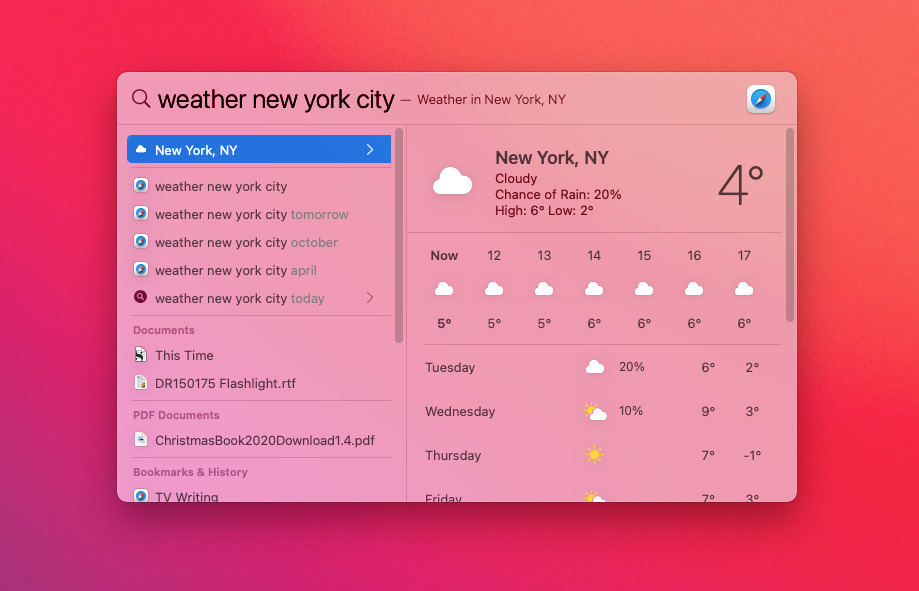 So you can look up a fact and at the same time that you wrote about it two years ago.
Similarly, you can also use Spotlight for finding the results of calculations or conversions.
How to do calculations and conversions in Spotlight for Mac
Launch Spotlight and type a math question, or
Type a currency symbol followed by a number and then wait, or
Type a number followed by a conversion you want, such as "10 ft to meters"
Spotlight will answer some of these with defaults that vary depending on where you are. If you want to convert 100 Euros and you're in the States, it will show you the equivalent in US dollars. If you're in the UK, it will default to showing you in pounds Sterling.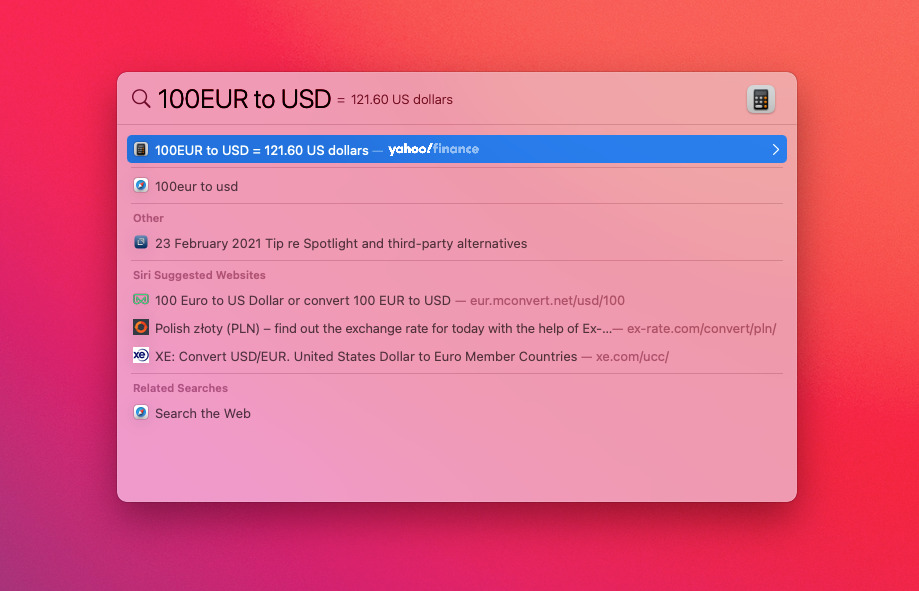 You can instead type "100EUR to USD" if you want to specify the currency.
Then if all you want to do is know what $100 is Euros, or what 5 times 7 is, you don't need to do anything more. However, when the result appears on screen, you can also then press Command-C to copy it.
Then paste that result anywhere you want, including back into Spotlight to do more calculations.
If you need to tell someone else that information, you can use Spotlight to bring up their email address — or launch FaceTime to give them a call.
How to contact people using Spotlight on the Mac
Bring up Spotlight and start typing their name
After a moment, it will display their name — if they're in your contacts
Select their name and hit Return
Spotlight brings up a panel with all their contact details
Click on a button to call or FaceTime them right there
This is one area that's a little confusing with Spotlight. When you search for a person and Spotlight returns their name, it does so with a > arrow next to it — but you can't click that.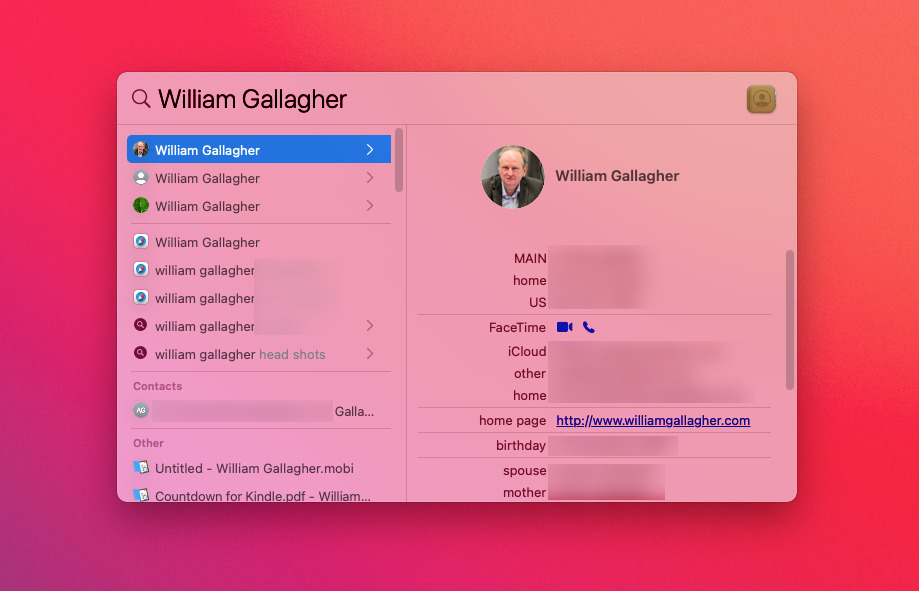 What it means is that there is more to show you, and you get that extra detail by pressing Return.
Before you do, though, take a look further down the results. Spotlight will also show you whether you have an upcoming calendar event with that person.
If you are, maybe you figure you can speak to them then. And you launch your To Do app to make a note — via Spotlight.
To launch any app you've got, bring up Spotlight, start typing the app's name, and then press Return when you see it.
It's this range of results that makes Spotlight so useful. But it can also make Spotlight a little slow.
There is a way to speed it up a little by limiting what Spotlight searches for. Rather that specifying limits each time you search, you can tell Spotlight to never look for certain types of file.
How to limit Spotlight's searches
Go to System Preferences and choose Spotlight
Make sure Search Results is selected
Then tick or untick any of the 20 types of item Spotlight searches for
Spotlight is just the start
Spotlight comes with every Mac and it is something every Mac user can make the most enormous use of. But it's not the only option.
There are very many third-party alternatives to Spotlight and they are exceptionally good and useful. They don't tend to be true alternatives though; it's more that they do extras.
So even if you buy a third-party alternative such as Alfred, it's useful to keep on using Spotlight too.